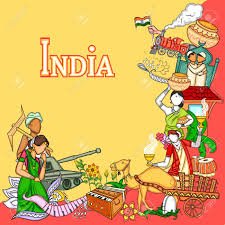 East, West, North and South ; January and Indian Festivals cloud. Many religions in one nation; Festivals Grand celebration without Tension!!!
India is a land of diversity that holds different culture in its fist. India is marked as the 'Country of Festivals'. Festivals in India are celebrated with unity and great enthusiasm. All 12 months have some Religious and National celebrations. These festivals and there charm bring super excitement in the country. Everyone celebrate the festive moments with full zeal.
So, Are you excited enough to know more about festivals this month? How many festivals do India celebrate in the month of January? What's special in those festivals? Come, let's go on to an illusionary walk around Indian festivals in January.
January and it's festivals
January - New Year, New Month and New Beginning
The first month of Year brings new hope and joy. It restarts the festive season around the world. India is a country where total 365 festivals are celebrated. Yes, it's true!! 365 days and 365 celebrations. In short, India celebrates each day as a festival.
Every festival has its specific time and significance. This brings positive environment and eternal peace. Beyond job pressure and circadian tasks of daily life, festivals open up a door to enjoy and refresh the soul with family. Festive seasons carry forward the bond of culture and its speciality.
January organise various major festival and fairs in India. All 4 directions, different states and Indians – celebrate various festivals together with unity. Major Indian Festivals in the month of January are listed below.
1) Bikaner Camel Festival, Rajasthan
When :- 12th-13th January, every year.
Rajasthan is a most beautiful state and very well known for its culture and glory. The Camel festival of Bikaner is organised by Rajasthan Government under the Department of Tourism. This festival attracts tourists for its live events. Music, dance, camel race and decorated camel displays best out of the tradition in Rajasthan.
2) Makar Sankranti or Maagha festival
When :- 14th or 15th January, ever year.
Makar Sankranti is a festival that marks onset of spring in India. It is celebrated when sun enters cancer in the end of hindu month Pausha. It is also known by the name- Uttarayan. This is harvest season for farmers. Uttarayan (Uttar + aayan) is compound Sanskrit word which means Northern movement of Earth on celestial sphere ie, towards the equator. It is celebrated throughout the country with great charm.
On this day, sweets of jaggery and sesame seeds are prepared. Holy bath is taken in different holy place. 'Ganga Sagar is a pilgrimage which is famous for the bath on Makar Sankranti'. People offer khichdi to God and also eat it on this day. Married women offer various gifts to relatives and neighbours.
People take off their kites deep in the blue sky. Makar Sankranti is also known to be the festival of kite flying. Children used to play with bamboo bell and rod known as 'Gilli-dandaa'. These games fill up people with energy and joy. In a busy routine and stress, this festival ensures some time for friends and family members.
3) Lohari in North India
When :- 13th January every year
Lohari is celebrated in Northern India. Punjab and Haryana are main states that celebrate lohari. It is festival of rabi harvest season and marks the end of winter. It welcomes longer days after winter solstice. After Lohari's night, the Sun start his journey towards northern hemisphere.
People lit bonfire one night before sankranti. Sitting around bonfire, singing and thanking the Sun God for his heat. Punjabi females perform folk dances around the bonfire. Wearing traditional clothes, People walk around the fire and throw popcorns,jaggery into it. This is just to symbolise end of previous year and onset of new year, the very next day as Maghi. It is next financial year for the farmers. Youth go out to collect logs for fire and also collect grains from different houses. People offer peanuts, revari, jaggery, gajjaksweets, popcorns and other sweets to each other. Family and friends sit near bonfire and enjoy the beautiful night.
4) Pongal in South India
When :- From 14th to 17th January, every year
Pongal is 4 days long festival. It is also harvest festival of people living in South Indian state, Tamil Nadu. It marks the harvest season of crops like sugarcane, rice and turmeric etc. Pongal is a tamil word which means ' to boil '. Special dish named Pongal is made hence this festival is named after famous dish. Pongal is sweetened rice boiled with lentils. This festival brings Tamil new year.
All 4 days of pongal celebration have four differently named fest. First day of pongal have Bhogi Festival. It is like a thanksgiving ceremony to the God of Rain, Lord Indra. Ritual of Bhogi Mantalu is observed. On this day people take off all useless items from there house and burn them on bonfire made up of cow dung cakes called Kande.
Second day is called as Thai Pongal. Females make beautiful designs called Kolam, outside there houses. Kolam is made by white lime powder. There is ritual of boiling rice and milk together in an earthen pot. A small turmeric plant is tied to earthen pot (outside) as an offering to the Sun God. Sticks of sugarcane, banana and coconut are also offered.
Third day is known as Mattu Pongal. On this day, cattles are worshipped. They are decorated with garlands, flowers and bells. Cattles help to plough the field for cultivation of crops and hence for this work they are worshipped.
Fourth day is called as Kaanum Pongal. It is the last day of Pongal. Women place out the remained sweet pongal on washed turmeric leaves along with sugarcane and betel nuts. This is performed by females for the prosperity of their brothers.
5) Magh Bihu or Bhogali Bihu
When :- 15th January, every year
Magh bihu is celebrated in Assam state in East of the country. Like Makar Sankranti, Lohari and Pongal, it is also harvest festival for the Assamese. People welcomes the longer days and marks the end of winter season. The month of January – February is known as Magh and Bihu is a Sanskrit word which means asking God for prosperity after harvest season.
A bonfire called Meji is lit in morning and people pray to God. Men prepare Bhela ghar of bamboo, straws and other leaves in the farm. This Bhela ghar is burnt after feasting. Women prepare food items like Pitha, Laru, Chira. New dishes are made up with the products of harvest. Assamese people play traditional games like tekeli bhonga (pot breaking), Buffalo fighting, cock fight. Sweets are made up with coconut, sesame seeds, puffed rice and rice. They offer these sweets to friends and family. People dance, sing and wear there traditional outfit known as Mekhela Chador.
6) Republic Day
When :- 26th January, every year
One of the National Festival of India is Republic Day. It is celebrated with great enthusiasm and charm throughout the country. On this day, Indian Constitution came into force (26th January,1950) in India. Various programs and arrangements are made all over the country. Main celebration is held at Delhi, the national capital of India.
Parades are organised by Ministry of Defense. The parade marches from Rashtrapita Bhawan along Raj Path in New Delhi. Every school, college, universities and offices celebrate Republic Day. Indian Flag is hoisted by the chief of the organization. National song is sung by every individual in India.
7) Kutch Rann Utasav, Gujarat
When :- From November to February
Rann Utsav is most popular festival in India. It is organised in Kutch every year, in the peak season of Winter, ie. From November to February. The four month festival tells culture of Gujarat, story telling session, folk dance, traditional music, handicrafts and Food items. This festival attract tourists from other states and country.
International Kite Flying Festival held every year at Gujarat, on the occasion of Makar Sankranti. Differently shaped kites are seen in the sky. About 20-40 countries take part. This year, the festival is cancelled due to pandemic COVID-19.
Festivals listed above are major festivals that are celebrated widely in India. Everyone in India will celebrate all these festivals with great enthusiasm and happiness. I wish these festivals bring a new ray of hope in everyone's life. At last, wish you all a very Happy January.
Happy Lohari, Happy Pongal, Happy Makar Sankranti, Happy Bihu, Happy Republic Day to all the citizens.
#Read more on- http://one-among-12-jyotirlinga-in-india-mahakaleshwar