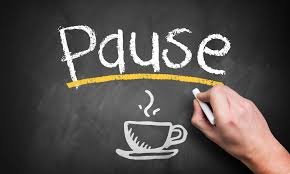 Pause, stop a while and think….!
Its good to pause, before speaking, before blaming, before doing anything wrong, before overthinking! Pause for a while to look, inner soul and the answers for many different questions will be automatically solved.
Sitting by the window of a train journey do you recall the sceneries of varied colors passing by?? Overwhelmed by the sprightly pace. This might bring fond memories of one's childhood. Speaking of childhood, the poem "We have no time to stand and stare, What is life if full of care." by William Wordsworth, surely rings a bell. Little did we know this would be a reality for most of us.
However, we do mange to get breaks, go on trips and treks , find some time to actually stand and stare; its mostly outwardly. Standing at any point of time the feeling of being detached from life's path. The phases of life passing by from childhood to adulthood on identities given by our parents, acting on the expectations of the society, bending and mending according to the company around us. Like a helpless child on a train by the window seeing life pass by. Our Passion, dreams and the aspirations pass by like the unstopped stations.
Perhaps investigating on the overall universal meaning of life is too big, a task for individual mediocrity. Going through life with clueless stride we often lose our path, our individuality, dissociate from our very selves. Depression, anxiety and hypertension, low self confidence and dissociative disorders. The terms so familiar with all age groups have become increasingly prevalent since the recent decades.
Why to pause?
It is time to pause. Review the aspirations and revisit the dreams. Maybe take the dance lesson, write that blog, step towards that dream career. Yes we are on a train called life, it is fast and unforgiving. We still can pull that chain. Get down our desired station. All one needs is to be not afraid of criticisms. Not afraid to fail, an important lesson we probably were not taught. Dare to fail yet start and smile you started, you lived.
It sounds dreamy, unrealistic and fairy-tale like. Yet the child in you wants to give it a try. One last time and just one more before giving up. According to a research on successful men, self made millionaires, tech giants and writers and influencers. It was observed they had one trait in common. They let their passion drive them. 50% of interviewed successful people revealed they spend 30 to 50 minutes on self-introspection and chase their own goals , create their own path rather tread on pre-assigned, familiar ones. A common life style habit that guide their success.
Success comes with different implications to an individual. Work satisfaction, work-life balance, a good health, acceptance of one life, one's image , own shadow, our faults our small winnings, and good people to share them with. We can all agree is enough to make a mediocre life our version of extraordinary. A little hazy from the fast train; start with small steps we all have our unique path. Realistic intentions and work plan merged with unworldly courage and the world is ours to take. The concept of exaggeration is personal you shall see.
Read the poem for today, who knows this might be your first step. Read some other amazing posts on "unveil.press". Reading everyday is one of basic traits of all successful men. Everything emanates from you . "If you want to make the world a better place, take a look at yourself and make a change." 'The man in the mirror.' says Michael Jackson.