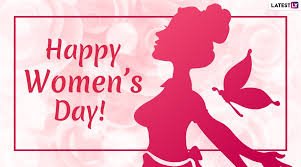 A strong women accepts both compliments and criticism graciously, knowing that it takes both, Sun and Rain both for a flower to grow.

YourTango
Did you know the hashtags for this year's Women's Day? Its #ChooseToChallenge and #IWD2021! Here is some more information about the day!
8th March- International Women's Day
The history of struggle
In 1975, International Women's Day was first celebrated by the United Nations. But this celebration has a longer history- one of continuous struggles for their basic rights!
In 1977, the General Assembly of the United Nations adopted a resolution for the United Nations Day for Women's Rights and International Peace to be observed on any day of the year by Member States, in accordance with their historical and national traditions.
On the eve of World War I, in 1913, women in Russia first observed their Women's Day, as a part of campaigns for peace, on the 23rd of February. The following year, women across Europe including London, marched for peace on this day.
In 1917, women started a strike for 'bread and peace'. Following this, the date was changed into the Gregorian calender to March 8, all over the world.
Movements behind Women's Day
Before 1975, Women's Day was celebrated in different countries, and associated with different women's movements. Some of them are:
1908: Labour movements in New York, and march for better pay, working hours, and voting rights.
1910: Clara Zetkin, the leader of the 'Women's Office' for the Social Democratic Party in Gemant formulated the idea of International Women's Day.
1911: International Women's Day was celebrated in Austria, Denmark, Germany and Switzerland on March 19.
When did pink become a girly color?
In America by the 1890s and the early 20th century, manufacturers wanted to sell more childrens' clothes by color-coding them. Some manufacturers branded pink for boys and blue for girls, and vice versa. Stores like Macy's in Manhattan and Wanamaker's in Philadelphia identified pink as a girl's color.
Women's Day marks a challenge posed to the increasingly 'men's world'; where immense struggles were historically made for rights of basic living, free-will of reproduction and voting.
Obviously, International Women's Day also questions the different stereotypes around the construct of 'feminine.' Here we can mention the women's liberation movement in the mid-1960s, with its message to reverse 'feminine' clothing, and the fashion of the unisex would rise!
This was a protest against gendered social norms and how 'pink for girls' and 'blue for boys' would be used by the market to explode consumerism!
Breaking the color-code!
Presently, there are three colours of significance for the day!
The three colours are purple, green and white. Purple signifies justice and dignity, green symbolizes hope and marks the feminist movements, and white represents purity, which was slightly married by controversy.
The colors originated from the Women's Social and Political Union (WSPU) in the UK in the year 1908.
What is the theme this year?
The theme for International Women's Day 2021 is "Women in leadership: Achieving an equal future in a COVID-19 world." It brings to light the importance of facing challenges with equal gender opportunittes!
It also marks the immense participation of women in the global struggle against the pandemic. It will mark the reverence of all women doctors, nurses, and other warriors in the front!
It also gives the message of equal partnership in decision-making especially those regarding policymaking. The recovery from COVID-crisis needs a strong representation of women, and needs a better future for girls and women!
The struggle behind International Women's Day is long and full of important revolutions- brave struggles for basic rights that women today have. Let us thank the women who created history, and promise to work towards an equal society in the days to come!
Being a woman, I wish Happy International Woman's Day to all the beautiful ladies of this world !!! 
Read more:
https://yourstory.com/herstory/2021/03/story-behind-international-womens-day-theme-2021
Did You Know About The Complexities Of Working-women And House-management? Read To Know 6 Important Reasons Why Patriarchal Society Places Them In A Difficult Position! » Unveil