Are you a recent graduate with a degree or diploma in Mass Communication or Journalism, eager to embark on a Journalism career in news reporting, broadcasting, or media? If you are, your journey as a journalism contributor begins at Bangla Khabor (বাংলা খবর), a Leading News Portal in Kolkata, where the doors are opened to passionate, aspiring journalists ready to embrace the noble cause of truth and accountability.
The Power of a Fresh Perspective: Initiating a Journalism Career
As recent graduates, a fresh perspective, unbridled enthusiasm, and a thirst for truth are brought to the field of journalism. The opportunity to make an immediate impact and introduce a new perspective to the industry is presented.
Field Reporter: History Witnessed Unfolding
As field reporters, the opportunity to witness history firsthand is granted. At the forefront, events as they happen are covered, and voices are given to those who need them. Stories spark change, raise awareness, and offer valuable insights into the world's most pressing issues.
Desk Job Dynamo: Organizing the Chaos
Behind every successful newsroom, dedicated desk job professionals ensure the seamless flow of information. Meticulous attention to detail, organizational skills, and fact-checking abilities help make sense of complex issues and maintain the integrity of journalism.
Voiceover Artist: Stories Brought to Life
Voiceover artists have the power to bring stories to life through their narration. Voices serve as bridges, making news accessible and relatable to a diverse audience. Emotions, urgency, and significance behind every news story are conveyed.
News Anchor: The Face of Truth
As news anchors guide viewers through the day's events. Credibility and trustworthiness are instrumental in helping the public understand and navigate complex news topics. Sources of reliability and assurance are established in a world filled with information.
Opportunities Await: Joining the Noble Cause
At Bangla Khabor, the potential in recent journalism graduates is recognized. Applications are invited to embark on a fulfilling journalism career. Applications can be sent to career@banglakhabar.in, where vital contributions to the fourth pillar of democracy await.
As recent graduates, the journey into journalism is about making a difference, speaking truth to power, and empowering individuals with knowledge. With Bangla Khabor, the following can be achieved:
Professional Growth: Learning from seasoned journalists, skills are honed, and a strong foundation for a successful career is developed.
Influence: Work having a direct impact on shaping public opinion, driving change, and holding the powerful accountable is done.
Networking: Valuable connections with industry professionals and experts are built.
The Opportunity to Tell Stories: Being the voice of those whose stories need to be heard and bringing their experiences to the forefront is provided.
Contribution to Democracy: A vital role as the fourth pillar of democracy is fulfilled, ensuring transparency, accountability, and social awareness.
The journalism career with Bangla Khabor is more than just a job; it's an opportunity to create a better society, uncover the truth, and inspire change. Joining Bangla Khabor is an opportunity to be part of the noble cause of journalism at its finest.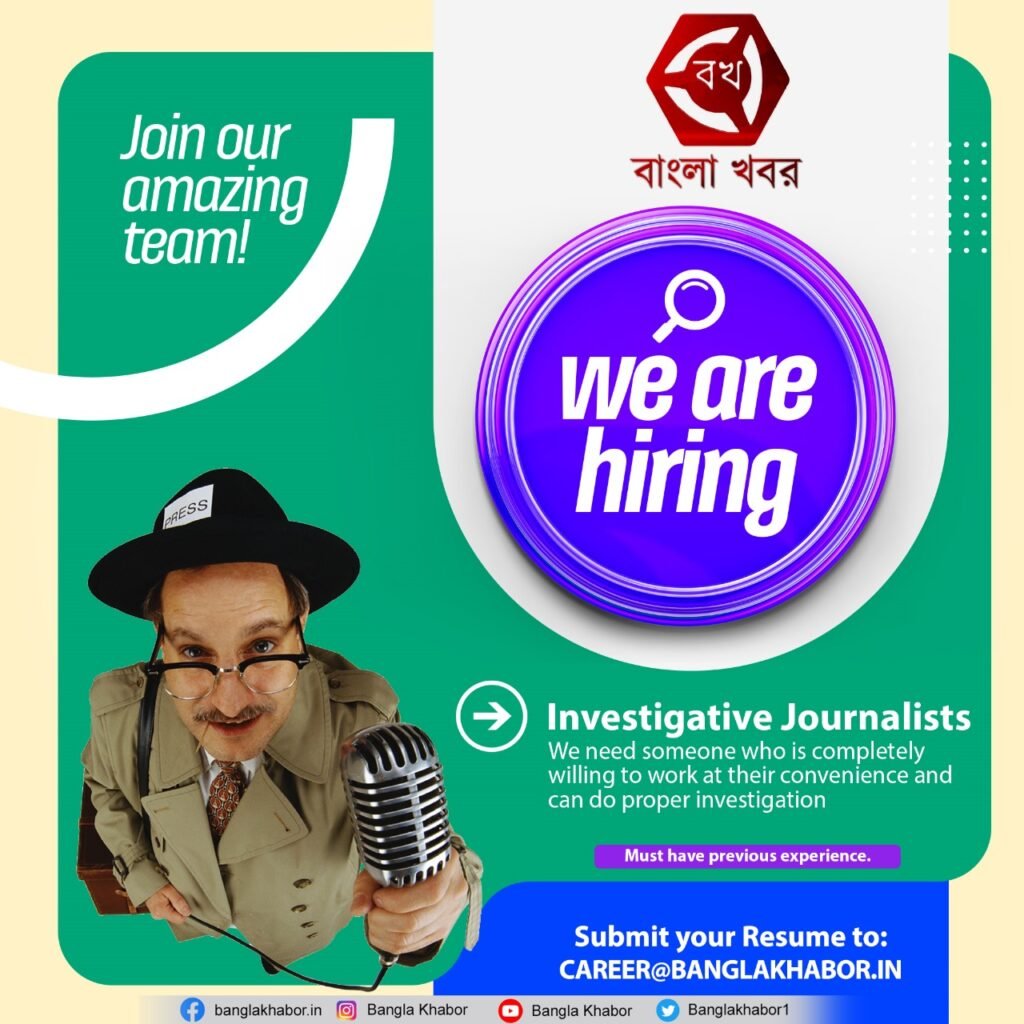 READ THE DETAILS BELOW : THE VACANCY WILL NOT WAIT.
সংবাদ মিডিয়া বিভাগে চাকরি খুঁজছেন! বাংলা খবরের গতিশীল দলে যোগ দিন !
Greetings,
Are you a passionate news enthusiast searching for a fulfilling career in journalism? Your opportunity awaits at Bangla Khabor (www.banglakhabor.in), where we value talent and dedication.
We are excited to welcome individuals into various engaging roles within our dynamic news team. Take a moment to peruse the detailed job descriptions and discover where your skills and aspirations align.
**1. News Anchor/Reader (2 vacancies):**
– Are you at ease presenting news and delivering daily bulletins with confidence? We're seeking individuals to be the face of our news broadcast.
**2. News Researcher (2 vacancies):**
– Harness your research skills to curate and select news for publication. If you're an experienced individual who thrives on in-depth analysis, we invite you to join us.
**3. Investigative Journalists (5 vacancies):**
– Calling all investigative journalists! If you have a penchant for uncovering truths and presenting stories with finesse, we have multiple positions available.
**4. Field Reporter (6 vacancies – Specific Districts):**
– Venture into the heart of the news. We are seeking dedicated reporters for the following districts:
– Kolkata: 1 vacancy
– North 24 Parganas: 1 vacancy
– South 24 Parganas: 1 vacancy
– Nadia: 1 vacancy
– Hooghly: 1 vacancy
– Howrah: 1 vacancy
**5. Content Manager (1 vacancy):**
– Are you well-versed in content management systems and possess over 3 years of text/video content planning experience? Lead our content strategy and master the art of compelling title writing.
**6. Ad Sales/Collection (Multiple vacancies):**
– Energetic go-getters with a knack for ad collection! Secure advertisements from the market and contribute to our channel's growth. Competitive salaries and enticing incentives await.
**7. Executive Editor/Copy Writer (1 vacancy):**
– Craft compelling news copies, diligently tag stories, and select stories that resonate with our audience. Join us as our Executive Editor/copywriter and shape our news narrative.
**8. Voice Over Artist (1 vacancy):**
– Make your voice heard! If you possess a knack for impactful voice delivery and punctuality, come be our Voice-Over Artist and bring our stories to life.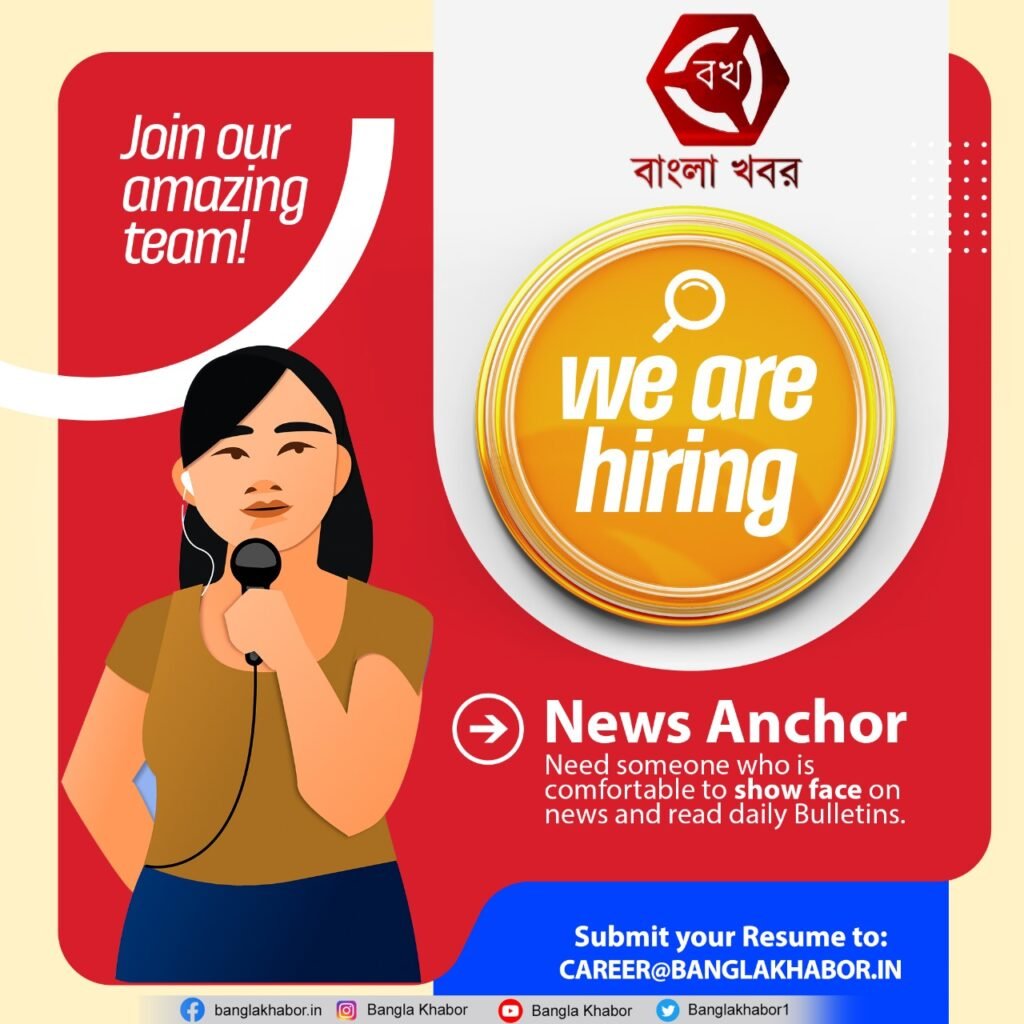 **Note:**
– Aspiring individuals with no prior experience are encouraged to apply for internships in any of the above positions. Reach out to our HR department to learn more about stipends and intern perks.
If you're eager to immerse yourself in the world of news and be a part of a dynamic team, seize this opportunity at Bangla Khabor. Your journey to make a difference in journalism starts here.
For inquiries and applications, please contact our HR department.
Best regards,
Bangla Khabor
send your CV at : career@banglakhabor.in or fill out the form below.
#jobhunt#job#jobalart#banglaKhabor#news#newsreporterjob#newsanchorjob#jobvacancy
N.B: This is an informative and collaborative post with Bangla Khabor (বাংলা খবর)
*** Are you a graduate and searching for a job from home or might be from my office? Click on this link below to know more.
Fair Finance is giving you a chance to earn up to minimum 50,000 per month easily.