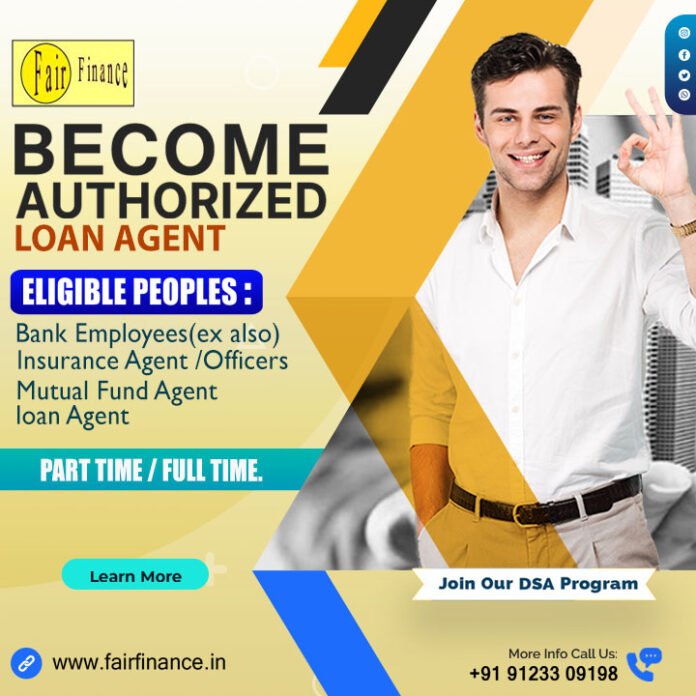 Are you in the financial domain and seeking a partnership that offers a host of benefits and potential for growth? Fair Finance presents an enticing opportunity for you to become a Direct Selling Agent (DSA) partner. With direct agreements with numerous banks and NBFCs across India, Fair Finance stands out as a corporate DSA that provides a range of advantages to its partners. Here are seven compelling reasons why you should consider joining hands with Fair Finance:
Fair Finance: the best Loan aggregator to get assigned with as a DSA partner in PAN INDIA(BHARAT)
1. Extensive Reach and Accessibility:
Fair Finance boasts direct agreements with major banks and NBFCs, offering accessibility across India, including rural and municipal areas. They facilitate both private funding and secured loans, ensuring a broad reach for your services.
2. Flexible Ticket Sizes and Quick Processing:
Qualified partners gain access to a wide network of financial institutions and can process loan files swiftly, starting at a minimum ticket size of three lakhs for unsecured loans and 20 lakhs for secured loans. Even for those with low credit scores, secured loans are possible starting from a ticket size of 30 lakhs.
3. Swift and Transparent Communication:
Fair Finance implements a '60-minute policy,' ensuring partners receive timely updates on their submitted loan files. Transparency is a priority, allowing you to track and reassure your customers with the fastest possible responses. Disbursements occur within 2-3 business days for unsecured loans and 4-5 business days for secured loans.
4. Empowering Loan Aggregation:
With corporate agreements in place with various registered lenders, Fair Finance empowers you to enhance loan limits and modify rates of interest, loan tenure, or other aspects even after loan sanction, providing unparalleled flexibility and support.
5. Competitive Payouts:
Fair Finance is committed to providing DSA partners with the highest possible payouts in the current market, ensuring your efforts are duly rewarded.
6. Diverse Income Opportunities:
Beyond loan aggregation, Fair Finance offers a diverse range of financial services, including insurance, credit cards, GST, and taxation expertise. This presents an opportunity to broaden your revenue streams by catering to a wider range of customer needs.
7. Exclusive Geographical Benefits:
Once enrolled and performing well, Fair Finance rewards its partners by refraining from assigning additional DSAs within a specified radius. In addition, any new leads generated in your area are automatically assigned to you, enabling you to earn extra commissions and foster business growth.
But it doesn't end here. Fair Finance is about more than just monetary benefits. It's about empowering individuals to create a thriving business, even if they lack a background in finance.
Are you yearning for a promising partnership that can turn your referrals into a steady stream of income? Fair Finance, a dynamic loan aggregator, is revolutionizing the way channel partners generate revenue, providing an incredible opportunity to earn up to 50,000 INR effortlessly by simply referring loan applications.
Fair Finance operates on a straightforward model, where DSA partners play a vital role in sourcing loan applications and sharing the necessary contact information with Fair Finance. The responsibility of channel partners is simplified to identifying potential loan applicants and facilitating the connection with Fair Finance for further processing.
But what makes Fair Finance truly stand out is its commitment to supporting and empowering its partners. Regardless of your background or knowledge in the financial sector or loan applications, Fair Finance offers comprehensive onboarding and training. This ensures that anyone, irrespective of their expertise or experience, can kickstart a rewarding career as a DSA partner.
Here's a closer look at how Fair Finance is reshaping the financial landscape for channel partners across PAN India:
Effortless Earnings with Referrals:
Fair Finance has streamlined the process, making it incredibly easy for DSA partners to generate income. By simply referring loan applications and sharing contact details, partners can earn substantial commissions, with the potential to make up to 50,000 INR.
Comprehensive Onboarding and Training:
Fair Finance understands that many individuals may not have prior experience or knowledge in the financial sector. That's why they provide thorough onboarding and training to equip partners with the necessary skills and expertise to excel in their role. This ensures that anyone can embark on this rewarding career path.
Pan-India Availability:
Fair Finance's DSA partnership opportunity is available to everyone across PAN India. Whether you reside in a bustling city or a remote rural area, you have the chance to be a part of this exciting venture and reap the financial benefits.
Partnering with Fair Finance is not just about financial gains—it's about being a part of a forward-thinking organization that values its partners and invests in their success. Join Fair Finance today and step into a world of opportunities, where your referrals can transform into a lucrative money-making venture. Don't miss out on this chance to elevate your earnings and craft a successful career in the finance sector. Start your journey with Fair Finance and pave the way to financial prosperity.