Talaash 2012, Hey guy's what's up! Hope you all good. So here I am again with another master class horror movie review article.
So guys as we all know that in this lockdown situation most of the people are getting bored for being home all the time.
And a good film can make your mood better always. The movie that can change your life and mind.
Some movies are like you just have to watch and put your mind in outside. There are no use for your brain to understand the movie.
But some movies are like you are watching and after ending also you can't understand. Your mind, your brain has cover by them.
Very low percentage of film in India are made by strong storyline. A movie is standing on it's story always.
So today's story which I will tell you about the film, Talaash 2012.
If you are a horror movie lover or suspense and thriller movie lover then its gonna be a masterpiece for you.
Talaash is in the list of those movies which can give you double happiness. It has suspense thriller, horror, love, drama, reality, action and many more.
So before going the explanation of the movie I must say that I will not give you the details of the story! I am just here to give an idea about the story and the information by that you become willing to watch it. So don't expect that I will tell you the whole story!
So let's start..
CHARACTERS OF TALAASH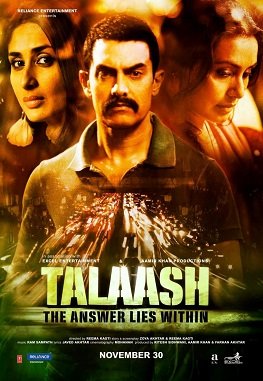 In this movie there are many characters who played their important roll. But the mostly played characters are the police officer Suri, his wife and a call girl prostitute Rosi.
And some others important characters are Sanjay, Sushi, Taimur, the neighbor of Suri and his wife and others.
THE STORY FACTS of TALAASH
The story is based on a real life incidents and it was happened with the director of the film.
Let's read all the facts of the story.
FACT 1
Talaash has started with an abnormal car accident.
A famous superstar Armaan Kapoor has died in that car accident. He was driving himself and his death of cause is lungs, full of water.
The strange thing is the speed of the car was normal, Armaan was not drunk, no jam, everything was fine. But suddenly the car moved it's stirring and went to the sea, which is approximately 20 feet from the road and broke the railings.
FACT 2
A police officer Suri, who has newly got a transfer in Mumbai, gets the responsibility to solve the high profile case. He is also an encounter specialist.
Then one of the constable of the police statio tell Suri, that this type of cases never solved. It's a horror incident.
FACT 3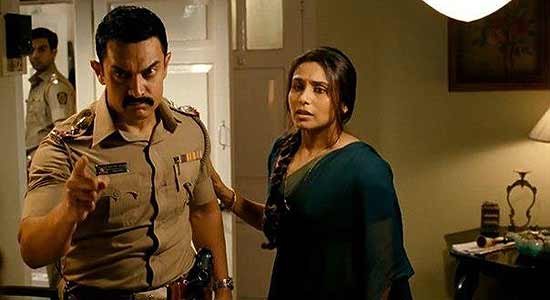 Suri and his wife live together in an apartment but they don't have a good relationship now. It's only because they had lost their child karan, at the age of 8. Both of them can't forget the incident and they can't be happy.
Karan was died due to drowning in the lake.
FACT 4
Their new neighbor was trying to talk to them. And one day she told them that she knows karan and she can talk to him. She can talk with spirits.
Suri's wife wanted to know about the things but Suri didn't like the lady and shouted to stay away from them.
FACT 5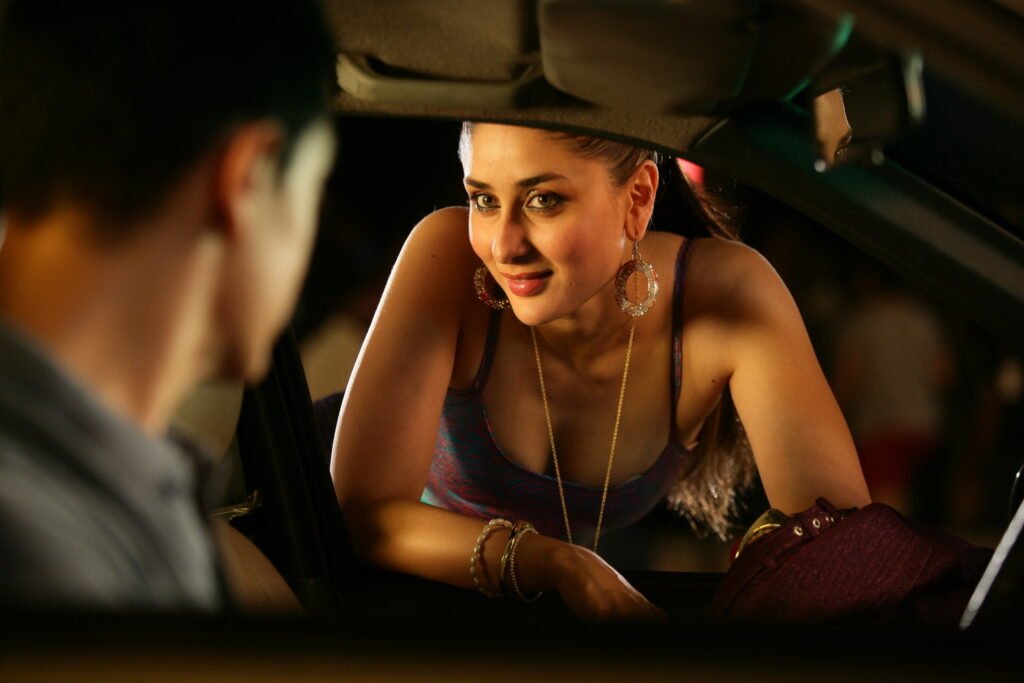 Most if the time Suri stay away from home even at night also. And one night he meets with Rosi, the prostitute.
And he gets many information about the case from her.
Rosi played the second lead character in this story.
FACT 6
On the other side, Sushi the pilot of prostitution locality, run away from there with 20 lakhs rupees. He left his previous sim card and his beloved on there.
And his servant, Taimur gets know many hiding information after using the old sim of Sushi. And started to blackmail Sanjay, the friend of Armaan kapoor.
FACT 7
When Suri was at last stage of investigation, he heard somethings which are not going in right path. And from there the horror suspense begans.
Is everything is normal with Suri? Can Suri feel the reality? Or just seen whatever he has been shown? Who is human? And who is spirit?
If you want to know those answers and go and watch the movie Talaash.
And now the time of ratings. Well I would like to give 3.5 stars out of 5 to Talaash.
So guys hope you like it. See you again, Thank you!..
https://www.unveil.press/review-of-ajeeb-daastaans-master-class-film/