On one fine wintry morning of this January , my son Saikat and I went out for ride on a bike to Singur—a small town in Hoogly district of West Bengal. The place is famous for Dakat Kali Mandir (Dakat in bengali means Dacoit).

Nestled in the green cover of village Puroshottampur, the Kali Puja in Dakat Kali temple here, as the villagers say, is about 500 years old. Legendary stories surrounds this 'Dakat Kali Puja' . It is said, once here lived two dacoits, Raghu and Gagan. They were a terror in the region. But both were ardent devotee of Mother Kali . They worshipped Mother Kali before set in for dacoity. In ancient days, dacoit used to believe, Goddess Kali induces power in them.


The legend has it that once Mother Sharada Devi, wife of Ramakrishna Paramahansa's, happened to pass through village Mallickpur, 'an adjacent village to Purosattampur'. She was on her way to Dakshineswar from Kamarpukur to meet the ailing Ramakrisna.
Legend of the Dakat Kali Mandir
With darkness falling, dacoit Raghu and Gagan intercepted her way. But the twosome were in for shock and surprise as Sharada Devi eyes turned blood shot, resembling Goddess Kali face. Raghu and Gagan realized their mistake. They grabbed Sharda Devi's feet in remorse. They sheltered her in their hut for that night, offered her fried rice (chal bhaja in bengali) and fried pulse (Korai Bhaja in bengali) to eat . The very next day they escorted her safely to Dakshineswar. From then on, as an age old tradition fried rice and fried pulse become a part of Prasad during Kali Puja.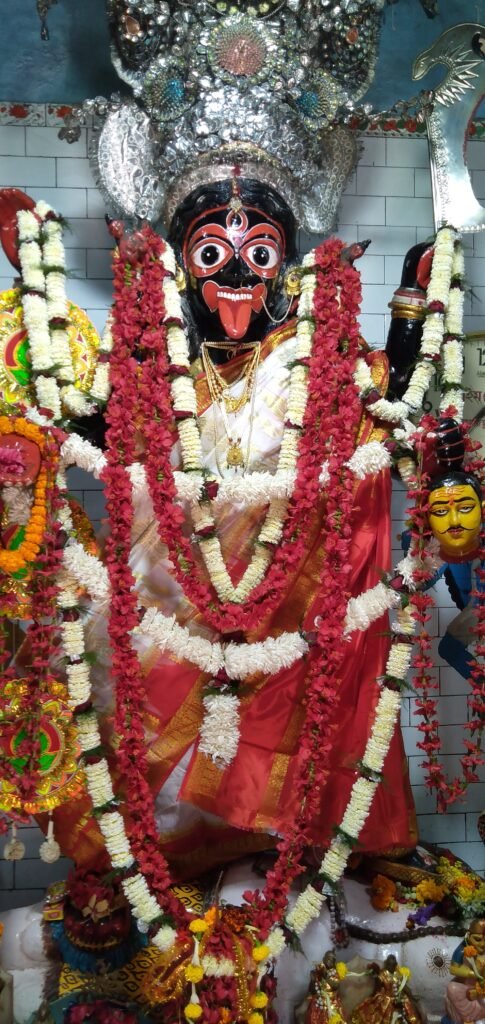 In an air filled with religious fervor and gaiety, Kali puja is unfailingly celebrated here twice in a year, one in Deepawali and other in Shravan month of Bengali calendar.

The priest of the temple, Tarun Chatterjee said in olden days, there was no structure and only a Pot (Ghat in bengali) symbolizing Goddess Kali was worshipped.
In the aftermath of incidence, Raghu and Gagan Dakat made the idol of Ma Kali having blood shot eye. The idol revealed the enraged face of Mother Kali they witnessed in Sharada Devi. Later, the then owner of Burdawan Estate constructed the temple initially. But the traditional Ghat Puja is every year performed at first, before commencement of Kali Puja. The Ghat is filled with sacred Ganga river water every year during Kali Puja and is preserved till next puja. The holy water as a mark of peace and happiness, is sprinkled over devotees when they visited temple.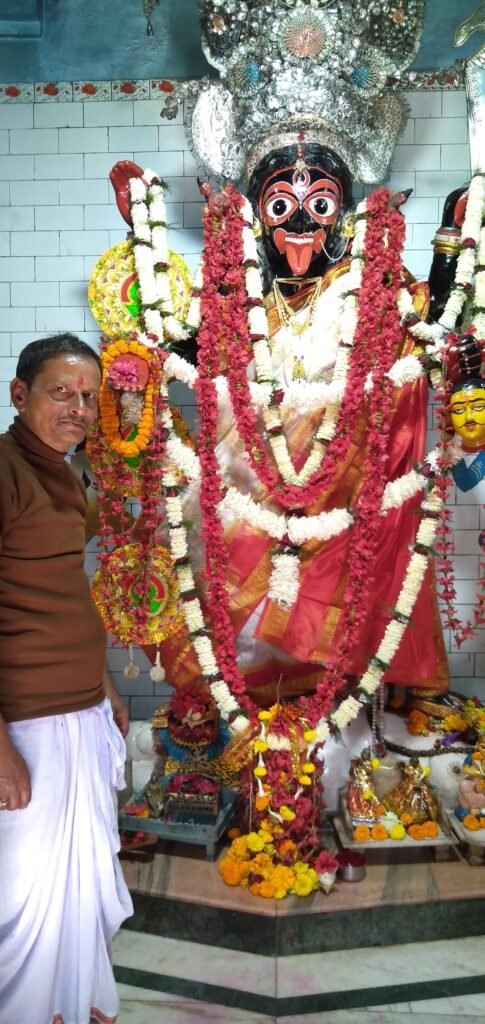 The ardent devotees when visit here, perhaps could also feel the reflection of anger and dreadfulness in Ma Kali idol, reminiscing the miracle experienced by dacoit Raghu and Gagan.

"The place, once was secluded with dense jungles around and hardly any one were residing. People were scared of passing through here. More so, for fear of dacoit", said the priest. But now with changing time and rapid growth of education, situation is now no more the same, added Banerjee.
For past four generations, Banerjee family have been tasked for performing the puja of this legend bound temple

Kalyan Mondal, a local youth said there are 3 more villages, Nasibpur, Mulilckpur, Jaminberia in vicinity but there is no Kali temple here. "Even in houses here, there is no calendar of Kali or statue hanging on wall in these villages. People do not dare to worship any idol other than the idol at Purosattampur Kali temple. "On doing so, they believe that they would invite the wrath of Dakat Kali.".
Hemant Adik, 'a farmer' said the combined population of Purosattampur, Nasibpur, Mullickpur and Jamniberia is arround 3500.Most of them belonged to Agriculture family He also showed us the vast farming land of Puroshottampur.
"Potatoe, Onion, Mustard, Colly flower, Banana are our main agriculture product. People make their living by selling them besides other odd job"Adik Said.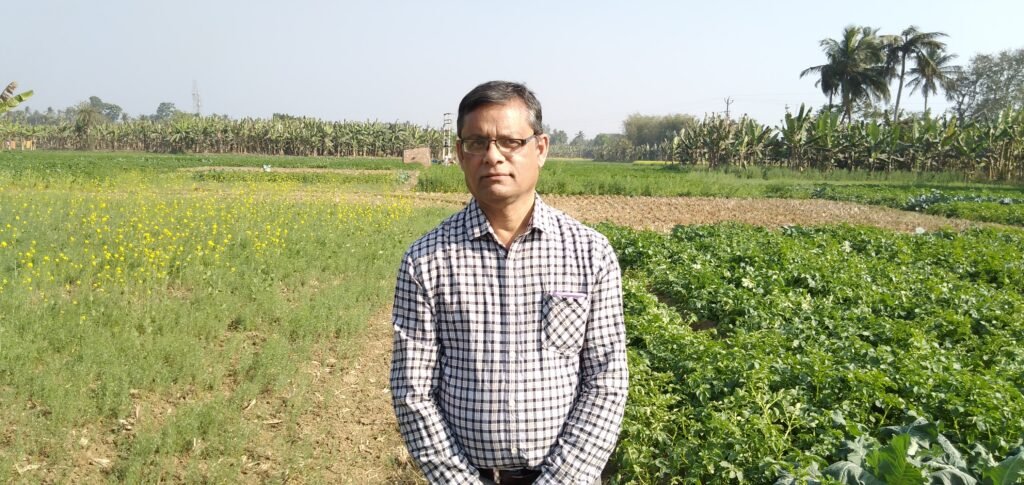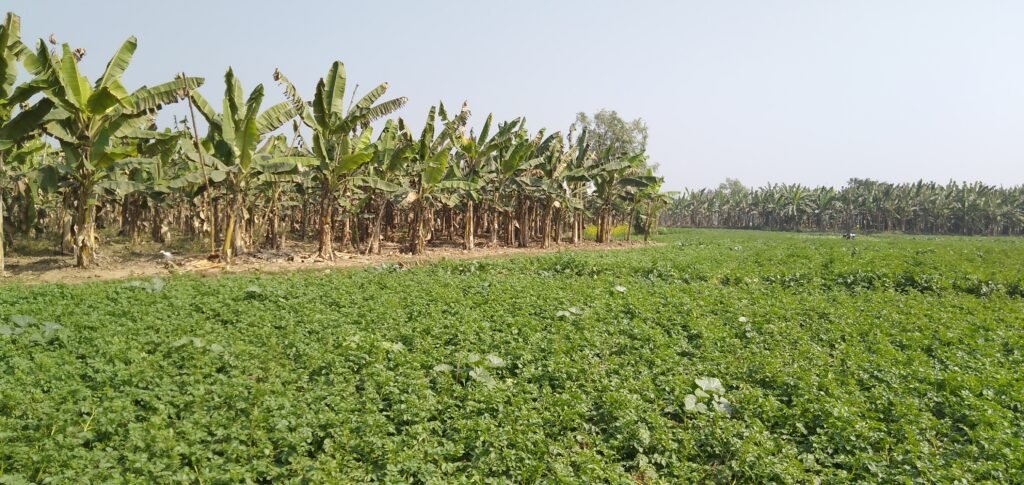 Greenaries adds a soothing charm to the serenity of the place. People visiting this region should not miss this place. Talking to the villagers make me feel that they are simple, noble and humble. You can feel the warmth in their words when you visit here.