Soumitra Chatterjee – The cultural icon of Bengal as well as of India.
To suggest that Soumitra Chatterjee has earned the title of "excellent actor" now is certainly an understatement of the century. Even the phrase "excellent actor" is inadequate. Soumitra is a cultural icon, a national treasure, and one of India's art film pioneers. Despite the fact that he is possibly India's greatest living acting icon after Dilip Kumar, the actor is nevertheless periodically provincialized as a 'Bengali' actor given the extensive media coverage he has gotten throughout his extraordinarily long career.
While Chatterjee has received plenty of international acclaim over the course of his six-decade career (including the French government's Legion d'Honneur and Commandeur de l'Ordre des Arts et des Lettres), his place in the national cinematic imagination is a little more twisted. The 20 performances listed below are meant to serve as a springboard for further exploration of his astounding depth and breadth of cinematic achievement.
(1) Apur Sansar ('The World of Apu'; 1959)
The third and final instalment of Satyajit Ray's Apu trilogy was also Soumitra's cinematic debut, making it a timeless masterpiece of world cinema. Three different performers played Apu in the trilogy's first two films. Soumitra, who moved to Calcutta after growing up in the culturally rich village of Krishnanagar, auditioned for the role of Apu in Aparajito while still a student. Ray, on the other hand, believed he was too tall to play a young Apu.
Soumitra was asked back for the lead in Apur Sansar two years later, when he was working at All India Radio. As a result, a fantastic cinematic partnership and mentorship connection arose. Watch the movie for Soumitra's immensely intelligent screen presence and careful delivery, which marks the beginning of a new age for Bengali acting.
(2) Charulata ( 'The Lonely Wife'; 1964)
Charulata was a landmark in Soumitra's career for his ability to portray the naiveté, fragility, and energy of artistic aspiration with acute sensitivity. It was perhaps the pinnacle of Satyajit Ray's cinematic achievement and his most mature film. In this film, pay special attention to Soumitra's meticulous attention to detail. Soumitra examined old manuscripts and papers in order to imitate the patterns of Bengali handwriting in the Pre-Tagorean era, as the film was set in the late 1870s and contained many images of his handwriting.
(3) Sonar Kella ('The Golden Fortress'; 1974)
Soumitra was 38 years old when he played Feluda, one of Bengal's most famous fictional youth icons. Ray was in his mid-forties when he embarked on his second and final Feluda enterprise, Joi Baba Felunath ('The Elephant God'). Even Satyajit Ray's later paintings and sketches of the character in books had a 'Soumitra look' because of Soumitra's aesthetic effect in graphically establishing the detective in the Bengali cultural psyche.
Sonar Kella is credited with paving the way for Soumitra to become a cultural icon for bengalis of all ages. While Feluda, the character Ray created for popular Bengali periodicals in the mid 1960s, had a wider appeal than the intended audience of children and young adults, Soumitra's cinematic portrayal established him as a trustworthy role model in many households, and a popular fictional character was transformed into an iconic cultural treasure. From then on, Soumitra and Feluda became nearly interchangeable.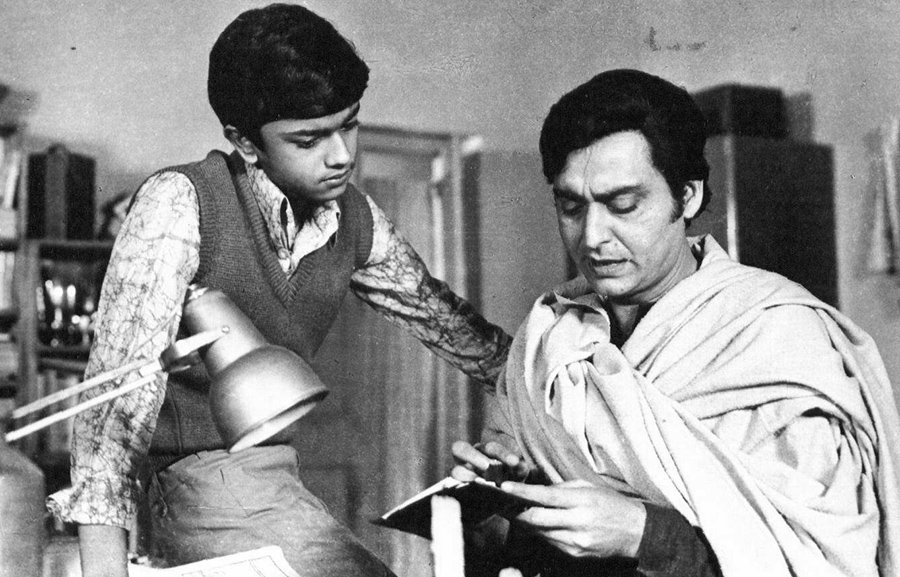 (4) Koni (1984)
The Bengali novel of the same name by sports journalist and author Moti Nandi was the inspiration for Saroj Dey's Koni, a narrative of triumph over hardship. The National Award-winning film portrays the storey of Koni (played by accomplished swimmer Sriparna Banerjee), who was up in poverty but excels as a swimmer thanks to her coach Khitish Sinha, affectionately known as Khit Da (played by Soumitra). "Fight Koni Fight!" remains the film's rallying cry, and Soumitra gives one of her best performances.
(5) Jhinder Bandi ('The Prisoner of Jhind'; 1961)
In his Tagore adaption Kshudhita Pashan ('Hungry Stones'; 1960), director Tapan Sinha first worked with Soumitra, but it was in Jhinder Bandi that we see the first thorough study of Soumitra's acting range. He was Mayurbahan, the antagonist, who stood strong against Uttam Kumar's traditional hero. The film was based on Saradindu Bandyopadhyay's novel, which was heavily influenced by Anthony Hope's The Prisoner of Zenda. So began a cordial but enduring rivalry between two schools of celebrity. The scenes with the two titans, as well as Ali Akbar Khan's compositions, are worth seeing.
This is a list that is entirely subjective and personal to the author. It was difficult to leave aside critically praised films like Agradani (which I thought was a little too melodramatic), Kshudhita Pashan ('Hungry Stones'; 1960), or even Wheel Chair. So, I'll just leave them as 'honourable mentions,' while also clarifying that Soumitra's collaborations with Ray are almost always worth watching.