Kolkata, a marvelous city is a place where the breeze smells like happiness and the water tastes pure, the "city of joy" is for the "sucker for love". It is not only moody but also chaotic, passionate and full of charm. This city is the center of history, art and culture. It is also the literary capital of the country. Here are five things that make Kolkata irreplaceable.
Unique Kolkata
1)TRAM: An icon of the city, trams have been running on the streets of Kolkata for over a century. There were initially horse-drawn trams followed by the steam trams and later in the 1900s modern electric trams were introduced. Today one can travel from one destination to another by paying only Rs.7, which makes it the cheapest mode of transport in the city. They are not only cheap but also a very eco-friendly traveling option as there is no air pollution and Kolkata is the only city in the country to have an operating tram transport system till today.
2) DURGA PUJA: For those who have never seen the madness of the festival can never understand why it is indifferent. Preparation starts from months before. Pandals are built, roads are barricaded, hoardings are put up, people shopping for clothes with full enthusiasm and so many more things happen around. This chaos is not always bad as it creates an economy of 15000 crores providing employment to 2 lakh people. Food, fashion, art and so many more industries are getting huge financial benefit from this festival of 5 days.
3)NATIONAL LIBRARY: A book lover's paradise the National Library is the home to more than 2 million books. This library has it all from fiction to nonfiction, romantic to thriller, autobiographies to sciences thesis having written in 15 regional and international languages. The national library has the largest amount of children's books in the entire country. It is situated in Belvedere Estate in Alipore and remains open from 9 am to 8 pm on all working days except for national holidays.
4) FOOD: There is more than just 'rosogolla' and 'macher jhol' Kolkata serves an array of cuisines. From Mughal to Chinese to Bengali, you will get it all in Kolkata. The cuisine is a combination of quite a few cultures, which makes it unique, A-class, and remarkably scrumptious. Kolkata has one of Asia's largest China Towns that has been serving authentic Chinese food in the heart of Kolkata since 1910. One can get there by taking a bus to Chittaranjan Avenue or can opt for the train to Seadah railway station.
Another breathtaking place for food lovers in Kolkata is Park street also known as 'food street'. Most restaurants in Park street were built during the British era and so it is evident that the food served in the restaurants here has a lot of British influence. Restaurants like 'Marcopolo' ' Peter Cat' and 'Mocambo' are a few of the best restaurants for food and drinks. One can get there by taking the Kolkata metro.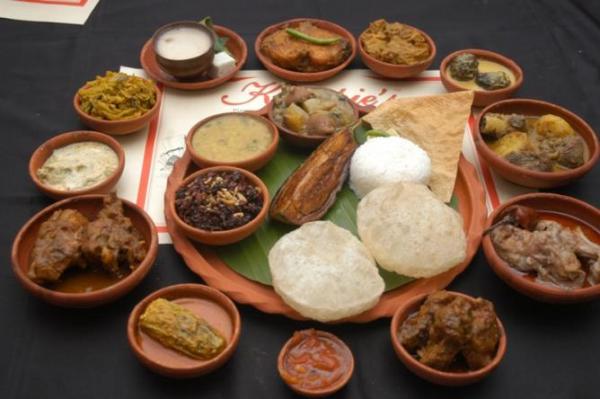 5) PEOPLE: Last but not least it is the people of Kolkata that make this city unique from others. This metropolitan is home to more than 1.49 crores. The people here are friendly, loving, and quite proud of who they really are. One can find the perfect combination of race, culture, religion living in great harmony and peace. The people of Kolkata are great thinkers. People here gather in groups in the evening to exchange opinions about politics, music, football and that list continues. This share of thoughts is locally called "adda mara" and it can continue for lengthy hours.
Kolkata is a city that has stopped in time. Its people, food and heritage make this city stand up in the crowd and one must come to this city at least once to experience the magic that this city has to offer.