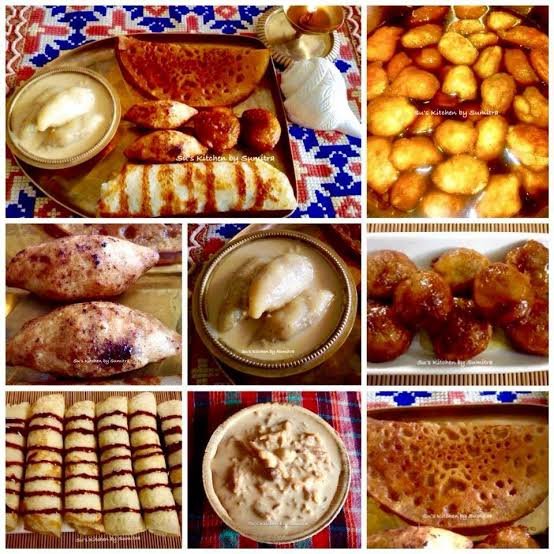 As the famous Greek physician Hippocrates opined 'We are what we eat', food represents our habits, lifestyle and culture.
Pitha can be, a sweet or savoury food item. Eastern India is famous for varieties of Pithe. Let's gain some information about pitha.
Bengalis are widely known to be 'petuks' meaning foodies, particularly sweet-tooths. It is due to this reason they are almost always associated with their Roshogolla, Sandesh and Mishti-Doi. Of course, such sweetmeats are commonly found and consumed throughout the year.
But, like the North Indians have their 'Gujia' and 'Kaju Katli' for Diwali, the Biharis have their 'Thekua' for Chhat Puja, the Maharashtrians have their 'Modak' for Ganesh Chaturthi, the Bengalis boast of their 'Pithe-Puli-Payesh' – a plethora of traditional sweets prepared during the winter months particularly at Pousha Sankranti.
Being one of the largest producers of paddy, Bengal loves its rice. In the Bengali month of Pousha, farmers reap their freshly grown paddy crop and celebrate the abundance and prosperity. Such festivities are referred to as 'Nobanno' ('naba meaning new and 'anna' meaning grains) or 'Pousha Parbon'(The Festival of Pousha).
Another component of Pithe preparation, apart from rice, is the Nolen Gud, i.e. the date jaggery, extracted from the date-palm (khejur) that is specially found in the winter months. It is a dark, golden red liquid that comes in the delicate earthen pots with lids tied with a string.
'Pithe' refers to a wide variety of sweet and savoury dishes in the form of crepes, dumplings, pancakes and pudding made of mainly rice and jaggery.
Most common pithe items:-
Patishapta: These are humble crepes with a sweet filling of grated coconut or khoya mixed with jaggery. Thin pancakes are made with a batter of rice flour, and then rolled in with the desired filling.
Puli Pithe: These are steamed rice dumplings with coconut and jaggery filling.
Chitoi Pithe : These are steamed rice pancakes made in a covered earthen mould and served with freshly grated coconut and the quintessential liquid gold, the Nolen Gud.
Nolen Gurer Payesh: This is the jaggery-flavoured rice pudding along with the steamed pithe items in it.
Rosh Bora: These are lentil fritters that are soaked in jaggery- flavoured syrup. They are soft and spongy.
Like 'Goyna Bori' handcrafted lentil dumplings, 'Nokshi Pithas' are traditional 'pithas' that are designed beautifully with delicate folds and fine cuts. Traditionally, no moulds were used. This is where art gets unified with culinary skills. Unfortunately, such a practice is getting extinct in the modern times.
Pithe-making is undoubtedly an art and is not everyone's cup of tea. It requires a lot of skills and patience. In the earlier times, when people stayed in joint families, the women-folk took the leading role in the process of pithe-making.
The matriarch of the family would sit stirring the payesh in the huge cauldron with the junior ladies around her grinding the rice or grating the coconut. The kids would peep now and then, or wait for the pitha and payesh to be served. Apart from feeding the family members, these pithas were prepared in huge quantities to be distributed among relatives, neighbours and friends.
Pithe, thus, is not simply a delicacy in Bengal. It tells the tale of its people and its culture. Today, the picture is entirely different. Unlike the yesteryears, people now, neither live in joint families, nor do they have time or patience to spare.
In the time of internet, the uber fast bullet trains and instant recipes, we are on the verge of losing many gems of our rich heritage. Such traditional recipes were handed down from generation to generation. It is high time that we realize our long forgotten roots and bring them to light. The government can play a significant role to promote these lost culinary art and skills. Schools should organise workshops, carnivals etc. to encourage the present generation of students to take interest and encourage them to learn these skills.