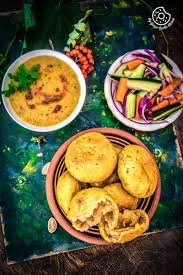 Daal-Bafla is famous Indian Dish which can be prepared at home with easy methods. Bafla is round in shape and Daal is flavored spicy liquid. Bites of bafla are dipped in daal to be eaten.
India is known for its diverse culture. Indian food and it's taste is most popular talk. Spices and ingredients of Indian food are at its best, for watering your mouth. Daal-Bafla are known to be the soul food of North India.
We can say, everyone is foodie in there own choices. Some like to eat Italian, Chinese, Mexican and Mediterranean food. But the remarks of Indian food can't be replaced. One of the most famous Indian dish is Daal-Bafle. This dish is mostly prepared in the Malwa region, ie the Heart state of India. Madhya Pradesh, Rajasthan, Chhattisgarh and Uttar Pradesh are states where Daal-Bafle are often prepared at home.
Indian food touches your soul before it touches your taste buds.

YourQuote.in
Daal Bafla are liked to be eaten at Lunch time. The dish Daal-Bafla is incomplete without Indian Curry, Laddu, rice and Coriander chutney. Salads and pickles are also served with daal Bafla. In summers, salted buttermilk and pana (made with boiled unripe mango) are key food items to complete the meal.
Now, let's see how to prepare Daal Bafla and what are the ingredients?
Ingredients of Daal Bafla
For preparing daal bafla key ingredients are:-
Raw material :-
Yellow split pigeon peas – Toor/Tuvar/Arhar daal
Wheat Flour- Gehun aata (readymade bafla flour)
1-2 Tomato
Green Chilli -2-3
1 onion
Garlic – 7-8
Coriander leaves
Ginger
Groundnut or Soyabean Oil – 1-2 tablespoon
Clarified butter (Ghee)
Fresh water
Spices :-
Cumin seeds (jeera)- 1 small spoon
Fennel seeds (saunf) – 1 small spoon
Bay leaf- 2-3
Black mustard seeds (Rai) – 1 small spoon
Asafoetida (Hing) – 1 small spoon
Carom seeds (ajwain) – 1-2 spoons
Salt – according to taste- 1 tb spoon
Coriander powder- 1 tb spoon
Chilli powder-1 tb spoon ( according to taste and quantity of Daal)
Turmeric powder- 1 small spoon
Sodium bicarbonate (mitha soda)
Let's Fry Toor Daal !!
Take the amount of toor daal, say 1 bowl for 4-5 people. Wash the pulse, take around 4-5 whistles in a Cooker. We can also boil the pulse in conman.
Chop the tomato, green chilli and onion. Make either garlic paste or crush it in mortar and pestel.
For frying, take 1 tb spoon of oil in a frying pan. Once the oil get sufficiently hot, add bay leaf, cumin seeds, fennel seeds, black mustard seeds. Let them turn brown, then pour garlic paste, onions and green chilli, cook for 2 minutes. Add chilli powder, salt, turmeric, coriander powder, asafoetida powder together into pan. Stir it, then add chopped tomatoes. When tomato get cooked, add water and Daal into the pan.
Consistency of daal is liquid. But do not pour much water. Boil this fried dal for 2-5 minutes. Sprinkle coriander leaves and cover the lid. Take boil for 1 more minute then turn off the knob. Daal is ready to serve.
Let's make Bafla!!
Take about 5 bowl full of wheat flour (for about 4-5 people) in a platter. Use seive for filtering the flour particles and remove impurities. Add 1 tb of salt, pinch of sodium bicarbonate, 1-2 spoon of caron seeds and 3 tb spoon of Ghee into the flour. Mix it well. Pour required water and make the dough.
Some people also add corn flour along with wheat flour. This improves the taste of bafla.
Take some amount of dough in hand and process it round In the palm as ball. Lightly press this round ball of bafla. These round bafla's are then boiled in a big container with water. This container have water, some salt, pinch of turmeric powder and 1tb spoon of oil. Stire it. When the bafla get boiled, start to take out these in tray for drying.
Bafle are then baked in Oven. In traditional Indian method, bafla are roasted over kande/upale. After baking, bafla are dipped in warm ghee. Now the bafla is ready to serve.
Coriander Chutney
For making coriander chutney, take 8-10 garlic buds, 2 green chilli and fresh coriander leaves (about 1 bowl). Add required salt and 2-3 slices of tomato and small piece of ginger. Make a paste if these ingredients in grinder. Green coloured coriander chutney is ready.
Sweet Dish- Laddu
Laddu is a round ball of sweet. It can be made with gram flour, semolina (Suji), wheat flour and many others. The basic ingredient is sugar and dry fruits. This is delicious mouth watering sweet dish of India. Laddu is like companion to Daal-Bafla.
Serving Daal, Bafla, Laddu and coriander chutney
Daal, Bafla, Laddu, Rice and coriander chutney is a complete family of lunch meal. This will bring water in everyone's mouth. Its appearance in a dish plate is so attractive. The combination of salt and spices will bring unimaginable taste. Your craving for eating delicious and spicy food will mark here.
There are various Restaurants and Dhaaba's in India that are famous for this special dish.
#I hope this Daal-Bafla recipe will help you to cook the meal. Some other traditional ways are also there to cook Daal-Bafla-Laddu. The ingredients and recipe I shared here is the basic method to prepare daal – bafla at home. So, try out cooking daal-Bafla and do share your experience while making it.