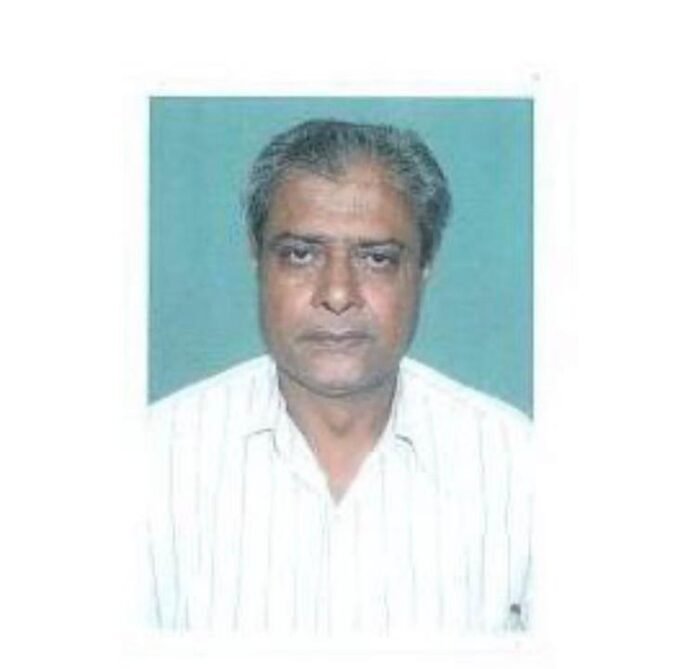 UJJAL MONDAL: "FARSIGHTEDNESS, FORTUNE, AND HARD WORK ARE KEY TO THE SUCCESS OF BUSINESSS" .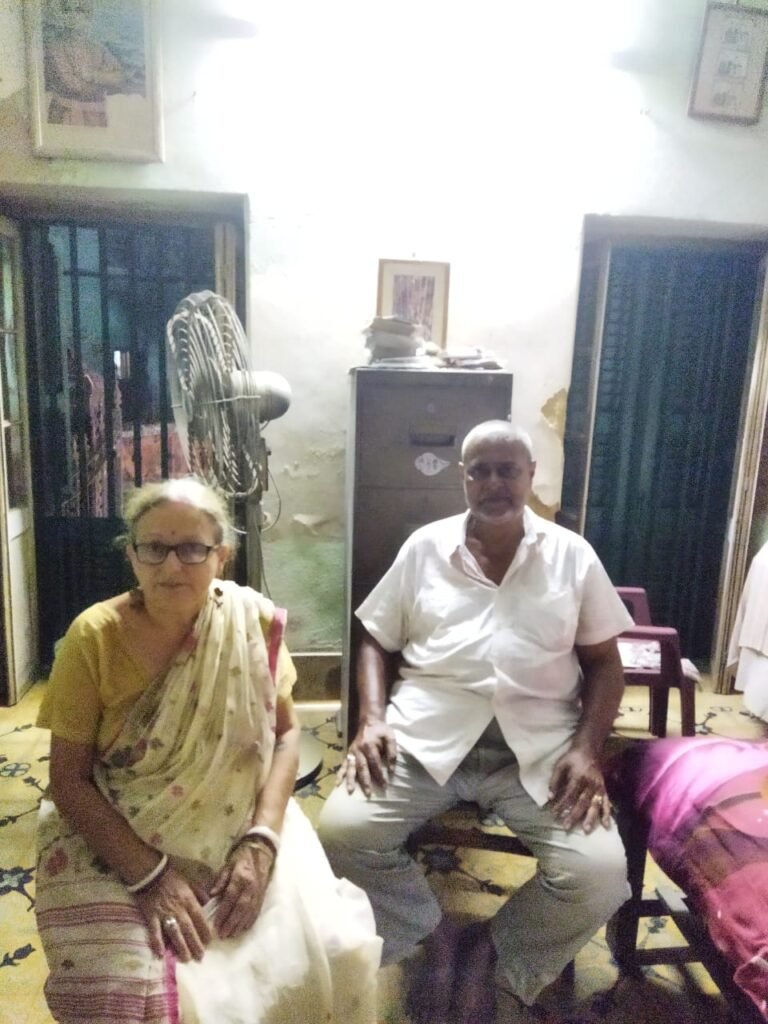 The Mondal family in Gondalpara, Chandannagar, has resided there for almost past four centuries. However, the Mondal family has its own uniqueness. Unlike other Mondal families of the Bengalee community, the Mondal family of Gondalpara originated from the Central Asia and came to India via the Khyber Pass in or around the 15th century AD.
Thus, they have their origins in Central Asia.

Their ancestors were nomadic and migrant traders as well. Between the 16th and 20th centuries, the Mondals of Gondalpara were the wealthiest in Chandannagar because of their flourishing businesses, like cargo, oilseeds, food grains, salt, etc.,

During the colonial period, the Mondal family business was at its peak. They owned 15 ships and had their own army as well. They are one of the revered families of Chandannagar.

To trace the Mondal family history and their contribution to the city's growth, 'Unveil. Press' recently had a face-to-face conversation with the current patriarch of the family, Mr.Ujjal Mondal, at later's 277-year-old residence in Gondalpara.

Mr. Ujwal Mondal is the All India level General Secretary of Bharat Sevak Samaj, founded by Jawaharlal Nehru and conceptualized by Mahatma Gandhi. Bharat Sevak Samaj is a national organization promoted by the planning commission of India for the implementation of government plans. It works for the betterment of the tribal people.
Mr.Ujjal Mondal has also worked with various tribal surveys.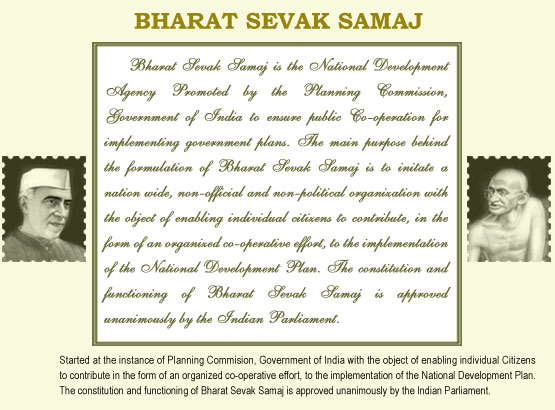 His wife, Mrs. Neline Mondal, is a French-speaking Belgian national. She is a scientist, a heritage conservationist, and a documentarian. Besides this, she is a well-known social worker and a boutique artist.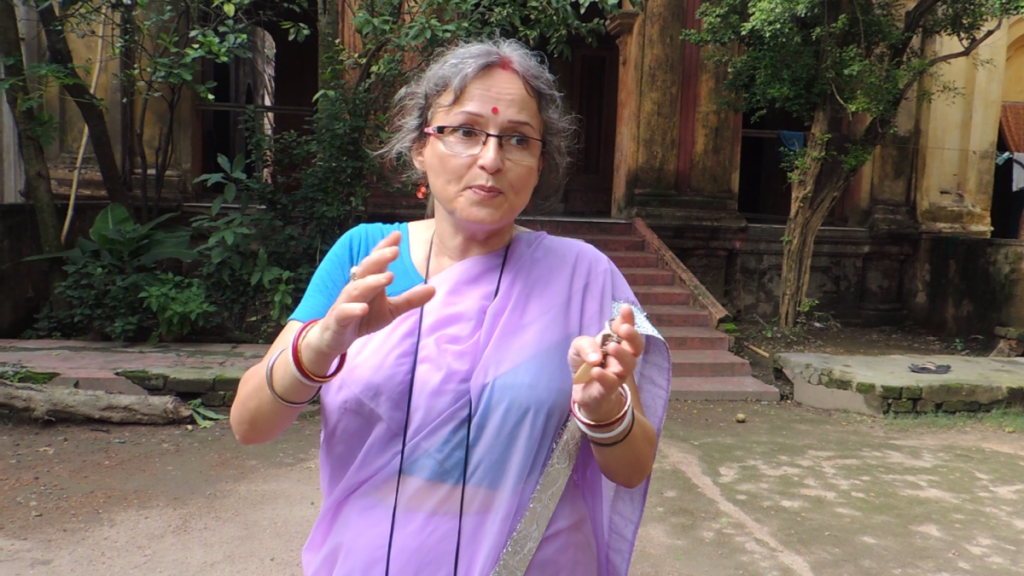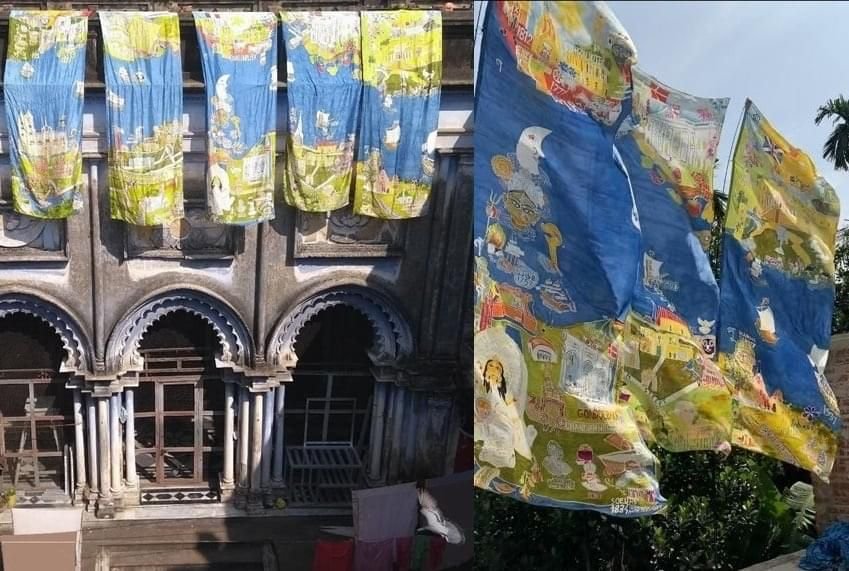 EXCERPTS
Tell me something about the originality of your ancestors.

Our ancestors were tribal and belonged to Central Asian countries like Kazakhstan, Uzbekistan, etc. Our descendants came to India via the Khyber Pass from Central Asia following the first mogul king, Babar. (Babar entered India in 1519 via the Khyber pass to reach Jammu's 'Chenab 'a division).


But how did your family acquire the 'Mondal' surname?

Well, we belonged to a tribal community of Central Asia. The village head of the tribe was called Mandaladhik. So our family belongs to the Mandaladhik clan. Hence, our family surname is 'Mondal,' which was derived from 'Mandladhik.'
Apart from being 'Mandladik': our ancestors were traders who migrated.


But History says that most of the invaders who came to India through the Khyber Pass were either Muslim or European. But what is the religion of your tribe?

When our ancestors lived in Central Asia, Buddhism held sway over almost the whole of Central Asia. Our ancestors, too, were Buddhists.

They were worshipers of the 'formless God' (Nirakar Sadhana).

But when our ancestors came to India, they were greatly influenced by the blend of prevailing intellectual and traditional thoughts of Aryan culture and Hinduism. It affected a remarkable metamorphosis in them and ultimately inspired them to embrace Hinduism.


Could you briefly tell the evolution of your Mondal family in India and how it acquired its present state of prosperity?

The first Mogul Emperor, Babar, came to India in 1519 AD. People in Central Asia then came to know that India was prosperous and wealthy with fertile land. So there were opportunities galore in India.

It inspired our tribe to explore India. Finally, our descendants reached India via the Khyber Pass after 1519.

The migration of our tribes from Central Asia to India is not well documented, but the story is passed down from generation to generation.

In India, our ancestors stepped foot first in Jammu. Then, after fifty years there, they moved to Faizabad and lived there for another fifty years.
From Faizabad, they went to Hastinapur and then to Allahabad.

Allahabad being on the river Ganges enabled our ancestors to explore business ventures via the water route. They contemplated the advantages of the maritime trade. The boats could facilitate transportation of large quantity of goods. Moreover, the majority of the cities are river-centric, and it augurs well for business.

They made barges. Barges in those days were a favorite with the royal families. Our ancestors sailed to Benares.
But in Allahabad, half the people in the group said that they were unwilling to board the boat as they feared traveling on it. So they migrated to Madhya Pradesh, other parts of Uttar Pradesh, Rajasthan, and also in a southern direction.

The rest sailed to Adisaptagram (Satgaon) from Benares to do business.

This group eventually put down its roots in Gondalpara of Chandanagar.


Tell me how the Mondals' traded in their initial days.

Our ancestors were migrant traders and nomads. They would buy goods from one place and move to another place to sell them off. They knew the demand in the market of the next place they were to go to and carried the goods to that place for sale.


Wherever our ancestors went, they left behind some family members while the rest moved on. It ensured that they would not have any problems while returning as those staying were expected to establish themselves and take care of the members on their return journey.

Adisaptagram (also called Satgaon) was the stepping stone to the Mondals' family business towards prosperity. So tell me how the Mondal family had made their fortune from Adisaptagram onwards.

Adisaptagram was then the significant and flourishing port in Bengal for maritime trade. It had worldwide fame.

The Dutch, French, German, Muslim, and Portuguese Armenians lived in Adisaptagram, But of them, the Portuguese earned infamy as they indulged in piracy. In the daytime, they would do business but in the night resort to piracy.

The Mondals had a booming cargo business while in Adisaptagram. We had about 15 trading ships and also a private army of more than 100 numbers. The goods unloaded from the vessel were taken from Saptagram on small boats to other ports. These ships were often pirated by the Portuguese.
.

We encountered the Portuguese when they tried to pirate our ship. We had a powerful army and overpowered them in the clash. The Portuguese became scared of us and begged for mercy.
In the aftermath of the conflict, we had an understanding with the Portuguese that any cargo ship flying our flag would not be pirated. But if they pirated ships other than our flags, then we would close our eyes to it.

Later, the Dutch, Germans, and other traders facing Portuguese piracy approached us to escort their ship under our flag.

Thus, apart from the cargo business, we started the business of escorting vessels. This venture led to further prosperity, and soon we amassed colossal profits.

There was a port in Kakdwip. We bought a portion of that port. The large ships carrying goods from other countries via the Bay of Bengal anchored at Kakdwip Port. Smaller ships used to line up to take this cargo to different destinations in vessels flying our flag.

Later, the Dutch started exporting purified salt. We took the agency of salt from the Dutch for the entire country. The business fetched us colossal profits. But we had to abandon the salt agency in 1908 following the launching of the salt movement by Gandhiji.

We then ventured into the business of food grain and oilseed. It turned out to be very lucrative as there was a significant demand in the market. Wagons after wagons from UP and MP lined up for grains and oil.

Our earnings continued to swell. I have heard from my father and grandfather that during those days, our profits only from the oilseed business ranged from 3 to 4 lakhs' Mohar' every month.



But how frequently the Portuguese operated pirating ?

In the daytime, they traded potatoes, spices, mango, guava, etc., and piracy at night.
In those days, near the Bandel church, there was a bay. The water of the bay merged into Kuntighat,located nearer to Trbeni. In the daytime, they would hide their vessel meant for piracy in that bay.
To their advantage, there was a dense jungle around the bay which prevented the visibility of the hidden vessel. Wild animals such as tigers and leopards often emerged from the jungle.


But why did your ancestors choose Chandannagar mainly for their final settlement? There are many other equally good places nearby which are also beside the river.

First, based on the port of Adisaptagram, our ancestors decided to settle down at Poraipur near the 'Dashghora of the Hoogly district.
At that time, the Saraswati river flowed past the port town. As it dried up, the river route of the Saraswati river became defunct. So our ancestors decided to shift to Chandannagar as it was situated relatively at a higher elevation and therefore not be very vulnerable to floods; even if the water of the river rose, it would flow towards Bhadreswar or Chinsurah. Another plus point, Chandannagar being river-centric, would facilitate business.

What was the picture of Chandanngar when your ancestors stepped here?

In those days in Chandannagar, the inhabited area was small. The water present at the Lal Dighi flowed into the Hooghly river, and there existed many creeks.
We obtained this present land from Sayestha Khan. 'the then Subedar under Nawab Murshid Quli Khan. The house, named Mondal Bari, in which we now live, was completed in 1746. It took 3 to 4 years to construct under the guidance of a French architect. The roof beams were brought from Burma by towing them to a ship that sailed on the Bay of Bengal.

When our ancestors first came to Chandannagar, they lived in a house behind our present home. Some Chinese people used to live in that house was called 'Chinay Bari.' They vacated that house for us to live in.


I also heard that in those days, Mondals' also manufactured arms and ammunition.

Yes, but that was not for any commercial purpose but required for our own protection. We manufactured it as in those days there was no ammunition factory in our vicinity.


Mondal family achieved brilliant success in whatever business venture they attempted in colonial days. Being an inheritor of such a business family, according to you, what qualities a successful business should have?
Farsightedness, fortune, honesty, and hard work are crucial to success in any business.