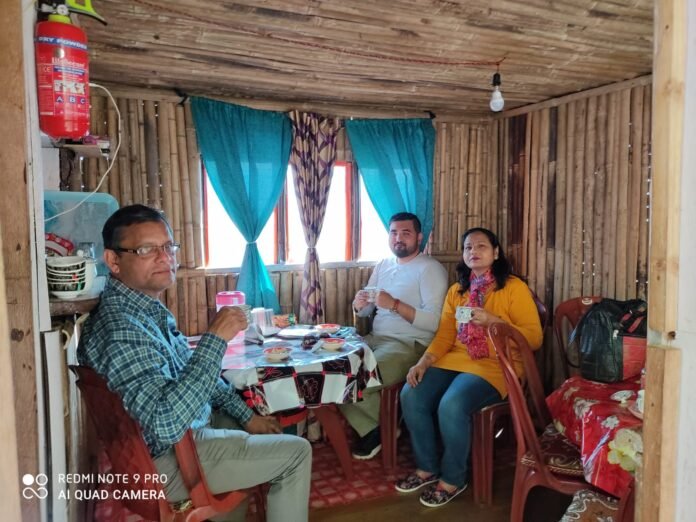 Kaluk 2022
March 7, Ravangla: Parting time
The scenery of Ravangla from Barfung resort was breathtaking. I would like to let my readers know that Barfung is a remote village, quite far from Ravangla town.
The weather was misty in the early morning, but later, when the sun rose, the fog disappeared. So maybe the Goddess of luck was very pleased with us. The view that slowly uncovered before us was absolutely captivating. The blue sky was smiling, and the sun shone throughout the tour. So we were lucky to have the weather favorable for us.
I came out of the resort and watched the sun's rays falling on the distant mountain range of Kanchachungha. The glittering Kanchrchungha peak will take your breath away in the sun's rays. I can confidently tell you that you are bound to fall in love with nature. It was March 7, and it was time to bid goodbye to the Barfung resort, Ravangla.
My son Saikat is passionate about nature. So he was vlogging since morning, it being our last day at Barfung [Ravangla] to enjoy the view from the resort. It was doubtful if I would find a secluded resort-like Barfung in the journey ahead. But I decided that I would come to Barfung resort again and would not go outside for sightseeing but would savor nature from the resort only.
Though I felt a bit sad to leave Barfung, it was not right to be too emotional. Well, more scenic places were in store for our ongoing weeklong tour. So, let's move on. Our next destination was Kaluk. Our driver Dorzi was ready to take the steer of the wheel. We had a heavy breakfast as we might not have time to stop for lunch. The Barfung resort provides complimentary breakfast.
Over to Kaluk via sightseeing on the way.
So now our next destination was Kaluk. I informed the manager, Mr. Puran of Kaluk's Ghonday village resort, about our arrival. Puran suggested we visit the Kiriteswar temple near Legship on the way.
Kiriteswar temple
We first stopped at Kiriteswar temple in the small town of Legship. Kiriteswar is an incarnation of Lord Shiva. You have to walk over a hanging bridge to get inside the temple. Beneath the bridge flows the hilly river Rangit. The priest said it is the most ancient temple in Sikkim. You will also find a Sulfur rich hot spring here. I had read on the internet that bathing in hot springs can help us get rid of chronic diseases like arthritis, pneumatic, body ache, etc.
I learned from the Legship travel guide that the temple's mythology has a mention of Mahabharat. Arjun spent here a long time. Impressed with his penance, Lord Shiva appeared as an incarnation of kiriteshwar and tested Arjun's warrior skill. Arjun accepted defeat. And then Mahadev gifted him a divine weapon, Pasupatastra. Every year the temple celebrates Bala Chaturdashi to celebrate the birth anniversary of Lord Kiriteswar.
Premyangtse Monastery
We then advanced towards the second oldest Monastery of Sikkim, 'the Premyangtse Monestaery.' It is in Pelling.
Our driver Dorji had once joined here to become a monk but later left it. As he told in part-I of the story, he could not sustain the tough life here, plus homesickness drove him to abandon the Monastery.
Remembering his student days, Dorji said that the Cham dance festival of this Monastery is very famous. Child trainee monks wearing various masks and flashy clothes have to make the public laugh. "The body heated up due to tight, flashy clothes and mask, but still, we have to keep a smile on our faces. We get drenched with sweat from head to toe", recalled Dorji. While talking to Dorji, we did not realize when we had reached Premyangtse Monastery.
The Pemayangtse Monastery was established in 1647. But the Monastery gained significance and rose to prosperity during the third Chogyal Chadar Namgyal period. The Monastery's preaching has its roots in the oldest school of Tibetan Buddhism. Monks chosen here are by and large from the Bhutias of Sikkim. Further, those having any abnormalities are ineligible to become a monk here.
No sooner had I entered the Monastery than I was lost in the ecstasy of the melodious Bouddha hymns 'Om Mani Padme Hum.' Then, I moved around the Monastery.
The three-floored Monastery has the main prayer hall on the ground floor.
On the 1st floor, there is a museum where you find photographs of Chadar Namgyal and other prominent monks, paintings, scrolls, etc.
The top floor has a replica of the palace of Chadar Namgyal. Its inner walls have murals of Buddhism.
Besides this, there is a hall filled with the sculpture of Gautam Buddha in different expressions and postures.
In an adjacent room, there were various artifacts, antic items like an old tea kettle, old lamp, wooden table, Naga drum, old rice pot, water reservoir, etc. All items belonged to the 17th and 18th centuries.
"Young Tibetan Buddhists who vowed to become monks, are groomed here. It takes ten to fifteen years of education to become a monk. Twelve-year-old teen among Tibetan Buddhist gets admission here", said Monk Sunam Panching.
Monk Panching joined Premyangtse Monestaery in 1994. He was from the batch of 2006. Then he completed an advanced course at the university of Buddhism, Gangtok.
When I asked him about the education system, the monk said that mainly Buddha chants, meditation, rituals, Sanskrit, Buddhist culture, English, and maths are taught here. After completing their education here, they go to the University of Buddhism in Gangtok for higher studies of Buddhism. They even go to Banaras Hindu University and the other university of Buddhism in Dehradun, Bangalore, etc., for higher education in Buddhism.
All students have to reside in a hostel, and they can go home to their parents once a year, said Monk Pradhan. The day we went, the monastery school had re-opened after vacation.
Pelling Skywalker
Our next destination was Pelling Skywalker.
It is India's first glass bridge. Since the weather was clear, we got a nice view of mountains from Skywalker. The skywalk is at the height of 7200 feet. The ticket is available at the entry point. Skywalk is open from 9 am to 6 pm. From the entry point, you have to go up. From the glass bridge, you can see the view below. It is not at a great height.
And frankly speaking, I do not find it very thrilling from what I heard of it. But yes, if you love photography, you may have some unique clicks of mountains from here. You will find a statue of Lord Chengrizig atop the hill. Of course, to visit Skywalker, you have to remove your shoes. But do not remove your socks as the glass bridge beneath your foot is constantly heated up by sun rays falling over it.
People said you might feel like walking on air when you move on a glass bridge. But I did not feel so. There is a metal crossbar beneath the glass floor. So as such, I never felt the fear which people have experienced.
I also visited Lord Chengeizig's statue by climbing stairs.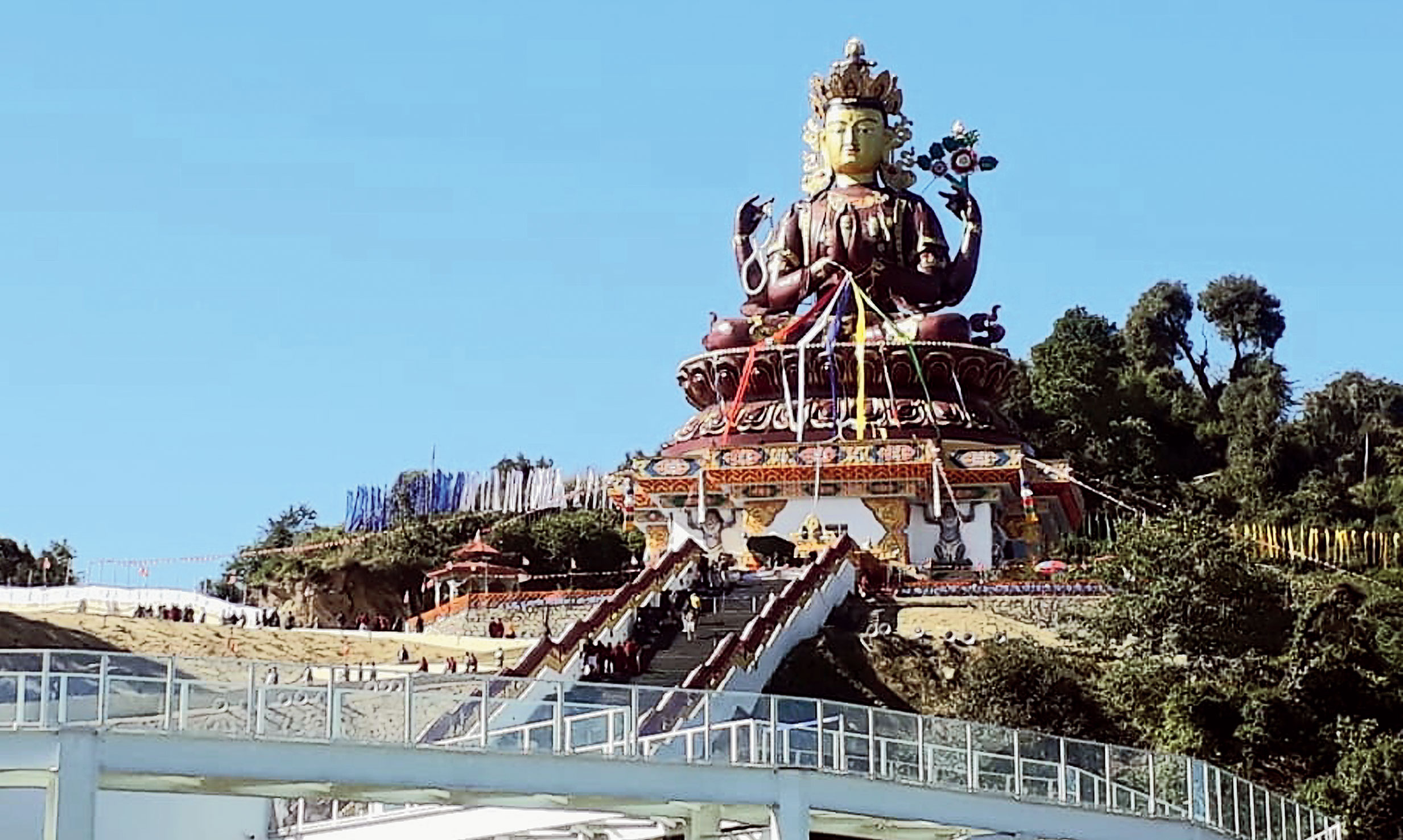 Monk Prema supervises the prayer hall. He explained the prayer wheel to me and said that one must rotate clockwise. " Your prayer gets mixed with the air and reaches God when you spin the prayer wheel. So some mythical figure is holding temple upright," said the monk.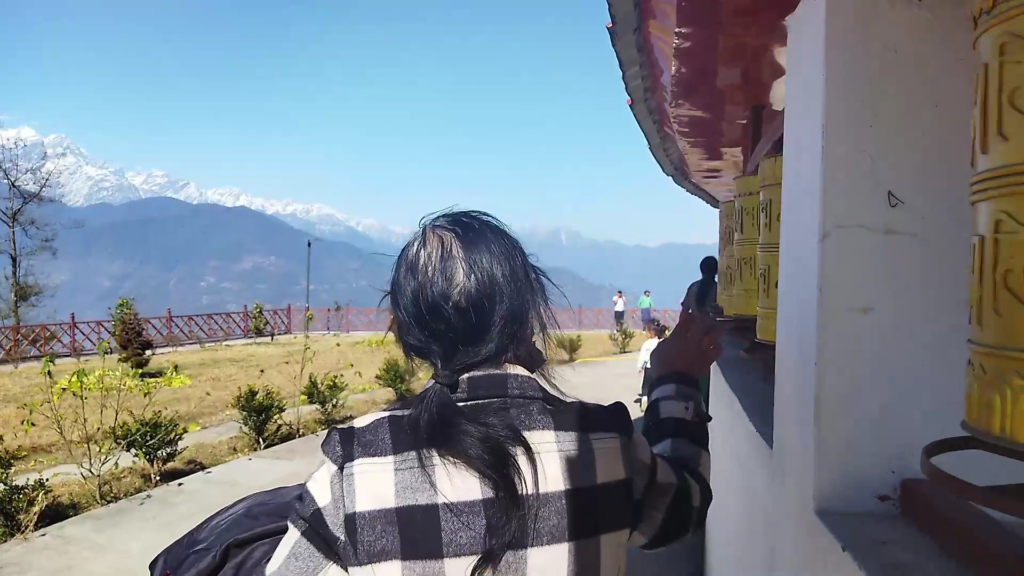 Changu falls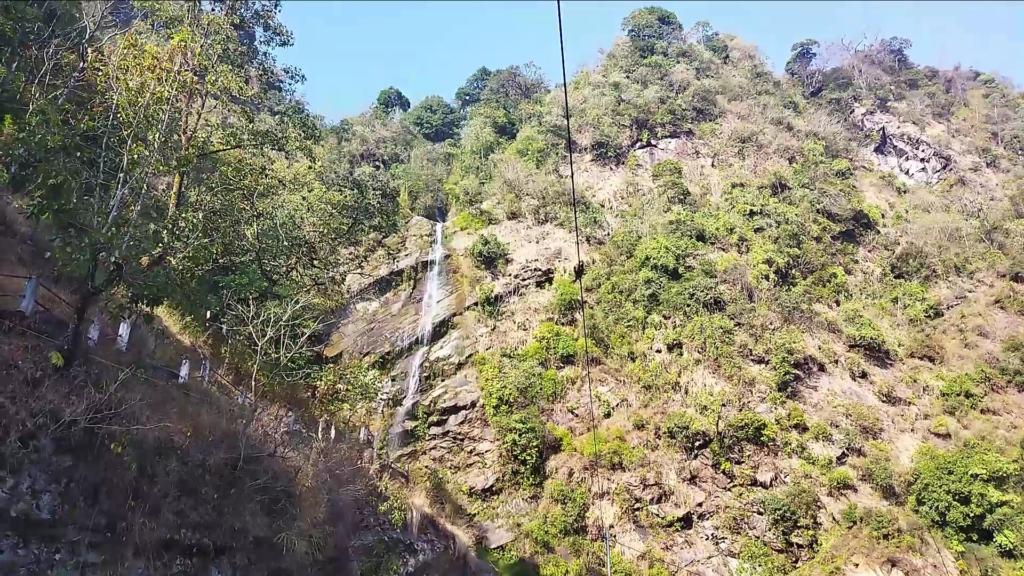 After that, we went to Changu falls in Pelling. But you can enjoy watching waterfalls in the rainy season. It was hard for me to identify the Changu waterfalls at the site. After looking carefully, I saw a thin stream of water falling from the top. So, I did not much enjoy Changu fall.
Heading for Kaluk but lost way, facing darkness gripping the hills
After watching Singsore hanging bridge and clicking some family photographs, we headed for Ghonday village resort, Kaluk. Now that's where the game began. Google Maps was not working due to a weak network. And so what happened was expected. We lost our way and went opposite direction towards Dentum valley. Dorji was also new on this route.
We realized we had come down the wrong path when we did not reach Kaluk even after driving for more than half an hour. Now during this time, the network was restored on Saikat's mobile. It showed that we had gone in the opposite direction by more than thirty kilometers. We thanked God. Google started showing us the path to Koluk's Ghonday village resort. Dorji also contacted his manager, Mr. Chopel Dorji, for guidance to reach Kaluk.
But it was getting dark. It was around 730 PM. In hills, the drivers stop driving before it gets dark. It is not safe to drive in the dark to distant places.
All's well that ends well: Reached Kaluk ultimately: Welcome to Ghonday resort Kaluk.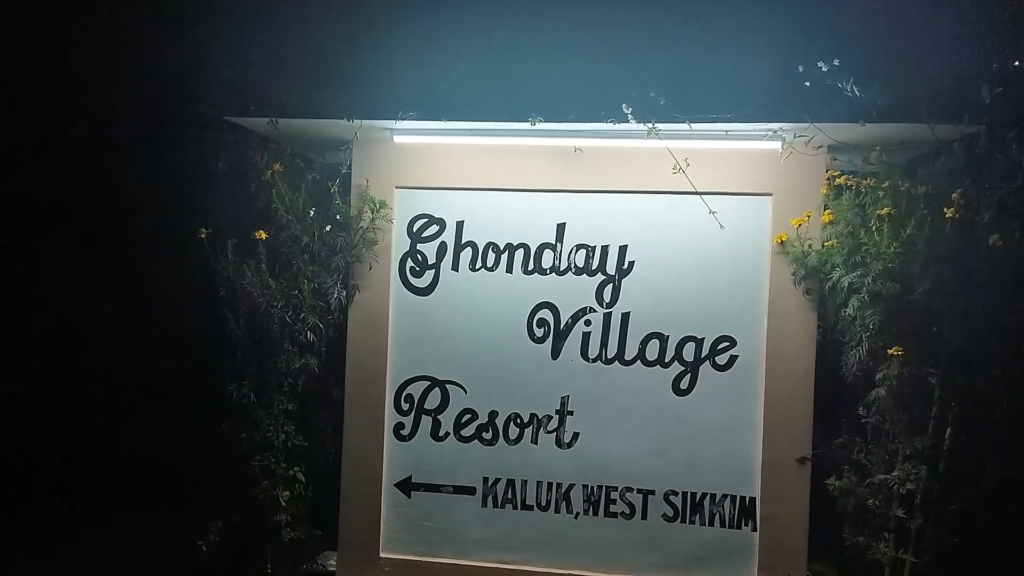 Anyway, we ultimately reached Ghonday resort, Kaluk. Mr. Puran, the resort manager, accorded us a warm traditional welcome and took us to our suite facing the range of mountain Kanchunchungha. A cup of traditional Sikkim organic tea and warm reception removed our road-weariness.
To be continued:
On March 8, we planned out for the Koluk sightseeing. But that story I will recount in the next part. So I hope readers will patiently wait for my next piece of the story.