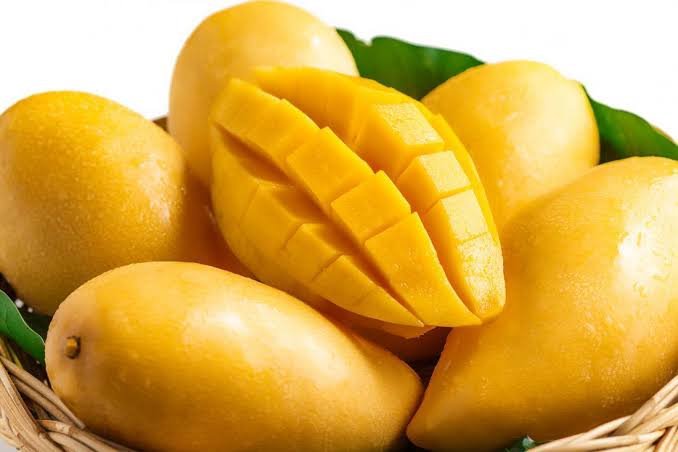 Mango, is a fruit cultivated in summer season (March) till the end of May, with consists of 6 hetrogeneity quality were being hervested in India.
Mango is a palatable stone fruit produced in India as well as the region of Mayanmar and Bangladesh including South-east Asia, from the ancient period the two distinct type"The Indian type" and "Southeast Asia type". It consist of Mangifera indica species of fruit, as well as it belongs to cashews family, in genus Margifera as palatable fruits generally found in Malesiom ecoresgion.
The world wide cultivation of mangifera indica depending, the various teste, shape and size as well as the colour of sweetness and the flesh colour mainly pale yellow, gold and green. The mango is the national fruit of India, Pakistan and Philippines, including national tree of Bangladesh is Mangifera indica tree apart from this is also known as the king of fruits.
Mangifera indica is promotionaly cultivate in Andhra Pradesh, West Bengal, Karnataka, Kerela, Bihar, Uttar Pradesh, Uttarakhand, Punjab, Haryana, Maharashtra, Gujrat. It cultivate over the area of 2309 thousand hectares per year and annual production near about 12750 thousand metric tones.
Mangifera indica's leaves are used to fed to cattle in the shortage of fodder as well as it also used in various rituals in Hindu religion. The fruit is the source of vitamin A and C. Mango pulp is use for syrups, jams and jellys, juice. The ripe Mangifera indica is use for making chutney, pickles and curries. The wood bark is also very useful to make the wide range of furnitures.
The summer season when it's come to delicious mouth-watering mango came into existence, it has always been a pleasant and basic part of Indian livelihood. The delightful flavour and aroma that to explore and enjoy to the graceful varieties of Mangifera indica
The 5 varieties of Mangifera indica that uniformity and ordinarily found in India are as follows:
Alphonso Mango: The alphanso mango, is originated in India, the name alphonso came after Afonso de Albuquerque, a Portuguese general helped to built up the Portuguese establish to built up there colonies by introduced grafted on Mangifera indica, while is most expensive among all the varieties of mangifera indica that found in India.
Alphonso mainly grown in western India such as Sindhudurg, Raigad and Ratnagiri district of Maharashtra. Alphonso generally, found from mid- April through end of June. The Mangifera indica's generally weigh between 150 to 300 grams have rich texture, creamy, tender and delicate. The yellow apperance of mangifera indica very attractive and delightful for the mangifera indica lovers.
Himsagar Mango: Himsagar is generally, found in Maldah district of West Bengal, apart from this it also found in Chapai Nawabganj district of Bangladesh. Himsagar the rich yellow to orange in colour and it does not contain any fibre. The weight of himsagar is between 250 to 300 grams, out of the weight around 77% of pulp is contain, it found from the second week of May to end of June.
Fazli Mango: Fazli cultivation mainly found in Maldah district of West Bengal and it is one of the most famous Mangifera indica in west Bengal, it also cultivate in the Rajshahi division of Bangladesh. The Fazli is one of the late maturing mangifera indica available in different varieties. It commonly use for making jam and pickles in India.
Fazli is quite large in size, it contains lot of pulp with comparison to other mango, Fazli is one of the most exported mango from other varieties. In 2009 the Fazli is one of the indicating issues that held in the convention of WTO to shared with Bangladesh, the controversial quarrel solved by WTO.
Langra Mango: The langra mango is also known as Banarasi Langra. It mainly cultivate in Varanasi or Banaras, northern India as well as Bangladesh and Pakistan. In Bihar, langra is known as 'Danka' mango. Langra mango is one of the hot-spot Mangifera indica in India, mainly harvested last half of July. It is one of the most popular in international market with comparison to other mangoes. The lemon-yellow skin tone, and the teste is delightful and delicious.
Totapuri Mango: Totapuri is also known as hinimoothi, it widely cultivated in Bangalore and party in southern part of India, as well as in Srilanka. In Bangaluru the totapuri reffered as Hinimoothi Moavina Kayi it literally translate to parrot face.
Totapuri mango skin lacks, usually bitter in teste, due to bitterness it can be consumed traditionally Totapuri, imported to Florida from 1901, the present of two Florida mango cultivator Anderson and Brooks. The mostly grown Totapuri in India for pulp along with Alphonso, Desheri and Kesar. The medium size with greenish yellow in colour.
The sweetness and delightful teste of Mangifera indica, won every mango-lovers heart in all over the world. The juicy flavour of the fruit can adore and relish in the essence of the world of fruits.