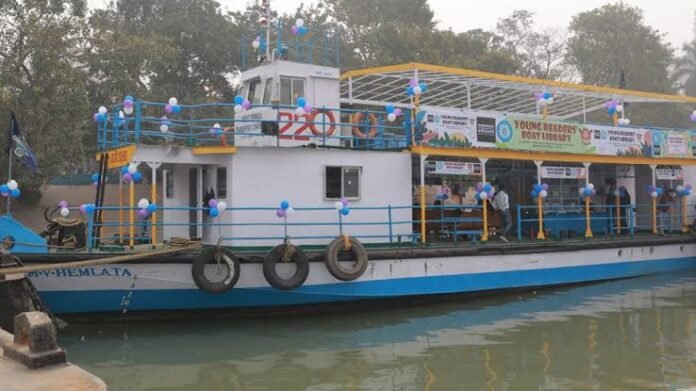 "Boat library", is trending for the youngsters of Bengal as well as for Nation. Let us know all about the boat library.
S.R. Ranganathan, from Madras an Indian librarian and educator who was considered the father of library science in India and whose contribution had would wide influence. The word "library"- from Latin liber meaning "book". In Greek and Roman language, the corrosponding term is bibliotheque or book case.
Travelling to the world of Books..!
A collection and group of books and other print or non-print materials organized and maintained for use generally, for reading, consulting, study, research, etc. Institutional libraries, organized to give facilities by a specific clientele, are staffed by libraries and other staff on a certain cercumtances and in a distinct impetus and for different needs.
The library might be established under private as well as under government concern under certain conditions, rules and regulations to serve a Community, district or region. It has organized collection of printed or other library materials or a simaltious combination. An establish of service of staff are available to provide services.
Nowadays, as e-book and Pdf file came into existence a certain amount of people doesn't want to visit the library as the surrounding of the library is in proper manner and the place of proper sprit to enjoy the smell of old and new books, many youngsters does not have access of e-book and Pdf they have to visit the library for gathered the certain information.
The government should take certain initiative to restoring the condition of library in India with certain books of different genura. Many public libraries in our country does not have the certain amount of books that requried for readers for research work and other different purposes.
Government should look after these issue of library for current and upcoming generation's readers. As there is no proper facilities and information regarding books. As many youngsters that appreciate and enjoy the environment of library, day by day is deminising.
Establishment of Boat Library
The boat library was first started on October,1935 in Krishna Bank Canal in Andra Pradesh by Paturi Nagabhushanam,to establishing the library movement. In those days all people of Guntur district of Andra Pradesh were relaying on 'Boats' to travel and transport goods.
The villagers were took initiative apart from goods to transporting from one place to another. The reading facilities was there, the introduction boat library service, apart from the books, magazine, journal, newspaper such as "Bharathi", "Krishna Patrika", "Gramdlaya Sarvaswam", "Arogya Patrika", "Prakruti". Many publishers and contributors donate for these library.
The Boat library has being introduced in Kolkata on the collaboration of West Bengal Transport Corporation and Heritage book store of city, on the heart of Hoogly river. To appriciate young readers' boat library consists of certain library features, 500 and more books in English, Hindi and Bengali across several genres in a agreeable reading tenor. The library consists several host activities such as storytelling, drematised reading, poetry sessions, books launches music and more activities.
West Bengal government introduced the boat library with full of enthusiasm and prevaillage. The boat library will take visitors on three hour trip from Millennium park to Belur Math and back to its original site, The ticket price for adults is 100 and 50 for children (as per Indian Rupee) to encourage readership among young girls and boys for the unique thinking of government for the people of West Bengal inspired them most.
The library is also a wonderful place to enjoy the scenery of Hoogly river as well as Kolkata, including Howrah bridge and Hoogly bridge, also the boat facilitates the Wi-Fi access for the visitors.
The boat library, became renowned for the youngsters' of Bengal, Which spread throughout the country as well as for whole world it will become a heritage site.
"Exponential rise of Population", adverse effects in India!!