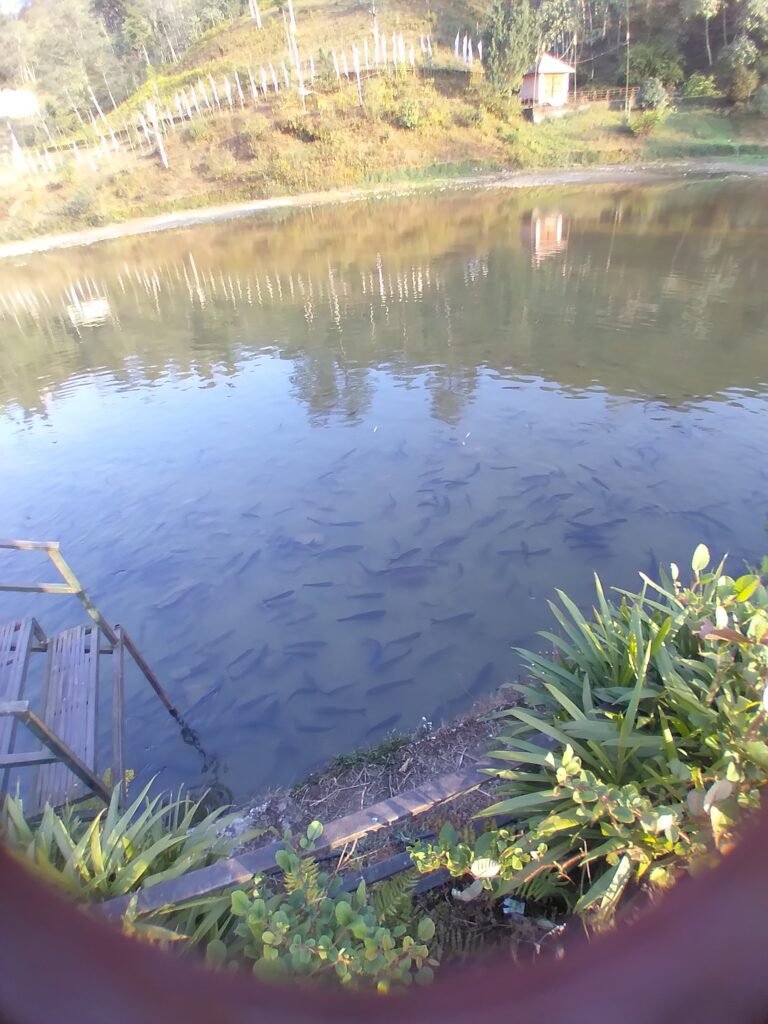 Hee Patal-Chayatal 2022
Introduction
Hello readers! Welcome to the sixth and penultimate day of our southern and western Sikkim exploration. It was March 9, 2022. As scheduled, we had to leave Kaluk on that day and were to head for another offbeat town, Hee Patal-Chayatal.
Experiences in Resorts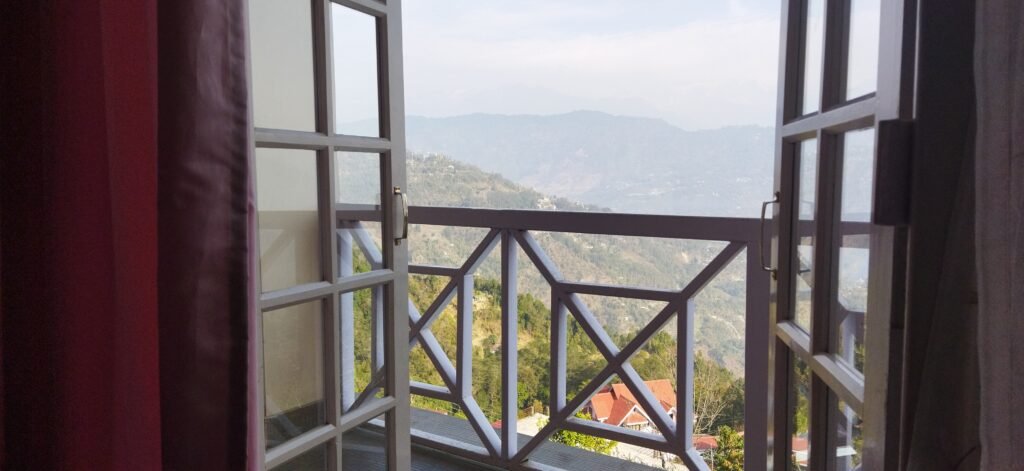 We stayed at Ghonday resort in Kaluk. When we were departing Barfung resort in Ravangla, I was in a dilemma about whether we would be able to get the ambiance of Barfung resort in Kaluk. But that was just my suspicion. I mentioned it in part 3 of my story.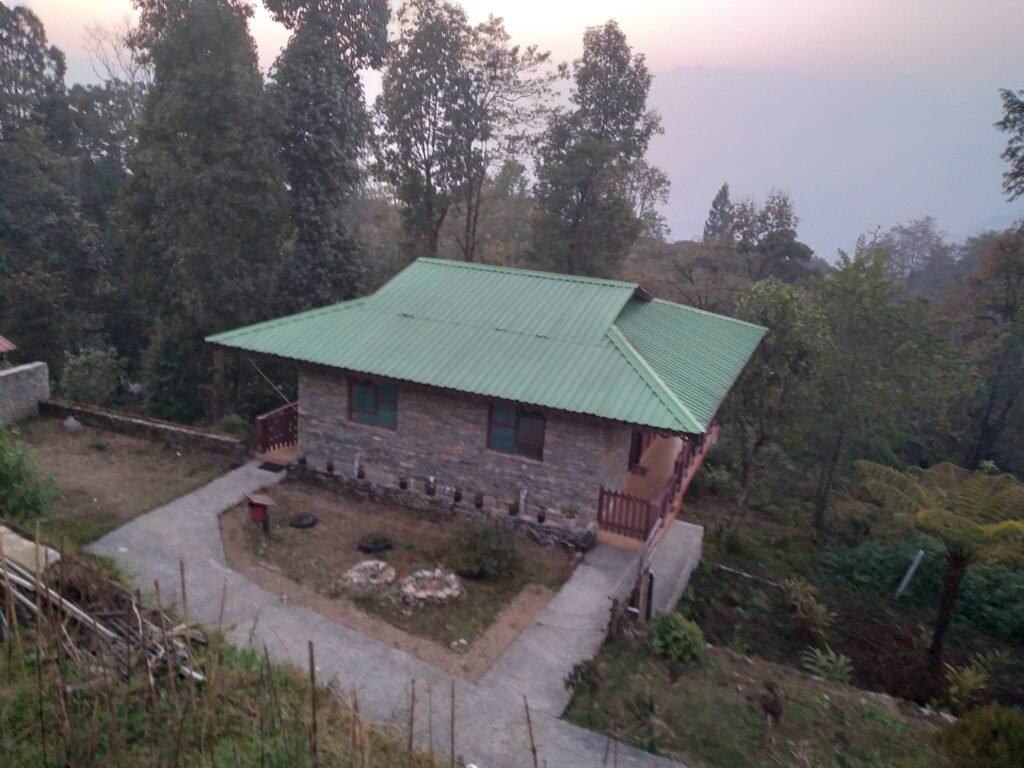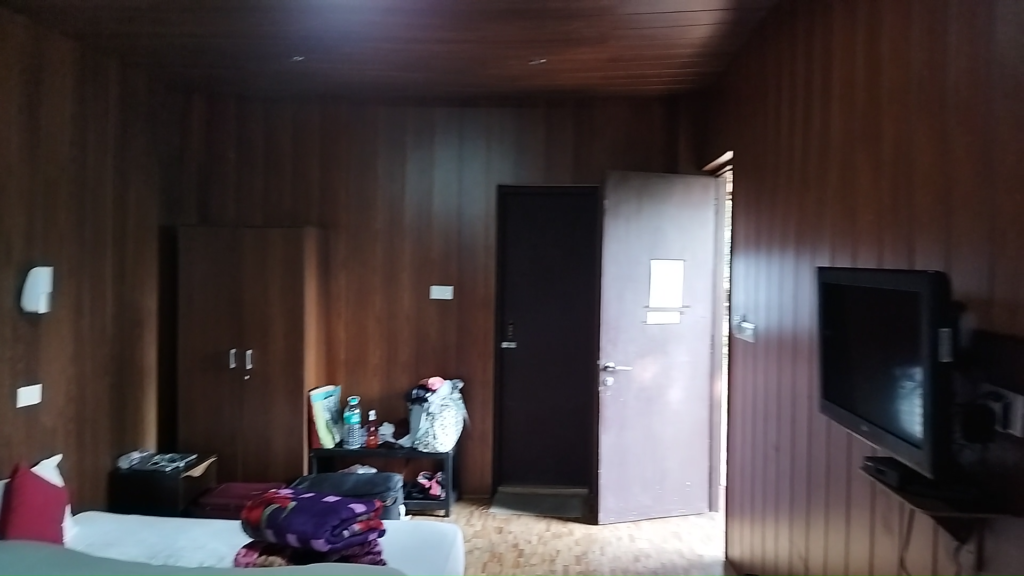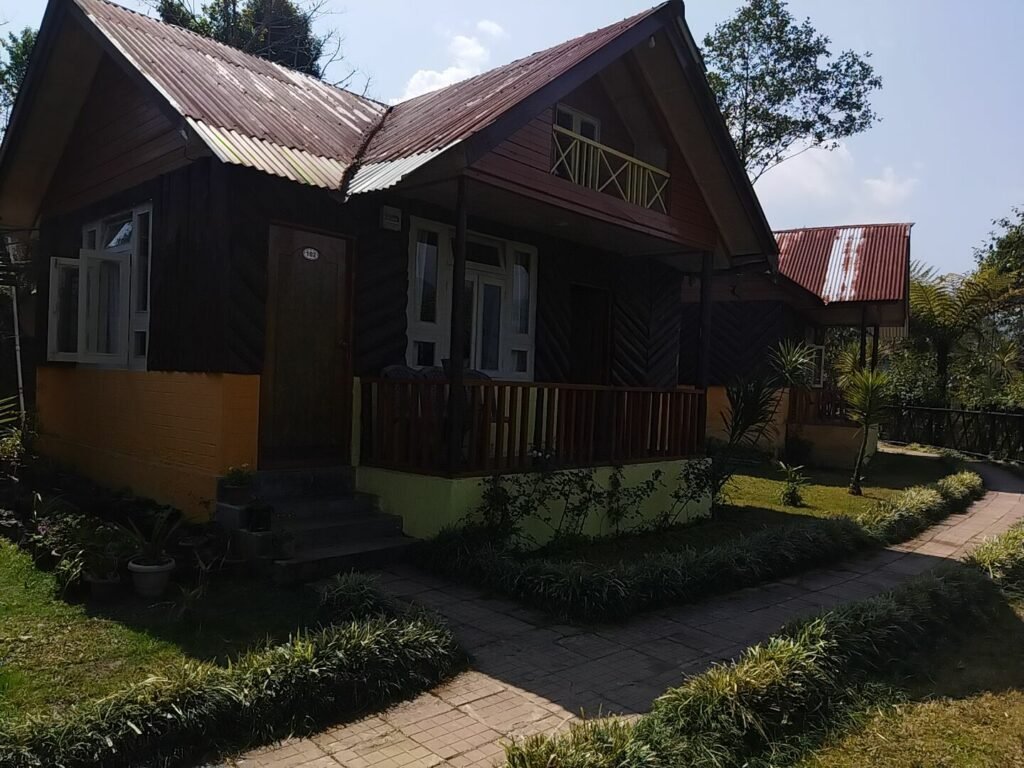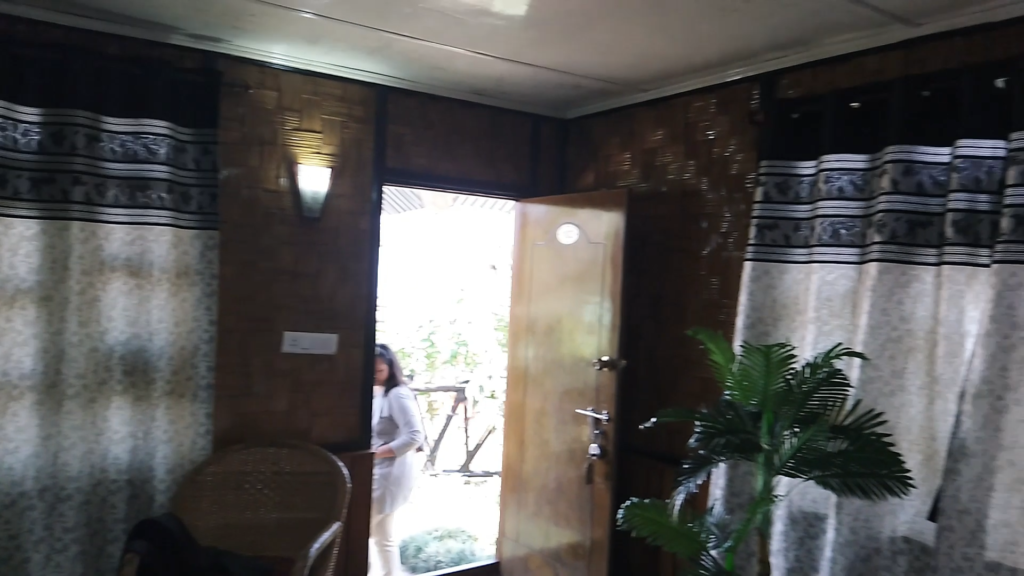 The only difference is that Ghonday resort is in Kaluk town, Barmack. In contrast, the Barfung Resort is a secluded place much away from the town. Moreover, the Ghonday resort being a three-star, the etiquettes of the staff and administration matched that.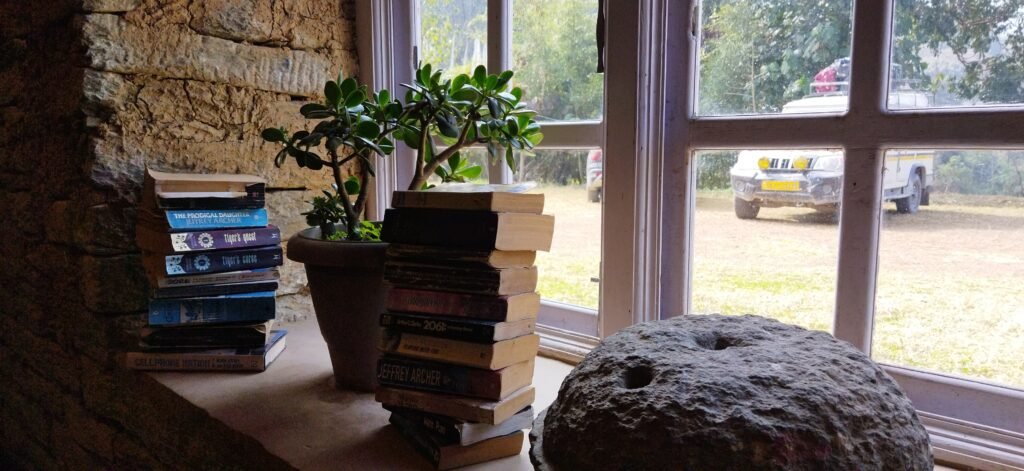 The biggest issue is that the internet is almost non-existent in such offbeat mountainous resorts. However, the network is available from Jio SIM in Barfung resort.

But there is Wifi in the reception of Ghondsay resort, although Wifi does not reach the upper floor due to weak signal. My son, Saikat, had a solid desire to upload his travel vlog daily on youtube. So his wish also got fulfilled here. The resort manager provided him with a room adjacent to the reception to facilitate internet on his Laptop.

Saikat released two of his travel vlog on his youtube channel from Ghonday resort.

The resort manager Puran was ever ready to sort out any issue arising from tourists. We also spoke to the proprietor of the resort DP Gurung.

A graduate from regional engineering college, Suratkhal, Gurung is a retired civil engineer with Sikkim Government. Undoubtedly, he was sober. He briefed about the resort on Saikat's youtube channel. Uploaded at the end of the story are the videos of our stay and travels. It also included Gurung's informal chat with us.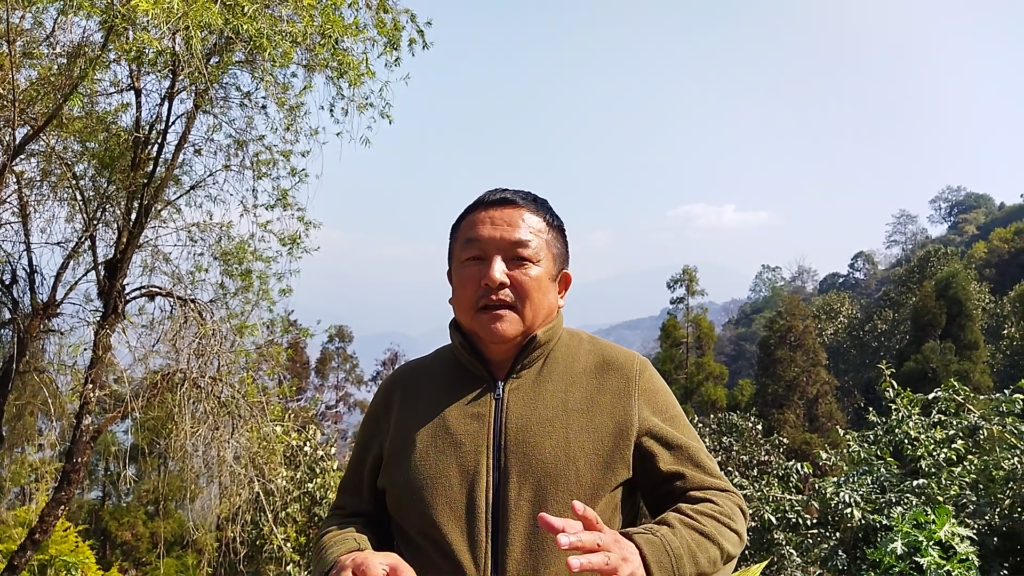 The resort was stunning. I covered it in detail in Part III and Part IV of my story.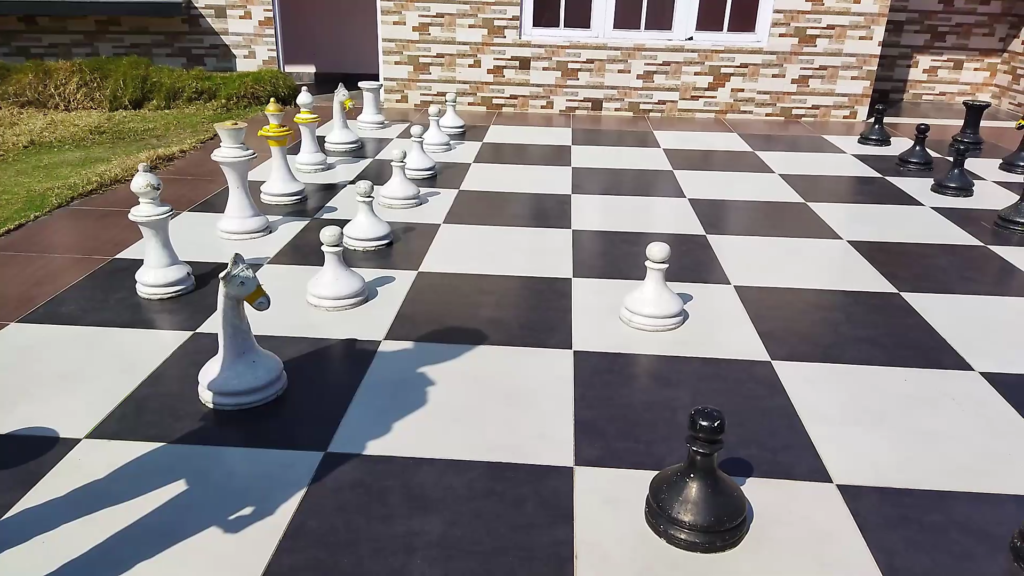 After that, I didn't know if I would ever come here again or not. So before leaving the resort, we had roamed around the resort to see what else was exceptional here. Just then, we came across here an exciting place. It was about a game of chess. Usually, you play a chess game on the board. But here in the resort, you will find the chessboard on a portion of the terrace. So if you want to play chess in a scenic place, then this resort is a place for it.
Time for parting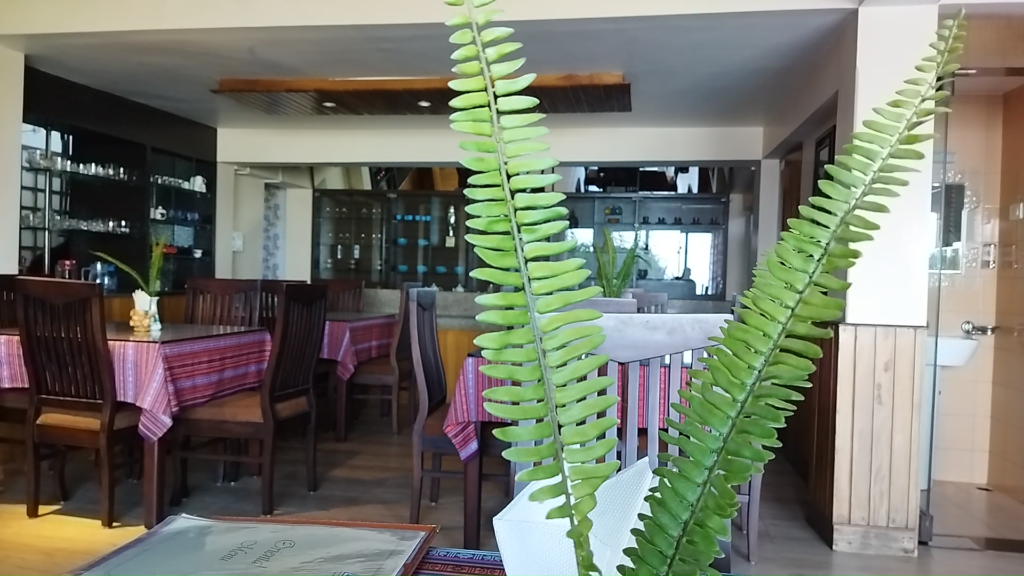 We took breakfast in Ghonday resort and left for Hee Patal-Chayatal. The tour was in the last phase, and there was not a much-defined place for sightseeing in Hee Patal-Chayatal except for gluing to nature.

However, we were not short of time. So, we stopped in Barmak town to make some purchases to present to our friends and relatives back at home.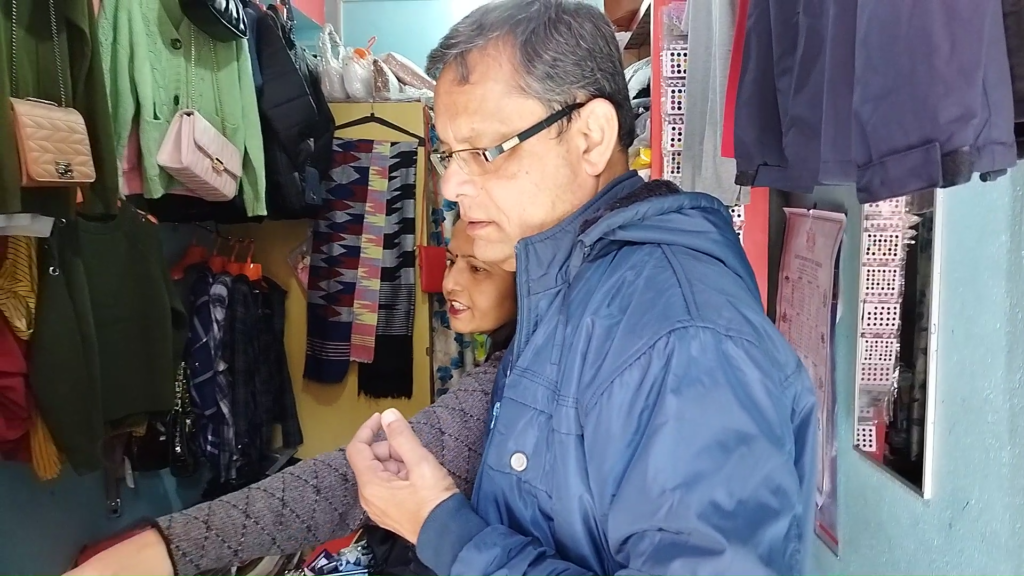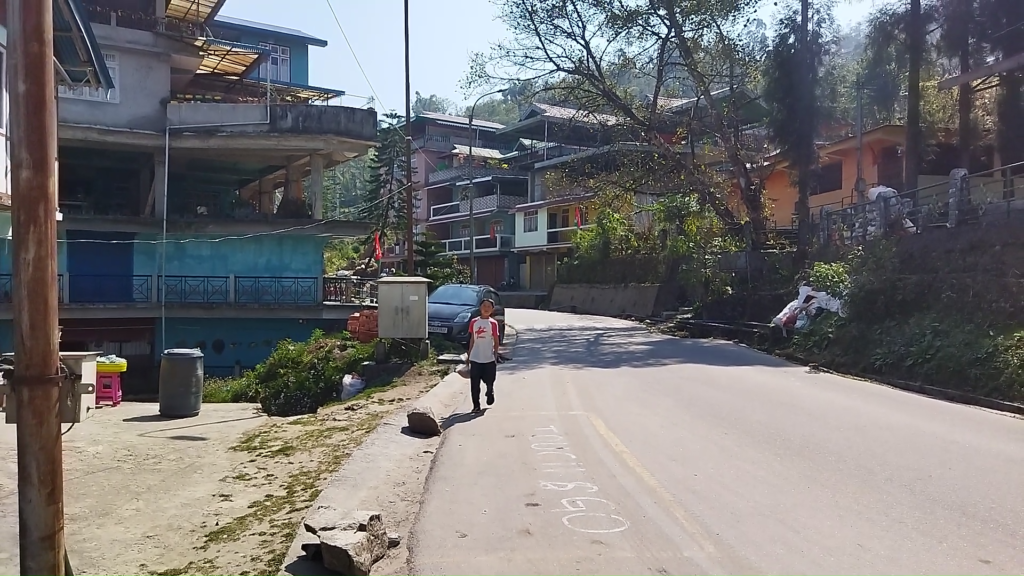 Welcome to Hee Patal-Chayatal
Tourist Spot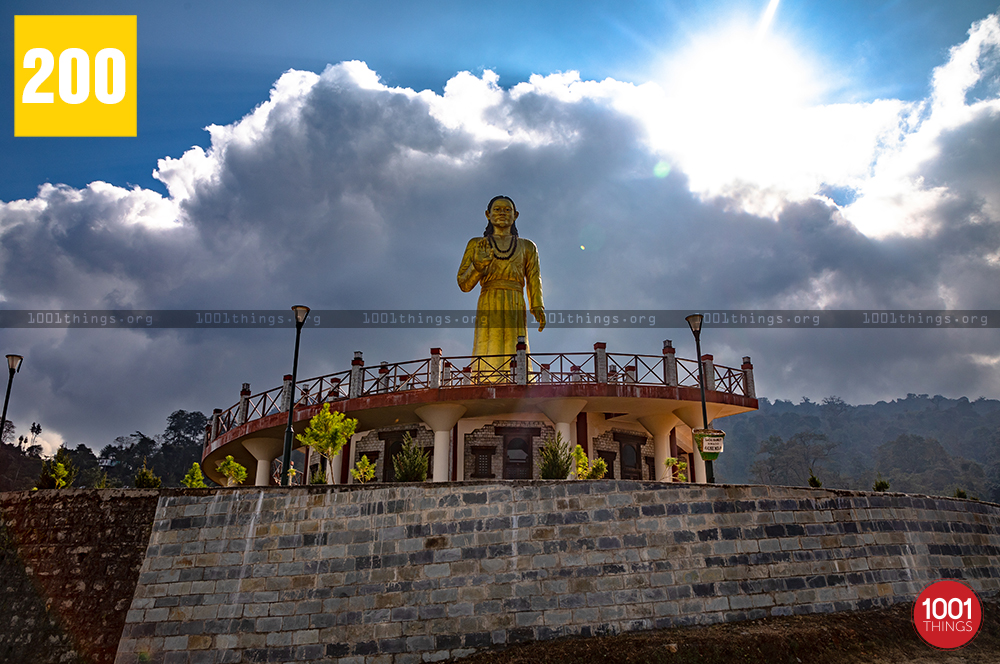 Mahatma Sirijunga: Our first stoppage at Hee Patal-Chayatal was at the Mahatma Tyeongsi Sirijunga statue complex. The statue was atop the hill. We walked up a winding road to reach the top to get a closer view of the statue. Sirijunga was a social awakener, born in 1704 AD. He made aware the Limbo people of their Yuma religion and Limbo language and script. But Lamas of Pemayangchi monastery did not like it. So they turned hostile, and eventually, some miscreants Lama killed him.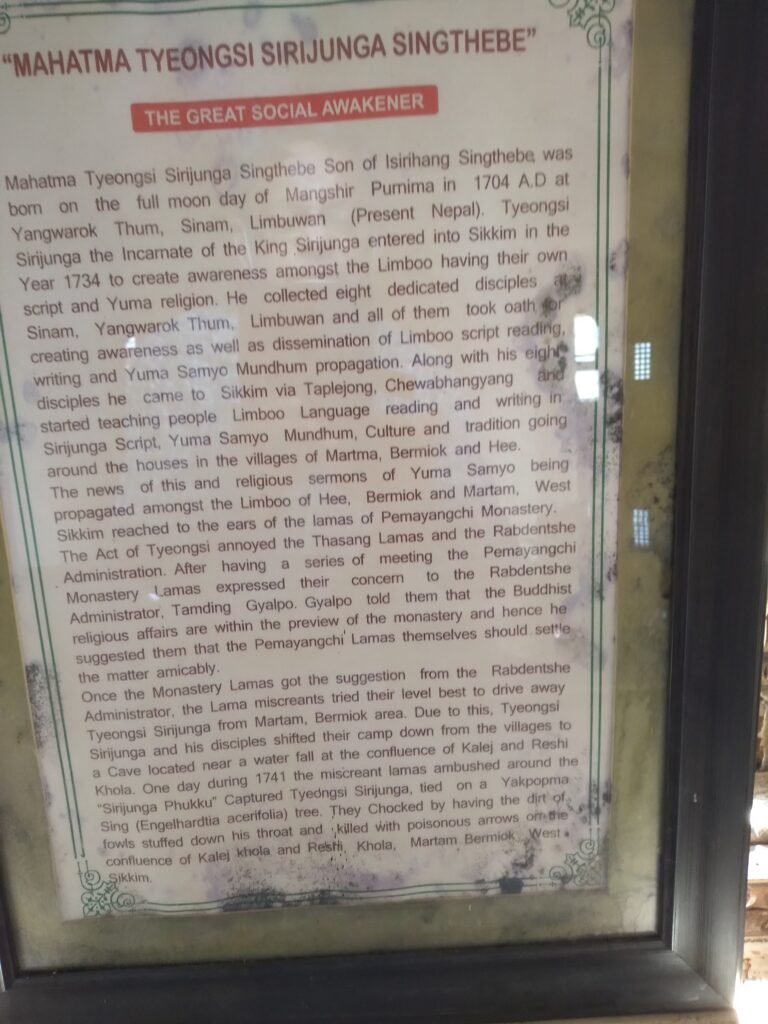 The Chhayatal lake was visible from the top of the hill. But it seemed to be very small because of its distant location from the hilltop.
Welcome to Nature Hill Top Resort, Hee Patal-Chayatal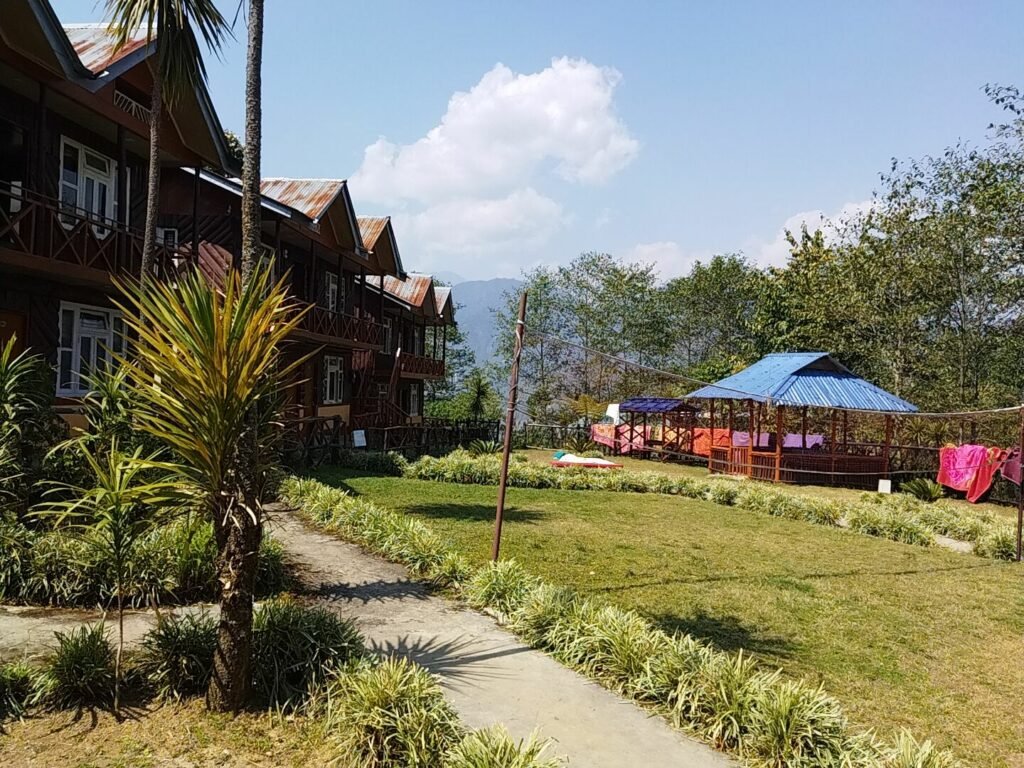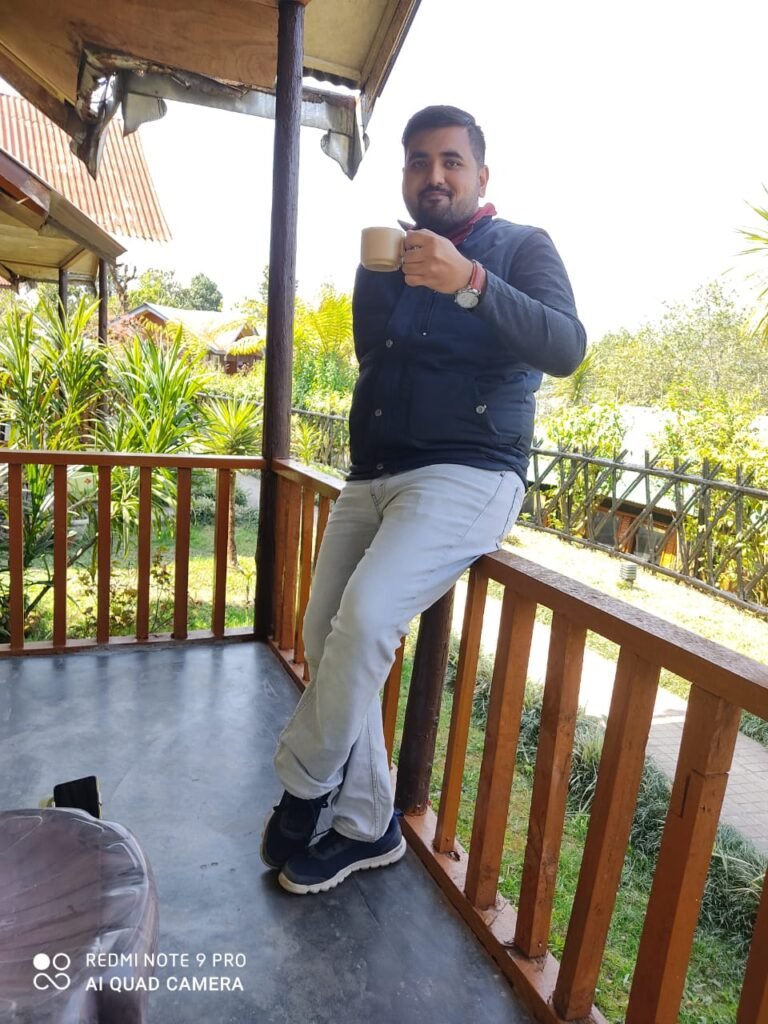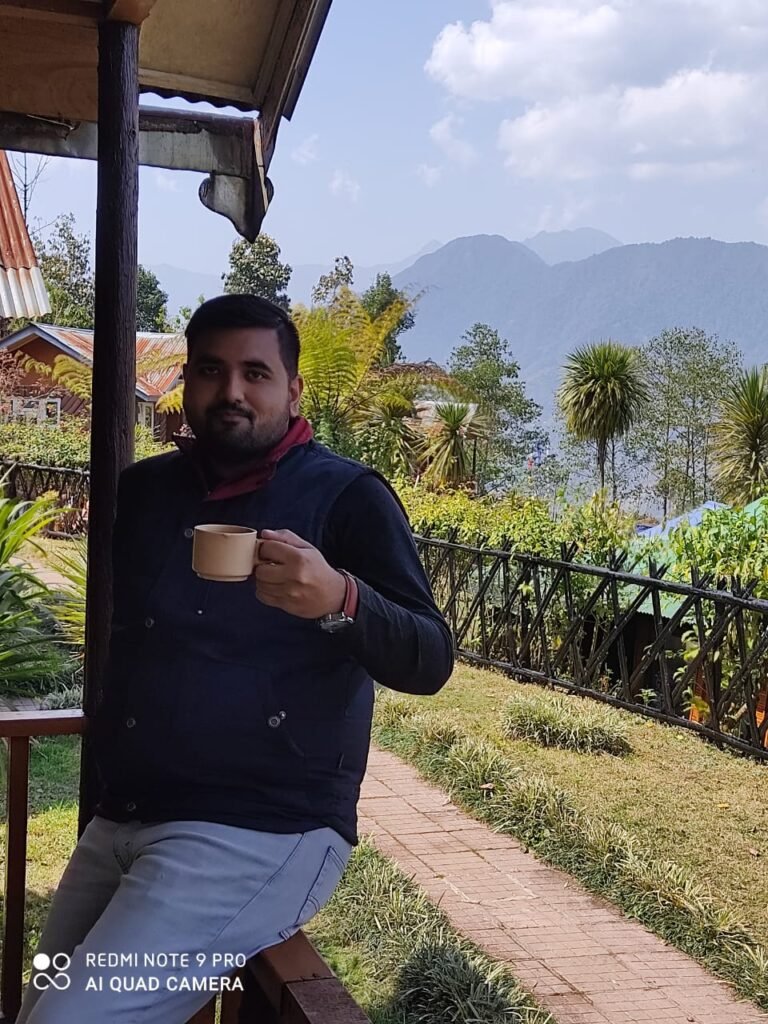 We then went to Nature Hill Top resort for our halt on March 9. We stayed at the three Resorts [Barfung resort Ravangla, Ghonday Resort Kaluk, and Nature Hilltop resort Hee Patal-Chayatal]. All have been the most beautiful, in my opinion. The Nature Hill Top Resort's manager Ms. Ganga gave us an excellent reception upon arrival.
Interaction with Resort Staff

We met staff Mohamad Raju at the resort. We learned that Raju used to do a job in Siliguri during the conversation. But he lost his job in lockdown. So Raju has to come to the far-flung Hee Patal-Chayatal resort for a meager salaried position out of compulsion. He became our friend in no time. "Chayatal lake is hardly ten to fifteen minutes by walk from the resort. Although the path is a bit inaccessible, the duration will be less if we go by shortcut on an uneven, hilly road", said Raju.

Raju gladly agreed to go with us. We also wanted it as he was familiar with the place. So, we went with Raju to have a close look at the lake of Chayatal.
Description of Cardamom (Elaichi) plant, Chayatal lake & its mythology
Raju, on the way, showed us the cardamom plants. "The livelihood of local hilly people largely depends upon its cultivation. Cardamom (ilaichi in Hindi) grows in a cold climate with the sufficiency of water. We cannot think of it growing in our Bengal," said Raju.
Soon we reached lake Chayatal. Chaya means shadow, and Tal implies lake. So would it not be appropriate if I say mighty Kangchenjunga is shadowing (means Chaya in Hindi or Bengali) the lake (means tal in Hindi). And perhaps that's why the name is Chayatal.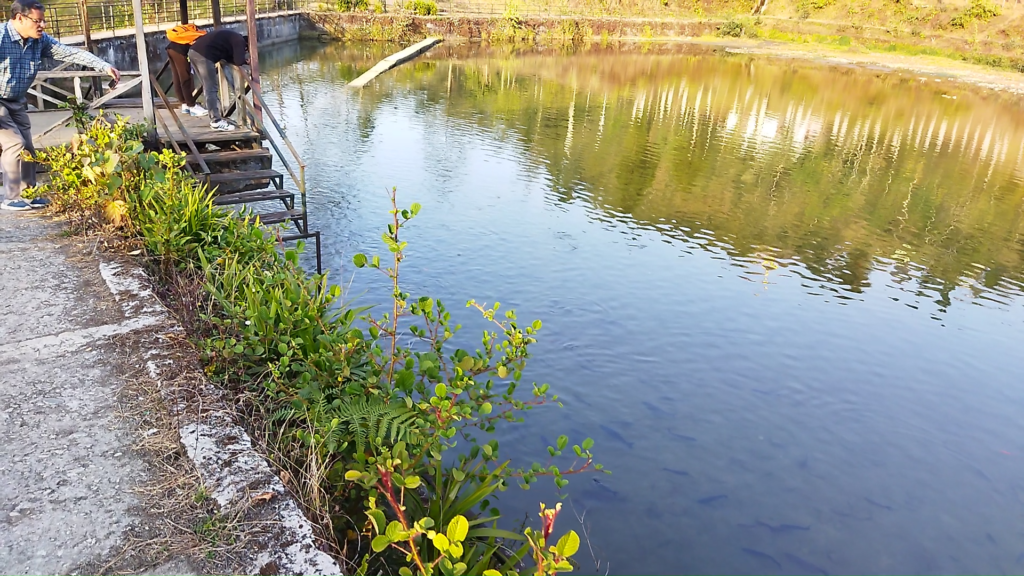 The story of Chayatal lake is also no less interesting. "The locals never eat fish from the lake here. There is a temple near the lake. After catching fish from here, people offer it as 'Dakshina' in the temple. Local people believe that a Nagraj lives inside the lake. Nagraj would curse and bring evils if someone cooked fish from here.
Difficulties encountered in trekking route during return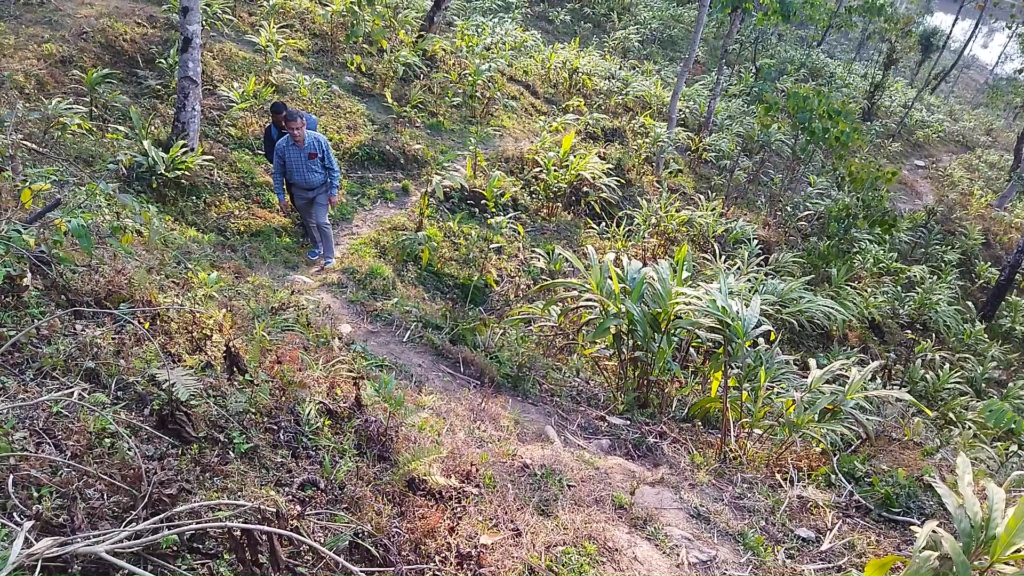 Now, it was time to go back to the resort. The question was whether to take a regular route or a shortcut trekking route. Saikat wanted to videography a waterfall near Chayatal. And he preferred to return resort via a shortcut route. So, after initial hesitation, I decided to join them. But I failed to size up the risk involved in the path. The shortcut route was challenging, all along uneven, and slippery. Nevertheless, I succeeded with a hitch.
Conclusion:
On March 10 morning, Saikat and I took a stroll along the villages and interacted with locals. During my six-day Sikkim tour, I found that every inch of Sikkim is full of charm. For example, in Chayatal, you may find the place is crowded less, noiseless. Mist and moisture will make you feel special. However, life on the hill is tough. If you come as a tourist here, you will enjoy a glimpse of nature. But if you stay here and take those trails that local people do to reach your work or business, you may find life is tough. Neither is there much facility here. There is only one resort and a handful of Homestay.

In Chayatal resort, there is no Wifi, and the internet does not work in any condition.

But frankly, I feel it's good sometimes if the internet does not work. People come here to enjoy to get relief from their daily chores.

"If the internet is available in Chayatal, your office boss may tell you to 'Work From Home' from your Laptop or Smartphone. Thus spoiling your holiday fun," said a former close colleague jocularly.

On March 10, after having breakfast in the resort, we left for Jalpaiguri to catch the Shatabdi express in the early morning of March 11. Still, overall, the Sikkim tour was memorable for me. (Concluded).


For reference to my readers, I am giving all contact addresses below.

i)Transit halt at New Jalpaiguri

Radharani Lodge (hardly 1 Kilometer from NJP station)
Phone No. 99339-98807
91343-47878
97333-37777
Proprietor/Manager: Vikram Roy

ii)Transporter (for hiring Xylo or Wagon R for the Sikkim tour)
Enroute West Tours Travels And Treks, Pelling, West Sikkim, 737113
Contact person Mr Chopel Dorji, Manager
Contact No. 8348898550, 7478873488
Email:westenroute@gmail.com

iii) Barfung Retreat, Ravangla: Contact No.8001609065, 7076175131
Manager: Mr. Dinesh: 8001609065

iv) Kaluk: Ghonday Resort Village
Manager Mr. Puran:9593979695. E mail:ghonday.resort@gmail.com
Proprietor: Mt DP Gurung: 9933001121

(v) Heeptal Chayya Tal: Nature Hill Top Resort
Contact No. 09932121694, 099325 11526
Contact Person: Ms. Ganga Manager 99321 21695
Email: naturehilltopresrot@gmail.com