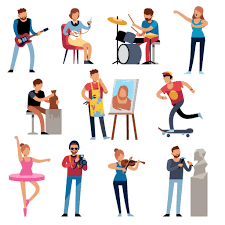 What are hobbies?
Hobbies are any activity that you are passionate about. These activities are usually done out of personal liking, and mostly are separate from the domain of profession. Though it is acquired over time, and is almost never a field you develop for material or monetary benefits, hobbies sometimes DO turn out to be a great source of income, and the best part is you enjoy doing your job!
While some people have hobbies of reading, music, or reading, some people collect leaves, stamps, coins, and even butterflies! Hobbies are a great part of our growing up: they help overall growth, extra curricular development, and can be a great stress reliever!
Take a break and improve focus!
Working for long periods of time can adversely effect your mind. Having something else to do, which interests you, can be an effective way to take a break while keeping your brain active. One of the best examples of this is learning to play an instrument.
Those who play instruments know how it benefits their focus, coordination, and mental alertness. So, it can be a great break from a taxing job or study session, while keeping your mind in good shape!
Explore you passion while working on your creativity skills.
A lot of times your passion can turn into a systematic improvement on your talents. It is important to give time to whatever you feel is enjoyable and interesting for you. A good example of such a hobby is cooking or baking. It can get better with time, and can open up endless possibilities for your creativity!
Possible extra income
If taken seriously, your hobby can be an extra stream of income and surprise you! You can always chose to teach and share your knowledge, like of a dance form, or music. If you can really invest time and energy on a craft you love to make, like candles, hand-made cards, bookmarks, or ever jewelry, open up a website or a social media page and sell them!
Social media surely gives people with talents and the willingness to share their skills a proper exposure to the public, from where a huge number of local businesses, unique and authentic, have gained success.
Find new friends and belong to a creative community
Often our hobbies lead us to a group of people who enjoy the same activities, for example a reading circle, or a photography club. These communities are extremely important for our growth, as it helps us connect effectively to other people, and undoubtedly learn and share what we love. Conversations and exchange can benefit us immensely for the betterment of our passion!
Nowadays, these communities can be found online, on social media groups on Facebook, Instagram and WhatsApp. The internet facilitates instant sharing of problems, solutions, and guidance while helping you connect to your hobby better.
Help with depression
Spending time doing what you love can considerably decrease stress! There are a number of hobbies that are therapeutic, and any constructive and creative activity can work for any individual. Many people try painting or simple coloring books to calm their anxieties, while some people love to write music, songs, poetry, etc.
Gardening can be an extremely joyous hobby, especially for people who are trying to move on from a traumatic experience. There are a large number of plants, herbs, trees, and flowers you can chose from, and create a garden according to the space available to you.
People who love stationaries like glitter, pencils, rulers, colours and stickers, often have beautiful scrapbooks, with collections of leaves, stamps, and post-cards. Each of these hobbies enhance an individual, and help them improve certain fields of life.