What are customized gifts?
Strikingly different from the regular, mass-produced gifts, with the same old cliched quotes and flowery images, customized gifts are a new trend of personalized, intimate presents, made completely according to individual tastes. Additionally, local brands have taken to creations of these gifts, which have made it considerably relevant in terms of our "think local" motto.
Moreover, they are definitely more beautiful, and give off an amazing, personal vibe! So, here are a few ideas of customized gifts that you could try the next time you have to gift someone something meaningful!
Cushions with your loved one's favourite quotes!
Cushions are very pretty decorative items that can even be a usable item of comfort. So, of course, if you add a little photograph which is special for the one you are creating a gift, or favorite quotes, or a meaningful message, it could be a beautiful gift that adds to the aesthetic of the room AND reflects the individuality of the person!
These items are great for special persons like your parents, closest friends or an person with a knack for aesthetic things!
Some online platforms that print personalized pillow or cushion covers in India are:
Photo Pillows – Personalized Photo Cushions | Custom Square Pillow Online (canvaschamp.in)
Buy Customized Photo Printed Cushions & Personalized Pillows | yourPrint
Personalised Cushion | Customised Cushions & Pillows Online | Insity
Mobile phone covers with your favorite prints!
Of course, your gifts must keep up with the generation! So, if you are likely to get a gift for someone who owns a smart-phone, or a laptop, or an I-pad, etc., find out what kind of special art they would most LOVE to carry around on their mobile phone covers!
The covers themselves are a necessity in order to retain the phones, so a touch of personalization will definitely enhance its value. If you are looking for a gift for a modern-day teenager, there is a wide variety of Pop art, or fan-art, stickers of anime characters, that they will (probably) LOVE.
If it is a book-worm, geeky, nerdy person- and you know their favorite characters, for example the Potterheads go crazy for Harry Potter themed symbols/images on mostly any merchandise! Some artsy people would love a miniature painting, that makes their phone a truly unique one.
Here are some websites that sell personalized phone-covers:
Customized Photo Printed Mobile Back Covers | Personalized Phone Case (yourprint.in)
Stayclassy.in – Be young, live Classy

Customized pots and mugs
Plants are one of the most valuable gifts for someone. They reflect so much awareness and kindness of the person giving the gift. So, if you could present a plant in a pot that ALSO says something extremely special, wouldn't it be the perfect gift?
Plants are the best decorative item, both indoors and outdoors. They could say a million things are otherwise difficult to express through gifts. Write a thank you note, a message you want them to carry with them, or anything that is meaningful and connects you both. You can find some of them here:
Personalised Plant Pots | Photo Pots for Plants Online in India | FlowerAura
Personalised Plant Pots | Buy Personalised Planters Online – Ferns N Petals (fnp.com)
BOOKMARKS!
These amazing gifts that every book-lover holds special, are the most personal items to be given. Moreover, they are the least expensive, and have immense use for those who carry around their books, especially during travel. You can make bookmarks for your loved ones if you just know what kind of content they would love on it.
The most commonly loved are ones with song-lines, or a simple image, painted by hand. You can even cut up designs, add colours, and create the most amazing bookmarks!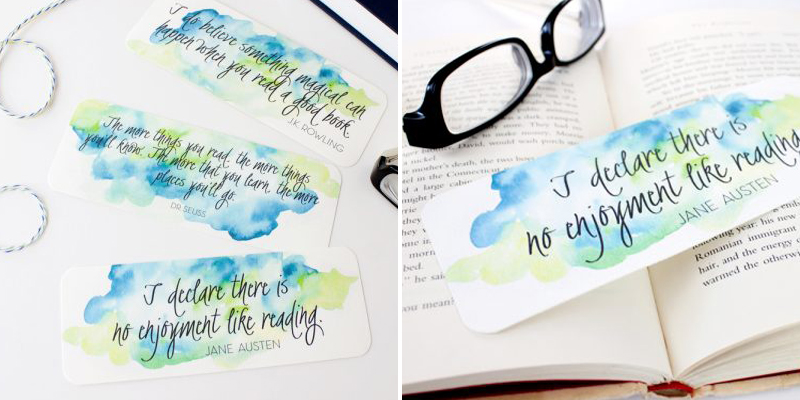 Read More: