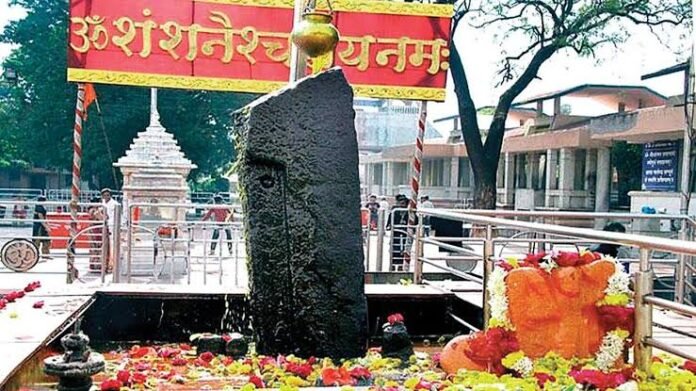 While theft, loot, false and fraudness, corruption have gripped majority of our places in our country, there exists a place known as Shani Shignapur situated about 70 KM from Shirdi and about one and a half hour ride from Shirdi, where people lives in house that do not have door at all.

In Shani Shignapur, valuables are lying openly in the rooms and yet intruder do not dare to give slip to the owner and pick up things. One may witness a similar picture in shops, hotel, post office etc. Undeniably these unparallel distinct features make the place different from rest.
Visit to Shani Shignapur
I visited Shani Shignapur in early of 2000s.
I was left awe struck on seeing such unique picture in my life at Shani Shignapur. Of course, the place is religious one and known for Shani Mandir. But to me, the place is more relevant for the simple living of people.
Talking to villagers of Shani Shignapur, it surfaced that the influence of Shani God which they consider living (Jaggrat) inspired them to lead an honest life and anyone drifting from it is not spared from wrath of God Shani leading to his complete loss of sight or memory or loss of mental balance or even loss of life and most importantly the culprit would succumb to his evil act before he gets away even from boundary of village with stolen goods or money.

I also gathered from the villagers as well as literature available that so powerful is the influence of Shani God that even if a stranger coming here with an evil motive, not only falter in his evil pursuit but invariably comes under Shani Devata spell that dissuades him performing any immortal Act like stealing.

The villagers recounted a few stray incident of distant past when one had to pay heavy price for attempting to steal.
Leave your money, luggage openly in your jeep, visit the temple, offer puja and come back. All your belongings would remain as it were" said our Jeep driver Birju as I got off from the jeep. And what he said was indeed true. I saw visitors coming in another jeep leaving their belonging unattended while proceeding for darshan.

In Shani Shignapur Mandir premise, I saw a sentry guarding the temple with a gun. Out of my curiosity I asked him the necessity of Gun for a place where the word 'stealing' had no place in the dictionary. Smiling, the swarthy burly built guy probably in his early thirty's said as of his duty, he had o hold the gun and moreover the visitors many a time creates problems of varying degree. "The moment I intervened, the very sight of gun silenced them, ", he said with a roaring laugh.

Interestingly women are not allowed inside the temple nor they can offer puja. The male members must be in red dhoti with upper part of bode remain bare. He has to then take a dip in river and without wiping the body he has to enter the temple for offering Puja to Shani God. As the name suggest, Saturday is the auspicious day to offer puja. Saturday there is a special puja. The trip was indeed ever memorable in my life.

A word of caution, no sooner do you get down from the vehicle, the shrine priest (Punda) swarms around you. It is far better to manage your own than counting on them for offering puija. However if inevitable, then first and foremost , set your deal with them including the Dakshina . Otherewise you are likely to get into hassles in the end and that could very well dampen all fun and enjoyment.

Saibal Ghosh