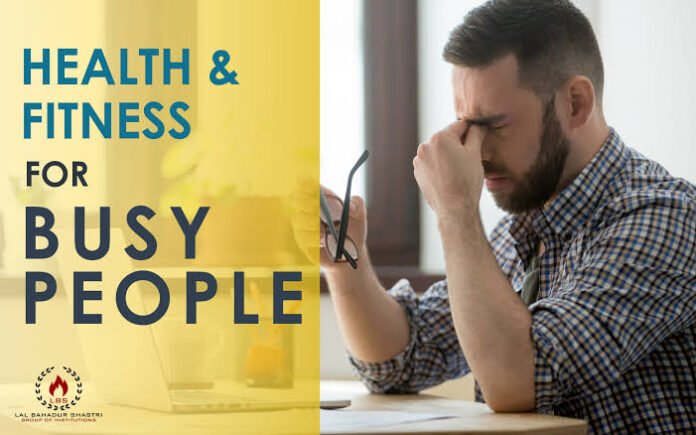 We are very busy nowadays due to the increasing opulency of Corporate connections all around the world. We often neglect our health and fitness issues when we are at work. But, guess what ? We got you covered. Here we have discussed about 6 tips that helps you to keep your body fit and healthy, even if you are in work!
1. Take short breaks on regular intervals :
In maximum of the modern corporate jobs, we have to sit in place for a long time, that can gradually acts on our health. Our metabolism system starts working slow. If you don't maintain a proper posture, that can adversely affect your spine. It may not be possible everytime to keep maintaining the spine posture straight but at least you have to try to maintain it.
2. Pre plan your food intake :
After a long shift of work, don't just it anything that comes handy. If you want to maintain a healthy diet, you have to pre-plan your diet. There are plenty of healthy food options you can opt. You can have protein bars, or enough calories that suits your body. Primarily, Salad with Vegetables and some fruit juice is a great food to start off. It gradually brings energy and fitness.
3. Don't eat less in the name of 'Diet' :
In our active, engaged office schedule, we often skip our meals for workload or sometime we deliberately skip. As a result, we grab anything when hunger strikes our stomach. Consuming High calories and fat can easily increase our body fat. To avoid the consequences, we start dieting. But in the name of dieting, we do exact same thing of skipping the meal. That's not at all good for our inner health. It may affect our digestive system, or may attack our general immunity.
Don't eat when you are hungry. Eat frequently. Develope a good and nutritious food habit and try to consume low-carb, low-fat. But don't curtail your habituated food intake in the name of dieting. It seriously acts on our health.
4. Stay Rehydrate :
We often find it difficult to stay hydrated in office jobs or an busy day. But it is very much important to stay hydrated to be fit and fine. If you are working in an completely air-conditioned area, your body may decrease body temperature and the air gets too dry. As a result, we don't take water and get ourselves dehydrated. Water plays a very important role in human body including regulating body temperature, cell stems, maintaining blood pressure and even in fitness! So, keep drinking water frequently after or before every meal you take. Try to take atleast 8 glasses of water in a day to hydrate your body.
5. Exercise In a regular basis :
During a whole busy day after chasing deadlines, our mind really needs some refreshments. If you do some exercise in your free time, it not only recharges your body, but also refresh your tired mind. Research says, exercising in morning (Around 7 A.M) is a very good practice. Starting your day with some exercise is refreshing, at the same time, you get more energy to work for a whole day passionately. But, if you don't get enough time for a morning workout, no worries! Pre-plan your workout routine carefully, like to schedule your meetings. Start with some of the most simple and effective workouts like Jumping Jacks, Burpees, and Planks. Plan your workout to increase fitness.
6. All work and no play…
Remember the old proverb ? In real life, of course we don't want to be that 'dull boy', right ? Interacting with your colleagues and friends in between your work really helps your mind to be fresh and active even more. If you are looking at a computer screen for a long time, make sure to take a 10 or 15 minutes recess after work of every 45 minutes or an hour. During this frequent break, you can socialize with your friends, play some mobile games or sneek into your favourite movie trailer. Do whatever you want, but don't get distracted. This not only helps your mental upbringing, but also expands your reach to society.
Well, readers, these are some ways to stay fit physically and mentally during your busy schedule. Always remember, Satisfaction is the basic need to do anything. And untill you are fit both physically and mentally, nothing can stop you from achieving your desired goals. With this hope, we wish your good health and prosperity.