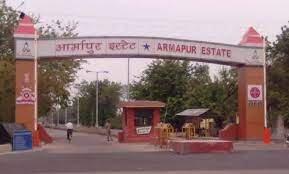 Hello my lovely Unveil.Press readers, welcome to my nostalgic world! Here I go with another story of Nostalgia
Nostalgia filled my mind as I stepped into Armapur of Kanpur almost after four decades. I spent the prime of my childhood in Kanpur. We moved out of here in the late 70's.
The familiar scenes like the canal, the park, the school, the roads, the old government quarters, the Durga Puja celebration ground jogged my memories of my childhood.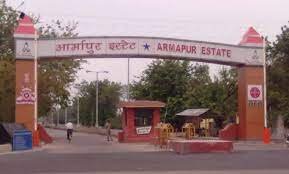 My childhood crony, 'Pappi', was then still in Kanpur. But I lost my friend in an accident after my visit to Kanpur. It was indeed a painful moment for me, losing a friend after having been spent a wonderful time during my nostalgic trip to Kanpur.
Well, this story could well be a tribute to my childhood friend 'Pappi'. I might have digressed a little from core of my story. But the memory of 'Pappi lives on me. Well, let me again focus back on the main story.
I had to toil hard to track him down. I came to know from someone that 'Pappi lived with his elder brother Ashok, near Milan Mandir in Armapur (Kanpur). In the evening, as soon as my training session at my office ended, I rushed out to meet him with excitement, filling every inch of my mind.
Both of us failed to recognize each other. With the front door of the house kept ajar, I saw a burly built man resting on a chair. As I pushed the door to enter, he stared at me curiously. Thinking him to be Pappi's elder brother Ashok, I blurted out "Hello, Ashok dada, do you recollect me, call Pappi, let me see if Pappi can recognize me".
'My Ashok Dada', looked bewildered. A stranger sitting beside me was laughing under his sleeves. Why he did so was unraveled when another stranger emerged from the inner room and revealed that the man I was talking to was 'Pappi' and the stranger emergedfrom thefrom inner room was Ashok Dada. Thereafter, it goes without saying the outburst of happiness of the re–union of two bosom friends of childhood.
During my week-long stay I was strolling alongside the canal. I remembered my classmate Prabhat, who lived in the quarter beside the canal. But then it was absurd to imagine Prabhat living there now. His father passed away more than a decade ago when I visited Kanpur, and they had to leave the quarter.
Out of my inquisitiveness, I inquired from a local resident I came across while stroling. The gentelman affirmed that Prabhat is now in United States but his elder sister Baby didi, lecurer in a local government college had been allotted the same quarter. She lived with her doctor husband in the same house.
With excitement and curosity, I knocked the door of the house, a lady in 50's opened the door, she wrinkled her face to recollect me. To my utter pleasure, she squealed in joy no sooner I refreshed her memory. Stories of bygone days poured into our conversation. She helped me trace Pratima aunt — our teacher at Kasturba kindergarten ('KKG') school. In 'KKG' school, we address our teacher as aunty
Like Baby Didi, Pratima aunty was delighted to see me after years. She said the school teachers of those days still remembered my sister and me. This was so, as my sister and I were well known in the school for being twins. The next day I visited the school along with Pratima aunty. The school has been elevated to a middle high school now. In those days, it had classes from Nursary to IIIrd Standard . Geeta aunty and Abha aunty were still teaching. When I went to meet 'Geeta' Aunty, she was teaching the Sr.KG.
An overjoyed Geta auntie said students do visit their almamater but most of them thought little of their KG school. Then, in a command tone, she asked me if my handwriting had improved. In an honest confession I told her "no". I studied in KKG school from Nursery to higher class and Geeta Aunty taught me in all classes.
I also went to the classrooms where we studied. The palm (khajoor) tree behind our classroom refused to succumb to the vagaries of weather, even after more than three decades.
Adjacent to it, there was a shop where jaggary ('gur' in Hindi) and palm juice were processed. It brought to my mind the owner, who out of fondness for little kids, used to give us free pieces of 'Khajoor Gur, Pratima auntie told me the shop was closed after the owner's death.
Watching the kids playing games in the open space in front of their classroms, I wondered how time flew.
Although I visited Kanpur a couple of times later, my first visit to Kanpur was indeed nostalgic and incomparable.