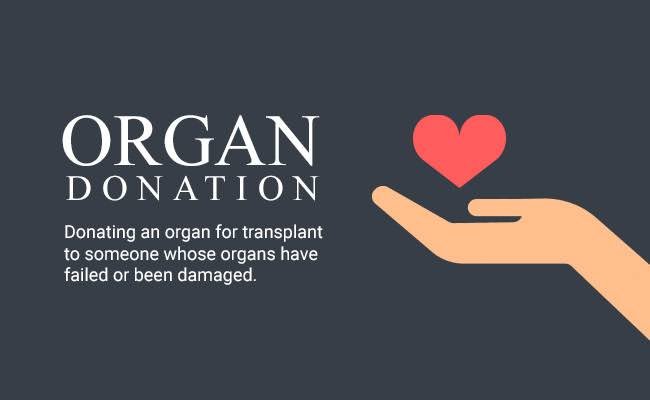 Organ donation is undoubtedly a noble duty. After our death, our internal organs also get destroyed with our earthly remains. But, by donating organs posthumously, you can live a life after your death, by giving another person a new life.
Importance of Organ Donation :
Before we move on to the main topic, we have to know what organ donation actually is??
Organ Donation is a process in which a person allows an organ to be removed or transplanted to another person who is in need of that particular organ. Most in the cases, this process is done when the donor is brain-dead or deceased. However, some organs can be donated by living donor such as a kidney, or a part of liver or pancreas. But as we said before, in most of the cases, the donor is dead.
In India, approximately five lakh people dies off every year due to lack of the organs. Receiving an organ can become completely a life changing event for these people. It also help a family work through the grieving process and deal with their grief by knowing their dear one is helping out to save the lives of others, who are in need.
The average cost of organ donation is surprisingly low, comparing with that of the Western Countries. A brain dead person can save the lives of at least eight people who are in need. Besides, in this course, the recipient's kin, who also are in a deep trouble, can breath out a sigh of relief. By donating an organ, we can live through the life of the recipient, even after our soul left our mortal body. Our little donation means a world to a person in need.
As we create more awareness, more organ & tissue recipients who are in need, will have the chance of getting their lives saved or extended by donors. In some ways, we can spread awareness–
1. Promote Organ Donation in Social Media :
In social media, you can spread the awareness to a greater number of audience. It is an open forum, where we can describe the positive sides of organ donation. Social media is one of the great platform to raise awareness.
2. Start Campaigning :
In order to raise awareness for donation, you can start a campaign. If not alone, start with your group of friends or join an NGO or Non-profit organization who supports this kind of social acts.
3. Register Yourself as an Donor :
The best way express your support for organ donation is to register yourself as an Organ Donor ! Yes, that's right. You can always register at the DMV or online. It really is an easy process. The most important thing about being a donor is that only a donor can save up to eight lives.
4. Influence others to be a donor :
When you sign up for organ donation then try to influence and encourage your friends and family to be a donor too. At first, it will be a tough job to compromise and convince everyone, but you can tell them about the good points of donation. Try to educate yourself and your friends about the organ donation. You can join any NGO or Non profit organisation who successfully runs this kind of process.
As of today, organ donation is completely a process which happens under the surveillance of the Government. It is a completely legal and systemical process. National Organ and Tissue Transplant Organisation (NOTTO) is an organization under Ministry of Health, Government of India.
So, readers! What are you waiting for? Start making difference right now ! You can sign up for organ donation from the official website of NOTTO here. We wish you all the best and sound health.