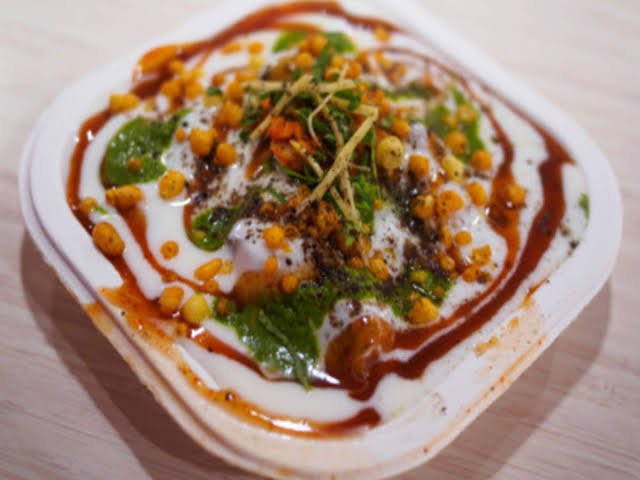 While speaking about chaat recipe we can't deny that be a citizen of India we actually love to eat different kinds of street foods. In other words we can say if everyday it is possible to eat those, then it is going to be the best thing ever happened in everyone's life. But to be honest they are not a healthy food item. By eating then on a regular base can actually harm our health on a serious note. But think if you can have them with a healthy diet how it would be?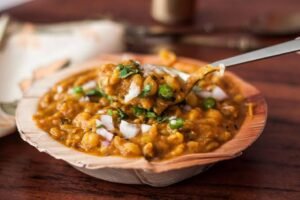 We know that you are quite surprise after hearing that it can be healthy too. But seriously we are speaking it is possible and we are not kidding at all. In this article we will provide few of the recipes which are totally healthy for your health. So try to read till the end to gather information regarding healthy recipes.
Kathiawari Aloo Chana Chaat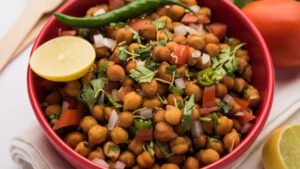 Preparation Time : 20 Minutes
Cooking Time : 15 Minutes
Total Time : 35 Minutes
Servings : 2
Ingredients :
1 bowl Boiled chana
1/2 tsp Red chilli powder
A pinch of turmeric powder
Salt as per taste
2 Green Chillies
1 medium Onion
1 Tomato
1 tbsp Sev
4-5 Papri chaat
Procedure :
1. At first take a pan and add boiled chana chaat then add red chilli powder, turmeric powder, salt and crushed green chillies and mix them well.
2. After that add sugar and some tamarind pulp into it and mix them altogether.
3. When you will find that mixture is going to heat up, add boiled potatoes with cornflour slurry and allow it to cook for few minutes.
4. Once cooking is completed transfer it into a bowl and in the top add finely chopped onions, sev, papri and chaat masala, serve it hot with some tea.
Dahi Chana Chaat :
Preparation Time : 10 Minutes
Cooking Time : 15 Minutes
Total Time : 25 Minutes
Servings : 2
Ingredients :
1 Cup Boiled Chickpeas
1 medium Boiled potato
1 large finely chopped onion
1 medium finely chopped tomato
1 finely chopped Green Chilli
2 tbsp finely chopped Coriander Leaves
2 cups Curd1 tsp Chilli flakes
1 tsp Roasted cumin seeds
Black Salt to taste
Salt to taste
1 tsp Chaat Masala
1/2 tsp Coriander Powder
2 tbsp Green Chutney
3 tbsp Tamarind Chutney
4-5 Papdi
Procedure :
1. In a bowl add boile chickpeas, then in that same bowl add chopped onions, tomatoes, potatoes, green chillies and green coriander and mix them well.
2. Now add chili flakes, cumin powder, black salt, white salt and chaat masala and again give it a good stir.
3. After that in that same bowl add green and sweet chutney and mix all the ingredients together.
4. Finally add curd give it a stir, and add crushed papdi on it. Garnish it with some green coriander and serve it to your guests with some tea.
Aam Chana Chaat :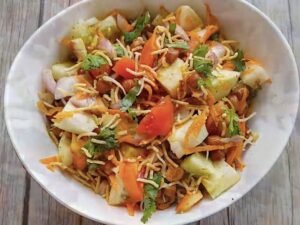 Preparation Time : 05 Minutes
Cooking Time : 15 Minutes
Total Time : 20 Minutes
Servings : 4
Ingredients :
1 cup black channa soaked and sprouted
1/2 raw mango
1/2 grated carrot
1/2 chopped onions
1/2 chopped cucumber
1/2 chopped tomato
1 chaat masala powder
1 tsp of Salt
1/2 tsp of red chilly powder
1/2 tsp of lemon juice
1/2 tsp of coriander leaves
Procedure :
1. Before making the chaat you have to soak black channa in water and let it sprout. You can soak it for a day, drain the water and tie it in a muslin cloth, sprouts will come out automatically.
2. Now boil sprout drain them, and keep it aside.
3. After that chop all the vegetables and keep it ready. Now we all the veggies with boiled sprouts and mix it well
4. Then add salt, lemon juice, red chilli powder, chaat masala powder and give it a good mix them all together very well.
5. Now garnish it with some coriander leaves, and from the top add green chutney, sweet chutney and sev. If you want you can also add shredded cabbage or boiled potato to the mixture.
This are the 3 heathy recipes which you can definitely try in your everyday routine. This particular recipes are not going to harm you know your health so you can enjoy them freely without having any tension.
Read More : Samrat Prithviraj Movie Review : Was This Historical Movie Enough To Frame A Proper Picture Of Prithviraj Chauhan? Read On To Know..