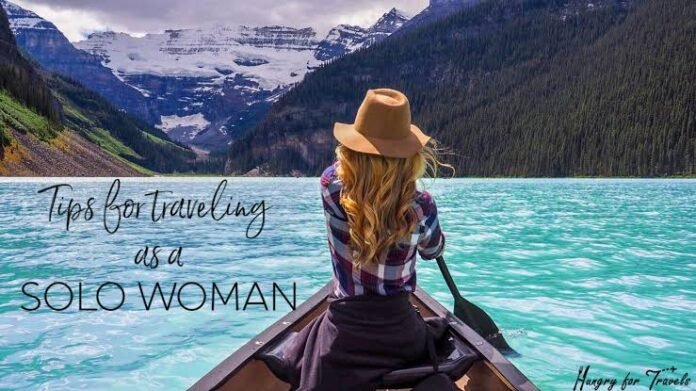 Solo travel not only pushes you out of your Comfort zone, it also pushes you out of the Zone of other's expectations!!

Suzy Strutner
Travelling alone is a thrill, that is packed with number of great events. Women decide to travel alone when the impulse to scroll around the world grows stronger than the barriers in their way. Being a Girl, it's my desire too, for travelling and enjoy oneself.
The time and space that travelling solo offers you while going from one place or from town to town allows your mind to wander. This will provide you a quality time with our soul. You just begin to think about your life, what you've done, what you want to achieve and what you're grateful for, giving you a whole new perspective on life.
Sometimes you just need to disconnect and enjoy your own company!!

Pinterest.
Fear Behind Travelling Solo
The only way to become fearless is to overcome a fear. How?? Confidence and passion are like best friends to achieve victory over that fear. Yes, it's not that easy to travel alone, but not impossible too. Women travelling alone has perils such as safety concerns, loneliness, and management of little things. But this can be smartly handled.
10 Tips you should ponder!!
Life is either a daring adventure or nothing…..

Helen keller
Travelling alone at a new destination is going to be the time at leisure. Meeting new faces, strange roads, Beautiful sceneries, exploring new location is just a wonderful thought, that can be made real by your solo trip. All you need is courage, confidence and smartness. So let's begin…..!
Here are some tips that might be useful for women on solo exploration.
1) Research about the Destination
The very first and foremost thing is to research about the place you want to visit. If you want to travel in a new land, then gather appropriate information about that particular place. Internet is best to help out in research.
2) Maintain a Diary
Take a pocket friendly diary and a pen, easy to carry in your hand bag. Maintain a diary for places you want to visit with addresses. You can also make a map for the places and interlinks. Sometimes internet connections and mobile phones may got lost, this diary can help you out to find a way. Write some of the numbers of your friends and family members. Contact number of hotels, where you stay and every detail must be there in your diary. One more thing, Never share this diary with strangers. We can't trust anyone in a strange land and a just one time meet.
3) Copy of Documents
In a handbag, there must be a copy of your documents like, ID cards, driving license and passports if travelling to other country. Other than hard copy, You can also keep a scanned copy of your documents in your mobile phone or tablet. It is very important to keep documents safe, hence do not carry original copies everywhere you go.
Secure your credit cards and money in a clutch(a small purse). It is easy to find a clutch rather then searching for cards and money in your hand bag.
4) Ensure Safety where you stay
It will be quite better to reserve the hotels with good ratings. Just to save few bucks, don't choose a staying location which questions your safety. Gather all the details about hotel and near by area before you visit there.
5) Protective tools
Make sure your handbag or sling bag is equipped with pepper spray, tiny Swiss knife, and other self protection weapons. These are required for your safety at an unknown place. They may not be used, but you should have!
6) Mobile phone for contacting trustworthy people you know
Use mobile phone for google Maps, calls and photography. Try not to share your location on social media and your posts. Stay connected via calls or video calls with your family and friends whom you trust. Other than this, mobile have online payment apps that is really good if you want less money to be loaded in your bag.
7) Pack light
The very important thing to manage is your luggage. Try to take only one backpack or suitcase type of bag along with a hand bag for all the accessories you need. Carry a folder to hold all your important documents. Folder must be compatible with your bag, as you can put this folder into it. Pack your clothes according to season. As a solo traveller, you should look simple and local to the strange place.
8) Choose Safer transport
You can travel with your own vehicle like car, bike or can be bicycle. Riding a bike alone, can be more adventurous. But it's appropriate to prefer public transport in many ways.
While you are solo, it's better to select a transport facilities with women-only spaces. Even though you are strong enough but safety measures are the priority to new destination. If possible, Book a women driven cab. These facilities are offered by various apps.
9) Beware of your surrounding
In a location full of strangers, you may feel certain kind of discomfort. But not to worry, just enjoy your own company. In a situation like discomfort, walk along the site you visited. Take pictures, write about the place and location in your diary. In case your Sixth sense got activated about people around you, then leave that location. Be more cautious at night.
10) Enjoy the Trip without any fear
You are travelling to conquer all the fear you had. Travelling solo will give a time with self. Grab all the positivity from the locations you visit. Capture those beautiful moments.
As you travel solo, being totally responsible for yourself, it's inevitable that you will discover just how capable you are!!!
* Travelling solo will bring immense joy and thus let your dreams come true. Think once over the points mentioned above. Now, just pack your bag and start your solo trip!!!