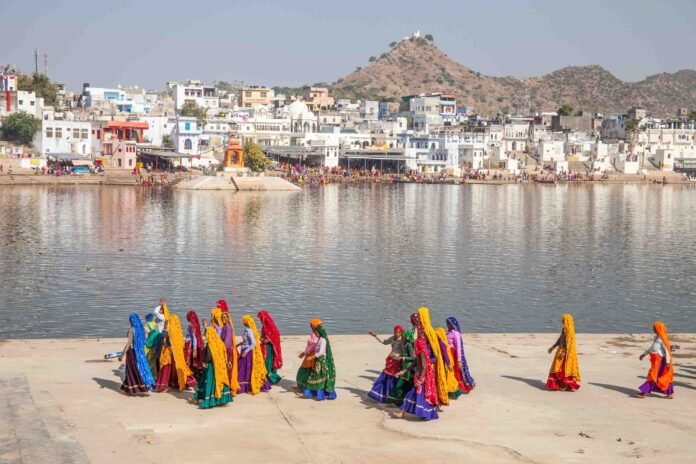 Brahma, the Creator of Universe, is one among the Tridev, ie. Lord Brahma- the creator, Lord Vishnu- the preserver and Lord Shiva- the destroyer. There are millions of temple of Lord Shiva and Lord Vishnu, but not of Lord Brahma. The only Brahma Temple is located in Pushkar, Rajasthan. Why Lord Brahma is not worshipped?
Why the creator God have no temple except in Pushkar? Where is Pushkar located and how it is originated? What is the time to visit the temple? Let's find the answer of these questions through visiting Pushkar in this article.
Gurubrahma Guruvishnu Gurudevo Maheswarah, Guru Saakshaat Param Brahma Tasmai shri guravey Namaha"

Brahma mantra
Pushkar
Pushkar is a small town under District Ajmer of Rajasthan, a state in India. It is considered as the most sacred place for Hindu. According to International business times (an American online news publications) Pushkar lake and Brahma temple is one among the Ten most religious place in the world and one of Five holy pilgrimage for Hindus. It attracts most of the pilgrims and visitors for its beauty and mysterious history of holy place.
It is the only site where the idol of Lord Brahma is worshipped. It is known by the name Jagatpita Brahma Mandir. The word Pushkar is combined form of 2 words, ie. Push – Flower (Lotus) and Kar – Hand or wrist (of Brahma). This name has a reason behind. According to Hindu mythology, in its one of the scripture known, Padma Purana, describes the origin of place Pushkar.
Once Brahma saw a demon named Vajranabha, who is harassing and try to kill his children on earth. Brahma used his weapon ie. Lotus flower and through it on the demon. The demon was destroyed, but in this process three petals of the Lotus flower fell down on the earth and this created three lakes as- First or Great Pushkar Lake (Jyeshtha Pushkar), Middle Pushkar Lake (Madhya Pushkar) and Last or youngest Pushkar Lake (Kanishtha Pushkar).
At Jyeshtha Pushkar, Lord Brahma then decided to perform a fire sacrifice (Yajna). After this yajna, sage Vishwamitra built a temple of Lord Brahma on the bank of Pushkar Lake and the city is named Pushkar ji. Pushkar temple is renovated by 8th century hindi philosopher- Adi Shankara. Its present structure dates to be of 14th century.
Pushkar Fair is organised at Pushkar every year according to hindu calendar month Kartika and ends at Kartika Poornima. It is actually camel or livestock fair.
Why Lord Brahma not worshipped ?
According to Hindu legends, Brahma wished to perform a fire sacrifice at First Pushkar lake. He invited all other God and Goddess for the yagya at Pushkar lake. For securing the place from demon's attack, Brahma created hills in four direction, they are– Suryagiri (east), Sanchoora (west), Nilgiri (north) and Ratnagiri (south).
These hills were under protection by specific Devas. Fire sacrifice ritual was to be performed by couple together, ie. Brahma and her wife Savitri. Mata Savitri was waiting for her companions, Goddess Parvati, Goddess Lakshmi and Indrani to reach the yajna spot on earth.
Savitri was absent at the place and Brahma ordered Indra dev to find a suitable girl to marry and carried out further process of yagya. Indra dev find a Gujar's daughter named Gayatri (Goddess of Milk), who was also accepted by other God and priest present there. Brahma then married Gayatri and continued the yajna as Gayatri sit along the Brahma.
With the pot of Amrita on her head and proceeding the Aahuti ie. Offering to sacrifice fire. As Savitri entered the venue, she was surprised to see the scenario. Brahma sitting along with another girl and Savitri's position was occupied by Gayatri. This made Savitri filled up with anger. She cursed Brahma that He would not be worshipped anywhere and no one would construct his temple.
She also cursed Indra dev, agni dev and also the priest – (to be poor). Savitri then reduced the curse by permitting worship of Brahma only at Pushkar. After attaining powers and energy of yajna, Gayatri diluted the curse on priest, Indra dev and agni dev.
The Two hills opposite to each other have temple of Savitri and Gayatri. Then Savitri move to higher hill, Ratanagiri, where she emerges out as a stream known Savitri Jharna and still present there.
Jagatpita Brahma Temple
The temple is made up of marble and marble steps to reach the main entrance. Pillars have canopy or Gumbad. Outdoor pillared hall is called mandapa. It is at centre which leads to the Garbhagriha, where Brahma's statue is placed. Brahma is appeared in cross legged position.
Brahma has Four headed known as Choumurti, head facing all four directions. Brahma's four hands have kamandala with rosray bids, lotus, vedas Or books and Kusha (type of pure grass). Gayatri 's image is situated left to Brahma's idol and Savitri's image is right to Brahma.
Red shikhara and symbol of hamsa (swan) made the temple look more attractive. Hamsa motif is at main entrance. Interior of the temple is decorated with silver coins and floor with beautiful black & white checks pattern. Pushkar Lake is adjacent to the Jagatpita Brahma Temple.
How Brahma is worshipped ?
Brahma is worshipped by sages or sanyasi. Married men and women are not allowed to enter the Garbhagriha. All the offerings and religious material are hand over by sages present out in the Hall. Sanyasi or priest need to take bath every morning in the holy lake before entering the Garbhagriha.
Temple is cleaned daily by the priest itself. Three aartis are performed in the temple. Namely, Mangala aarti – in the morning prior sunrise, Sandhyaa aarti – in the evening before sunset and the Shayan aarti – in night after sunset (9 PM-10 PM). The temple remains close in the mid noon. Temple opens at 6.00 AM in morning and closes at 8.30 PM. Every year in the month of Kartika (October- November), a fair and Brahma Fest is organised at Pushkar on Kartika poornima.
Pilgrimages take bath in the holy lake and perform rituals at the temple. Temple is open for visitors throughout the year. But due to COVID -19 outbreak some rules are changed in the temple, like taking bath in lake, entry without mask is prohibited and less number of pilgrimage are allowed at a time in main hall.
How to reach Pushkar?
Pushkar is 14 km away from district Ajmer. Pushkar have good network of roads. It is easy way to reach Ajmer by train, bus or flight, then to travel Pushkar in taxi, cabs or public transport services.
Pushkar has many guest houses, hotels near by the Brahma temple at a distance of 1-2 km, which costs 300₹-1000₹ per night .
Sites to visit at Pushkar
Pushkar has a lot more religious sites to visit by the visitors and pilgrimages. Savitri temple at Ratnagiri hill and Savitri Jharna are famous spot to visit. It is the place from where visitors can overlook the lake. Sunset and Sunrise view from the top of hill provide major attraction to visitors. Gayatri mandir is situated apposite to Savitri temple. Atpateshwar mahadev temple is situated near Brahma temple.
Read More,
"Eat more Vitamins and Minerals, it's good for your health." Really !!! Do you know the role of these 2 nutrients in your body?