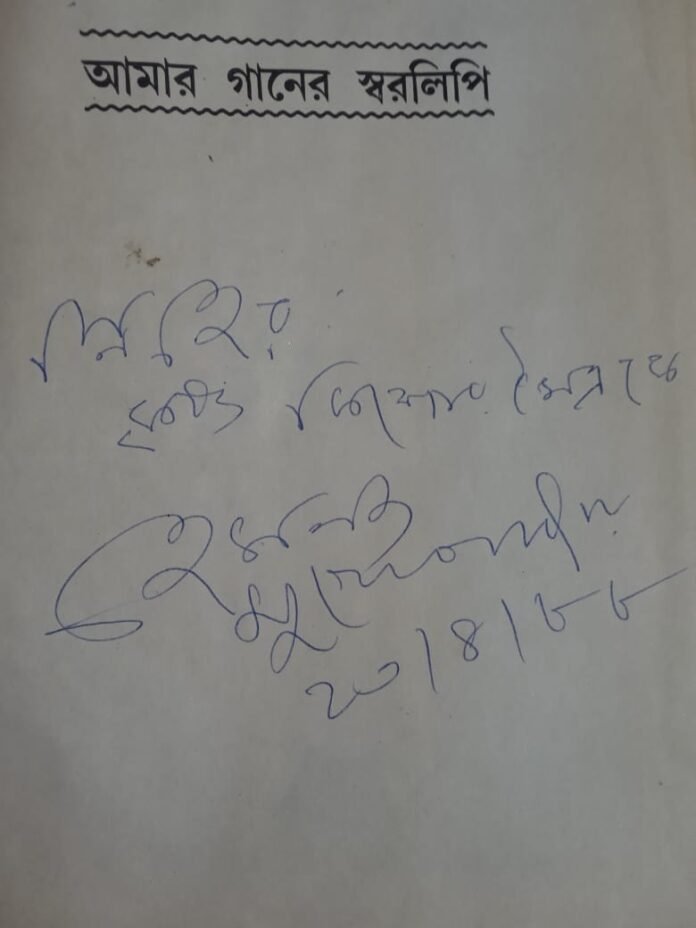 singer
Singer: Introduction:

His voice will blow your mind. If you're upset, his songs make you soothed. Simplicity in style distinguishes him from other singers. His baritone voice would amaze God. His 102 birth anniversary is today (16 June).

Could you now guess to whom I'm referring? I was talking about the melody world emperor, Hemant Kumar.

There will be many events to remember him today, at least in Bengal. Maybe a part of it is songs, discussions, contributions, personal life, etc. But I didn't want to add much to it.
My experience

I will share my little experience. Hemant Kumar's song is one I like most. I consider his voice 'the God's voice.' But I never got to see a stage show by Hemant Kumar.

My posting those days was at Bhandara, near Nagpur. It was 23 April 1988, if my memory serves me right. One day, when I glanced at the Nagpur-based Marathi daily 'Lokmat,' I learned Hemant Kumar was coming to Nagpur to sing at the Vasantrao Deshpande hall. The occasion was Bengali New Year (Poila Boisakh)

Bhandara is sixty-five kilometers from Nagpur. So I traveled to Nagpur on the day of the program.
But the organizers sold out the tickets. So readers may think that if I was fond of Hemant da, then why didn't I arrange a ticket earlier? Well, I was facing a dilemma, if to go.

So fans who did not get tickets sat next to the auditorium on the lawn. If they did not have a glimpse of Hemant da, they might take comfort from the microphone by listening to his voice sitting on the lawn.

Hemant da's had a hypnotic voice. People loved his voice even in the late evening of his musical life.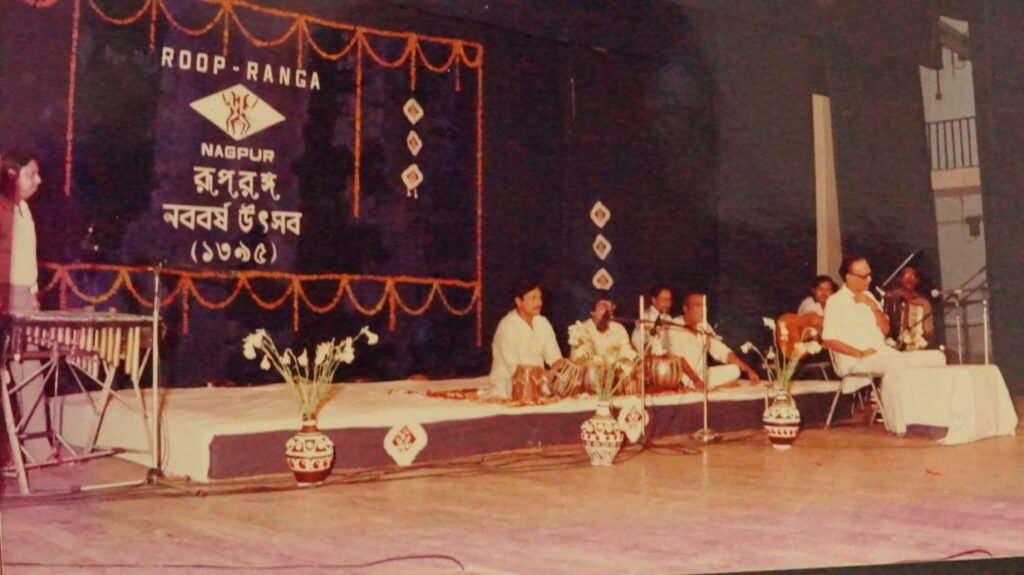 The packed Vasantrao Deshpande hall and a large crowd outside the entrance could serve as an example. He died in September 1989 at 69. So, his visit to Nagpur was unforgettable.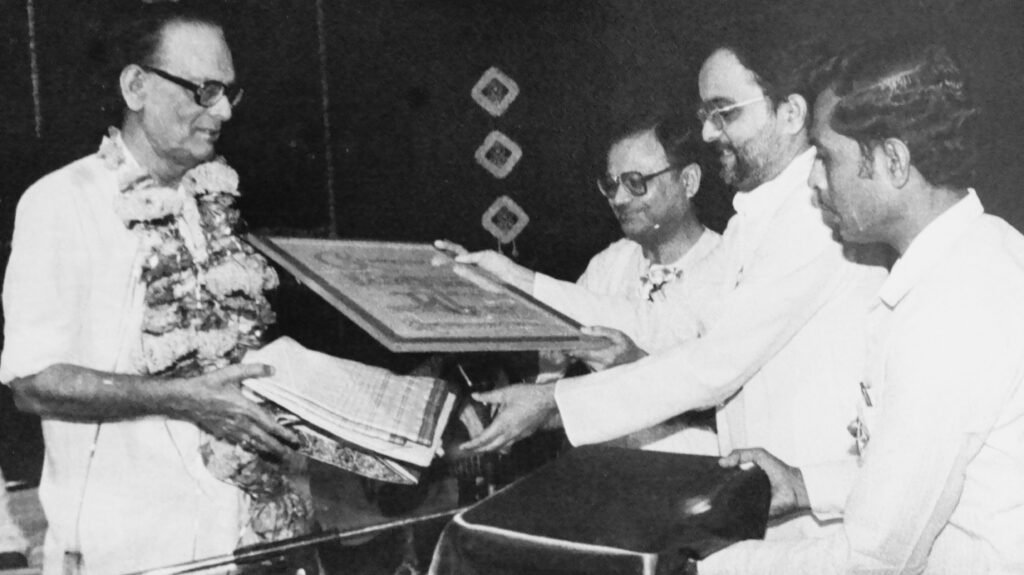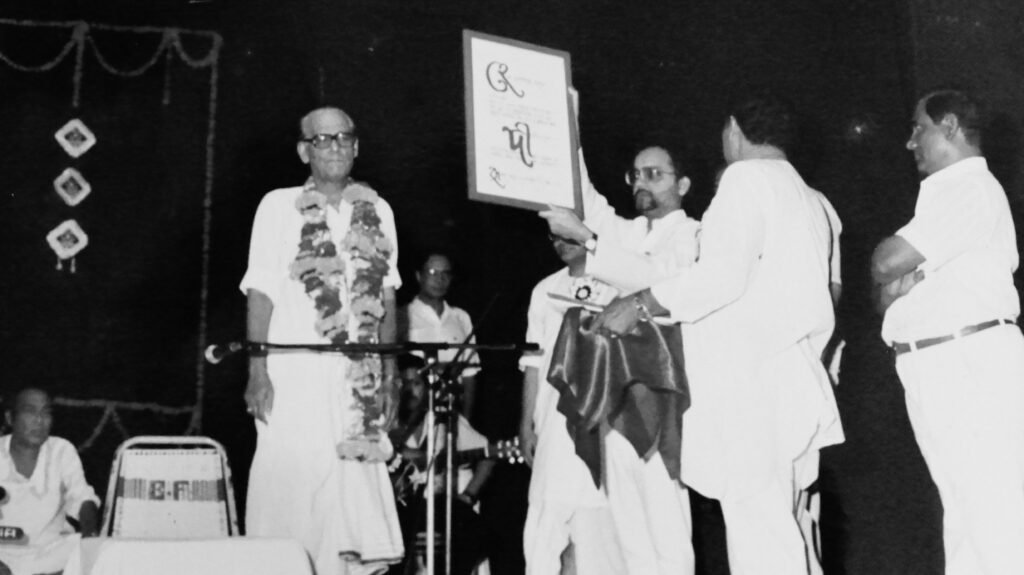 Let's go back to the main story.
My inability to manage a ticket saddened me. So I sat on the lawn with a cassette tape recorder.

I unexpectedly met an old colleague. He was looking for someone. As we looked at each other, he said he had two tickets, one for himself and one for his friend. So, he was waiting for his friend. The show was about to start.

I asked him how long he had to wait for his friend. The mobile phone era wasn't here yet. He said that the program might start if he waited for his friend. I wondered when he would offer me to go with him.
At last, he took me along and went inside the auditorium.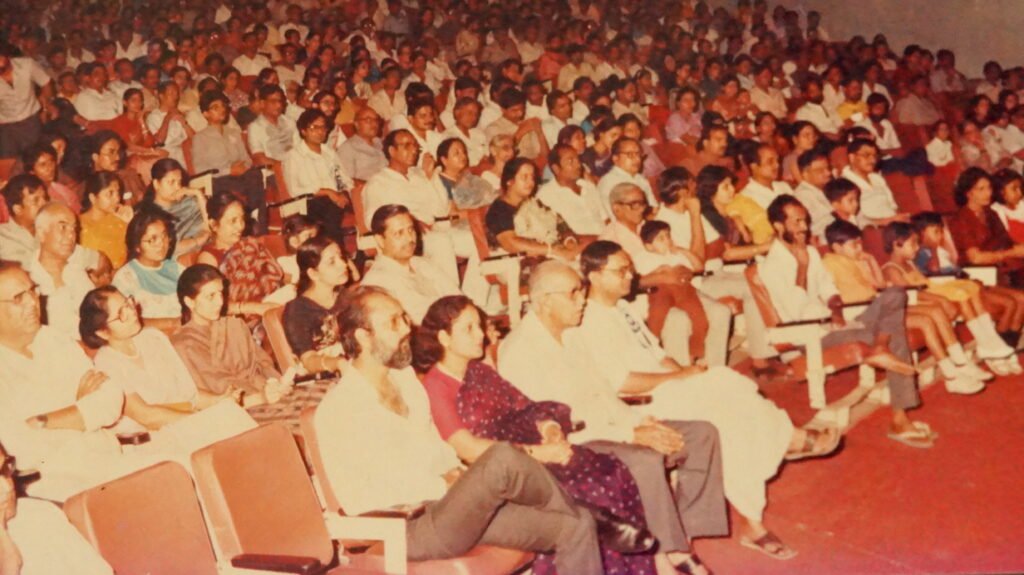 Description of the musical evening: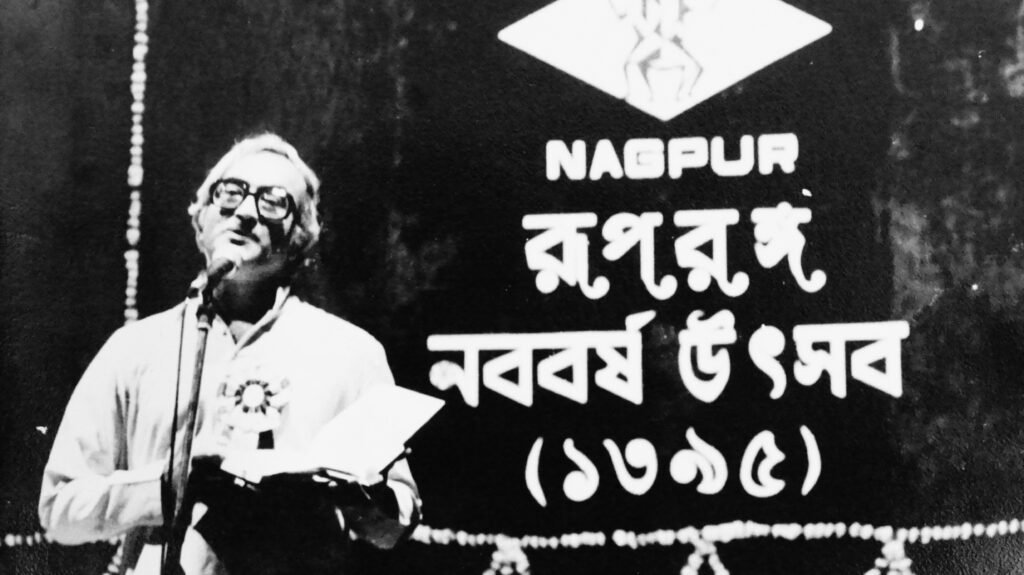 The program began when we arrived in the auditorium. Hemant Kumar was addressing the audience. Hemant da was over 6 feet tall. He was in his familiar robe, a white dhoti-shirt with sleeves folded. He had a distinct personality because of this outfit. The nobility was visible on his face.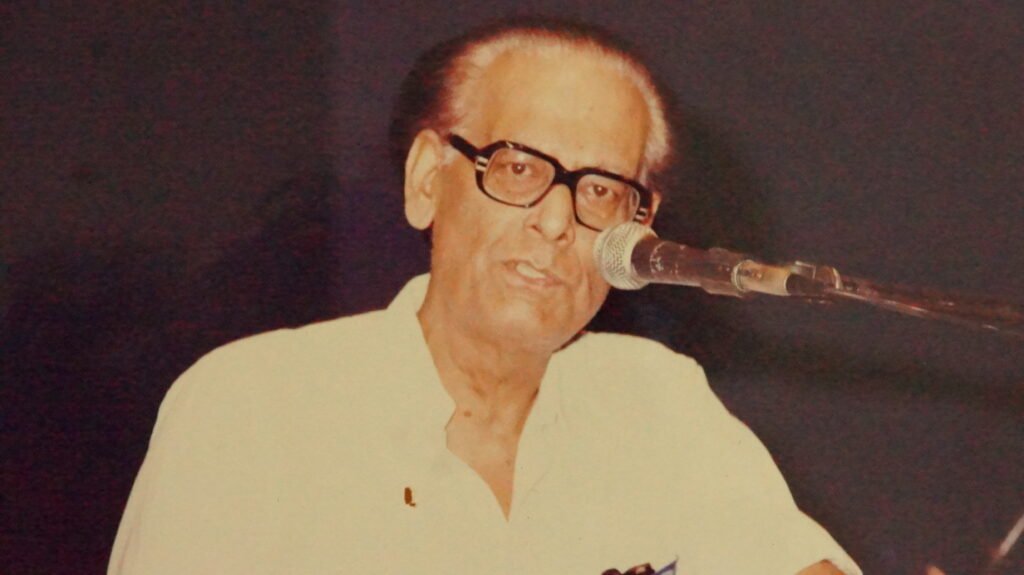 After greeting the audience, Hemant da said, "this is not the first time; I've been to Nagpur before many times." ("আপনাদের সকলকে জানাই আমার সশ্রদ্ধ নমস্কার. নাগপুরে আমি, এই, প্রথম, নয়, এর আগেও অনেক বার আমি এসেছি,")

He continued, "Shankar, I mean Shankar Mukherjee, first told me, Dada, you don't need to sing a song. We will only felicitate you. But last evening, when we were coming together in flight, he said, Dada, you will not sing a single song. Can it ever happen? Then after getting off the flight in Nagpur, he said that Dada, having one or two Hindi songs together, could have made it even better," Hemant da said in a cheerful mood. As the audience enjoyed it, the auditorium was full of laughter.
[Shankar Mukherjee was an established citizen of Nagpur. He used to sing Hemant Kumar's song and was closed to him]

His first song, "Amar Ganer Swaralipi," captivated the audience, singing the first line in a deep, slow, mesmerizing voice. The audience became engrossed.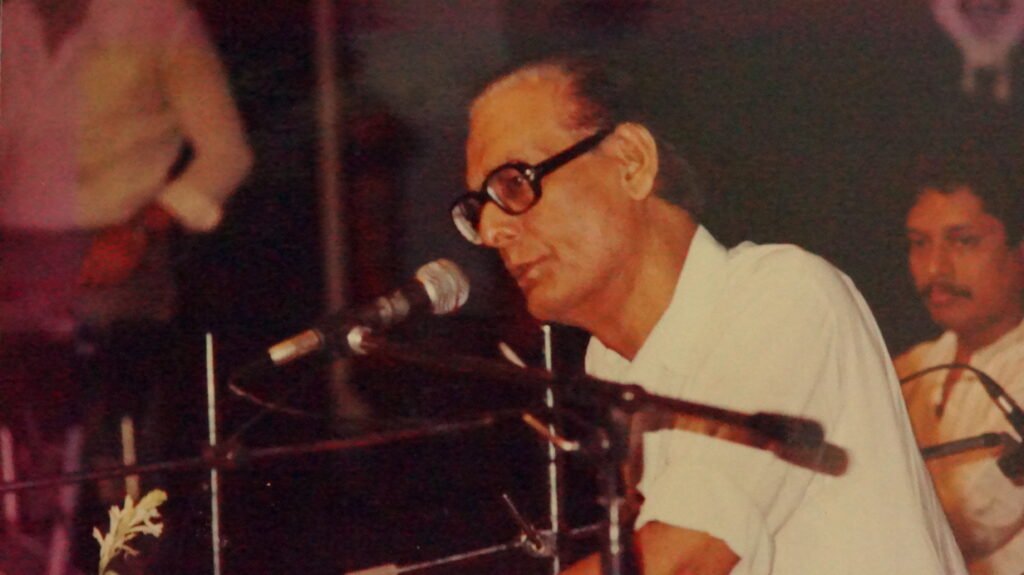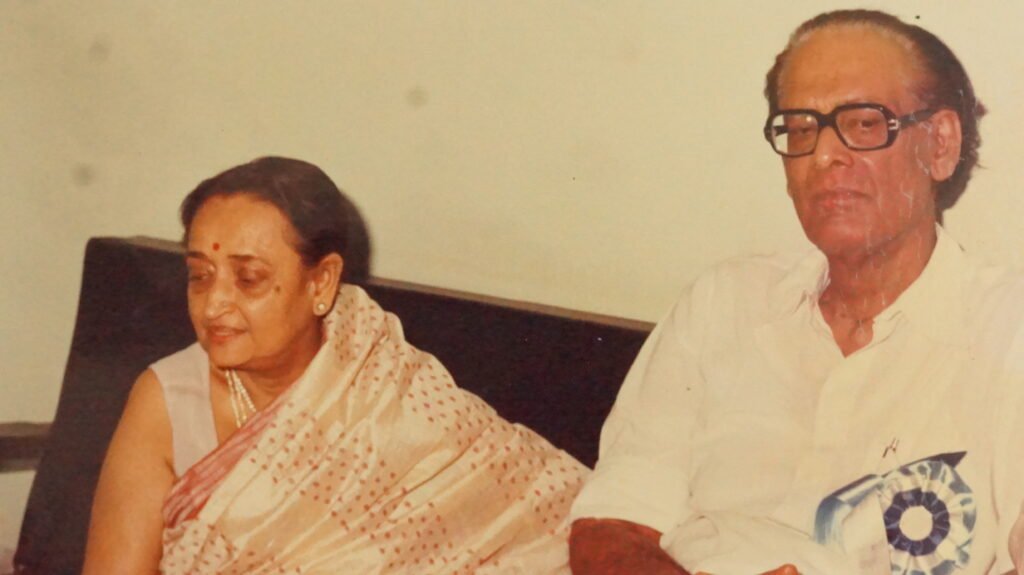 After that, he presented many popular numbers. It included O Nodire, Surer Akshay, Moochay Jawa din guli, Oliro kotha shunay, Janey wo kaisay, Bekarar karkay, etc. Each of his songs was so pleasant to hear. He was a singer of par excellence. Indeed, his singing style gave him a distinct identity.

I often heard from the elders that sweetness was in Hemanta da's voice in their time, but with age, his voice was no longer as fresh as earlier. I'm afraid I have to disagree with them. After listening to him at the Vasantrao Deshpande Hall, I felt that age had given him maturity and depth in his voice.
Of course, I cannot deny that age and health had affected his breathing control during singing. But his voice was sweet, evergreen.

I feel that the voice that came out of his throat had an irresistible charm and a touch of spirituality.
Singer Hemant Kumar's humility:

He was not only a God-gifted singer but a noble and kind-hearted person. I heard and read that he was innocent, helpful, and outspoken. But in Vasantrao Deshpande hall, I got a glimpse.

My Nagpur friend, Krishnakanto Kishore Moitra, came to see the program. Hemant da had presented him with a book," Amar ganer Swaralipi' during the program. [Amar Ganer Swaralipi: Written by Hemanta Kumar Mukhopadhyay & transcribed and edited by Shankarlal Bhattacharya]

I conversed with Kishore da on the phone while writing this article.

While recalling those moments, Kishore da said that a few of the program's organizing members were his close friends.
"So I asked my friends if they could introduce me to Hemant da. They said, why not? So I went to a small room on the stage. Hemant da and singer Aarati Mukherjee were sitting there. I bowed to Hemant da by touching his feet. Then, I asked him if he could write something in the book he presented. Despite his busy schedule in the ongoing show, he smiled and said, why not? And he gave his autograph in his beautiful handwriting," said Kishore da.
So this was a minor example of his simplicity and egoless personality.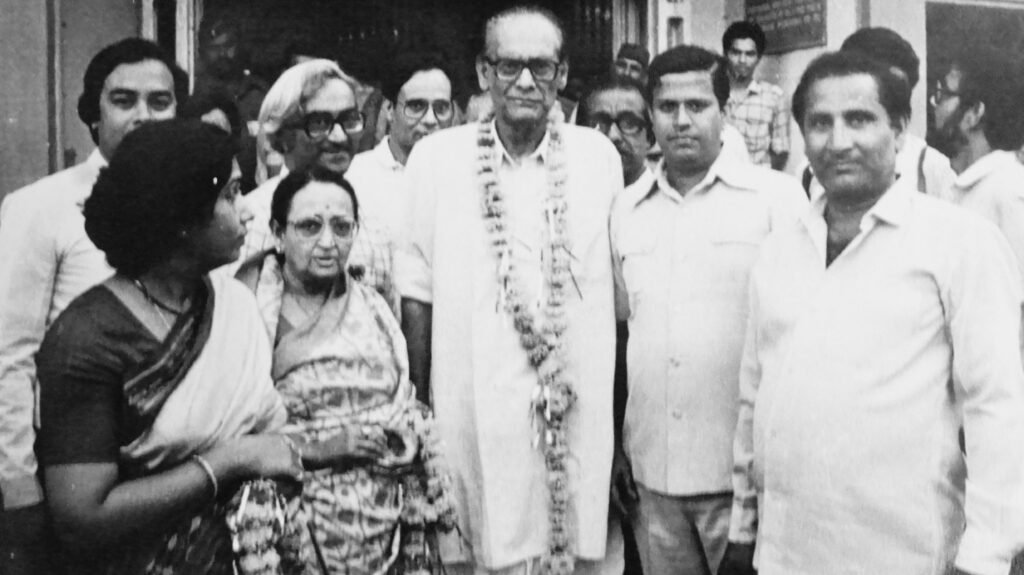 The uniqueness of Hemant Kumar's voice:
Many singers are coming up, and new styles of music are emerging, yet why Hemant Kumar's voice is rare? And the answer is that his voice was a superb blend of love and separation, hope and despair, melancholy and cheerfulness, which sets him apart from other singers.
Singer's last days of life & memorable last musical evening at Basirhat:
The time was September 1989. Hemant da with his wife Bela Devi went to Bangladesh.

After returning to Calcutta, his wife Bela Devi did not want Hemant da to perform on stage.

Even though he received an honor, his tour to Bangladesh was strenuous. He, in between, suffered a heart attack. The doctor put a pacemaker in the chest.
Hemant was to go to the concert at Basirhat, but his wife did not want him to.

At last, Beladevi agreed to let go Hemant da. But she had not sent Hemant da alone. Hemant's driver cum secretary, Sanat, was with him.

An earthen lamp (Matir Pradeep in Bengali) brightly glows before it extinguishes. So it holds for Hemant da.

After returning from Basirhat, Sanat told Bela Devi that Dada amazed the audience of Basirhat with his unbelievable presentation.

"It didn't look like he was sick when he was singing. His actual authentic voice seemed restored. Today he was singing the high-pitch song with great ease. It didn't seem like he ever had a problem controlling his breath-while singing songs, "said Sanat.

After hearing the praise of Hemant da from Sanat, Bela Devi felt very proud.

Who knew that the concert in Basirhat would be his last?
Sickness leading to death:
He was sick when he returned from Basirhat. The next day, it got worse. Vomiting began at night. The body was getting weaker as time went on.

Two days later, he had a Mumbai journey. However, Hemant da's state of health caused Beladi to cancel the Mumbai journey.
His family doctors came here. They said his blood pressure had gone down, and his fever had weakened his body. He had his urine stuck.

Finally, Hemant da was admitted to Belview nursing home. Unfortunately, he had a heart attack while in the ambulance.
Bela Devi was with Hemant da in the ambulance.

After being admitted to Nursing Home, his blood pressure dropped. Pulse fluctuated.
Bela Devi returned home with a sad heart.

Half an hour after coming home, the news of her husband's death came on the telephone.

It was 26 September 1989. The season in the Bengali calendar was then 'Sharad' (Autumn).

The following season was 'Hemanta.' But the singer Hemant bid goodbye before that, leaving his score of fans in tears.
Tribute from Unveil. Press:
The team, Unveil. Press today paid its rich tribute to the immortal singer on his 102 birth anniversary.
Acknowledgment:
Unveil. Press expresses indebtedness to the following:
i)Rup-Rang, Nagpur (ii) Prafulla Das (Nagpur), Former General Manager at Accenture, Photographer & Cultural Enthusiasts (iii)Rup Ranga club founder, Ram Banerjee (Nagpur) (iv) Maya Mukherjee (Nagpur) Choreographer and Sr teacher at Center Point school, Nagpur (v) Krishna Kishore Moitra (Nagpur) singer (vi) Kallol Bhattacharya (Kolkata: Coordination) (vii) Anupam Bhattacharya (Basirhat)
More Photo features