Nestled in the lap of the majestic Kanchenchunga mountain, Lamahatta is an offbeat destination for mountain lovers.
Hilly
They would surely enjoy a nice trek to Lopchu Tea Factory en route Lopchu Monastry from Lamanhatta through the hilly terrain.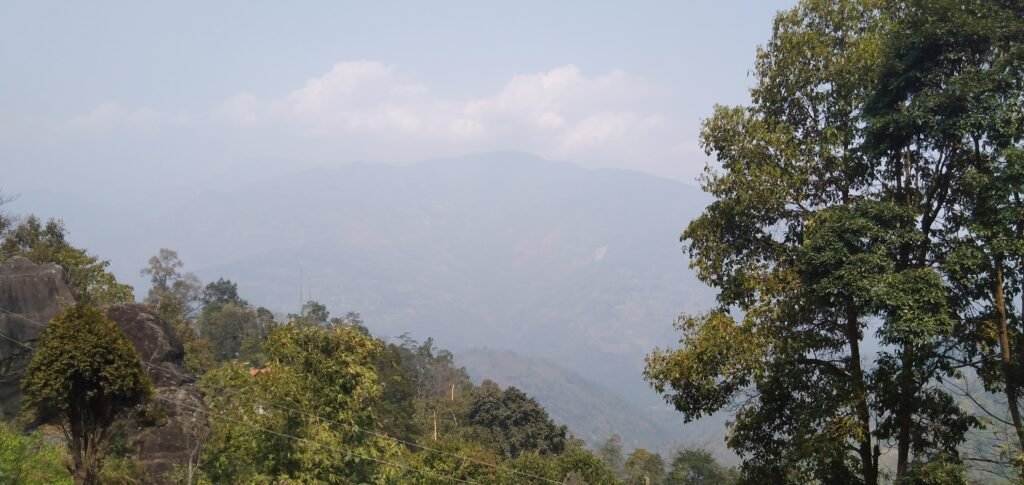 During our short stay there, we ventured out into such an adventure. Despite the apprehensions of our guide about my fitness, who eventually backed out, we held firm in our belief that we would be able to complete the Trek.
Also, I was hell-bent on proving the guide wrong.
It was a cold day as the sun kept on playing hide and seek with the clouds. Moreover, the chilling wind, the sight of the pine trees, the chirping of birds and the ever-smiling faces evoke an awesome feeling in me. My son Saikat, an upcoming TV journalist, was my companion.
The absence of a guide and no prior knowledge of the Trek path made matters more thrilling. We first reached a small village called 'Lopchu 10th Mile' with inhabitants of 80 families. A pale looking, dark complexioned man who was by profession a shoemaker, told us that villagers lived here in perfect harmony despite poverty.
Most of them are employed as laborers in a tea factory in the vicinity. The women folk plucked tea leaves in the season while others do odd jobs to make a living.
However, we were a bit ignorant and paid the price.
At some point in our journey, we realized that we had overlooked the actual Trek route and now had no idea where we were heading. Some villagers came to our help and told us to follow Lopchu Peshok road to reach Monastry and Lopchu Tea Estate. Alongside the road there were tea gardens and forests.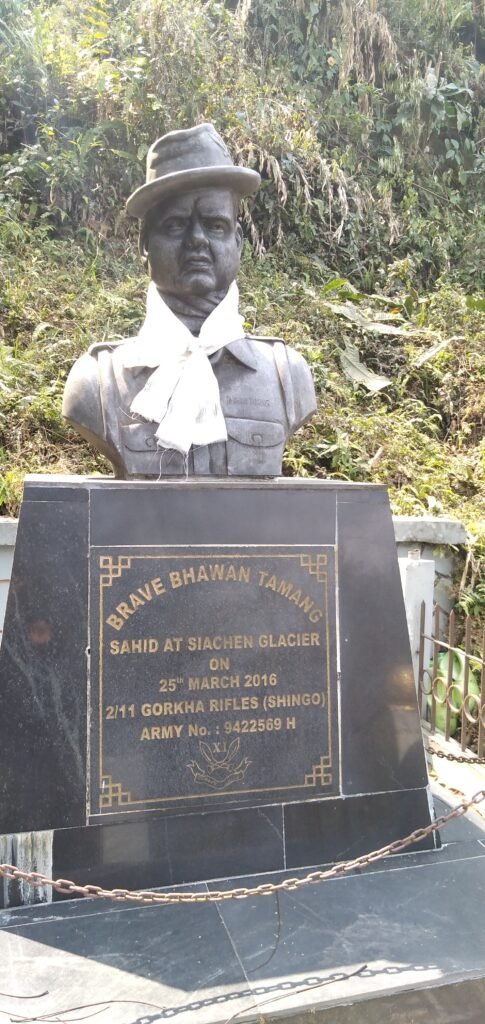 En route, we met a factory worker who warned us of wild animals like leopards that freely roamed.
" Leopard often ambushed in the tea garden, why have you not chosen the 'Tutti Hatta' route if you are coming from Lamahutta," he said. Fear and thrill now gripped our mind.
As we went on, we saw a memorial of a martyred Indian Army soldier, Bhawan Tamang. Tamang, who died on March 25, 2016, in Siachen Glacier, belonged to Lopchu village.
Also, to our utter disappointment, 'Google Map' did precious little help due to poor internet connectivity in the area. But after an hour's walk, we fortunately got a glimpse of the monastery.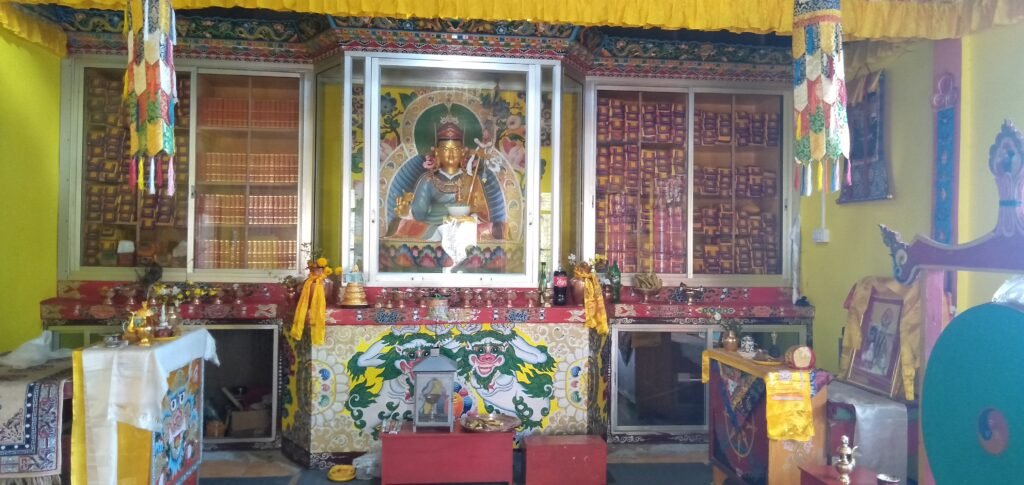 By now we had walked for more than an hour and were thirsty. We reached a small shanty where a middle-aged man provided us with some warm water. As I sipped through it, he informed us that the locals prefer warm water as it cleanses the body of harmful toxins. Eventually, I gulped down some cold water after a bit of convincing. Now I am feeling refreshed and ready to go long distance.
We visited Monastery Lopchu "Tashi Choyling Gumba". The monastery was closed. Fortunately, we came across two retired Army personnel, Mohan 'Thapa and Dipak Tamang, who opened the monastery for us. At the entrance there are two cylindrical shaped bodies called MANA Khorlo.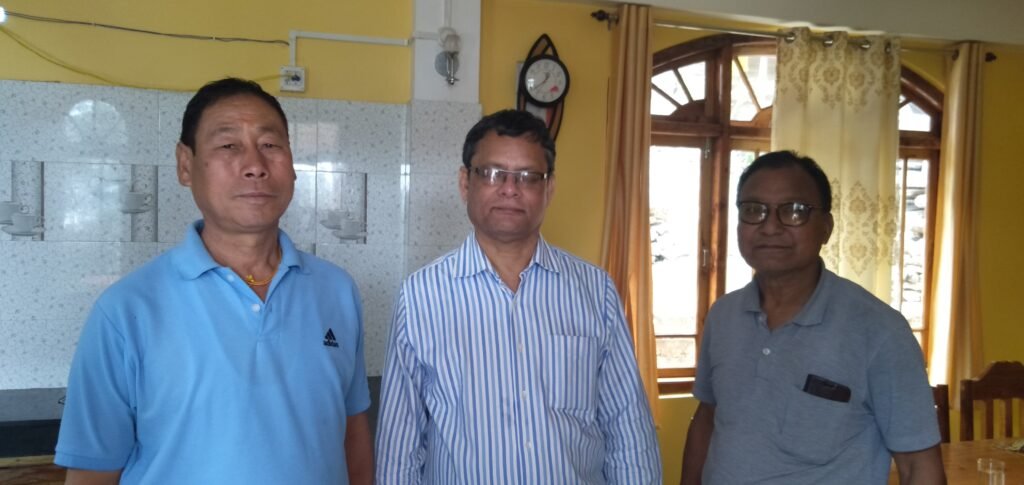 On the surface of Khorlo, a Buddha 'mantra' was written 'OM MANI 'PADMA HO' which means praying for all living beings' good health and even praying for soul of people no more.  "Buddhist rotates the khorlo, Buddhist believes the rotation cleanses you of all the sin" Tamang said.
 In the upper part of the prayer hall there is a traditional 'Thanka' In the vicinity of the monastery was the Lopchu Tea Factory. But the factory was closed for maintenance. As we set off for the return journey, it was suggested to us by the local people to take the upper Lopchu path. But we erred again, strayed into lower Lopchu. This time a couple of school teachers at Lopchu Dokandara, came to our rescue. They asked us to follow them in order to reach our destination. We found them very warm and one of them even took us to their home and offered us some refreshments.
The hilly path was indeed very difficult. I again began to feel the exhaustion which I felt in the initial stages of the Trek. It dawned on me that I am aging and it is not going to be easy for me. We reached the village 'Birkuna', where one of the teachers resides.
The other teacher, a young woman named Premita, dropped us at Tutti 'Hatta, 'the final phase of the trek' from where we were bound to take the main road leading to 'Lamanhatta. The path passed through Takdaha Tea garden and culminated in a road.  But we had to push on through an uneven, slippery incline.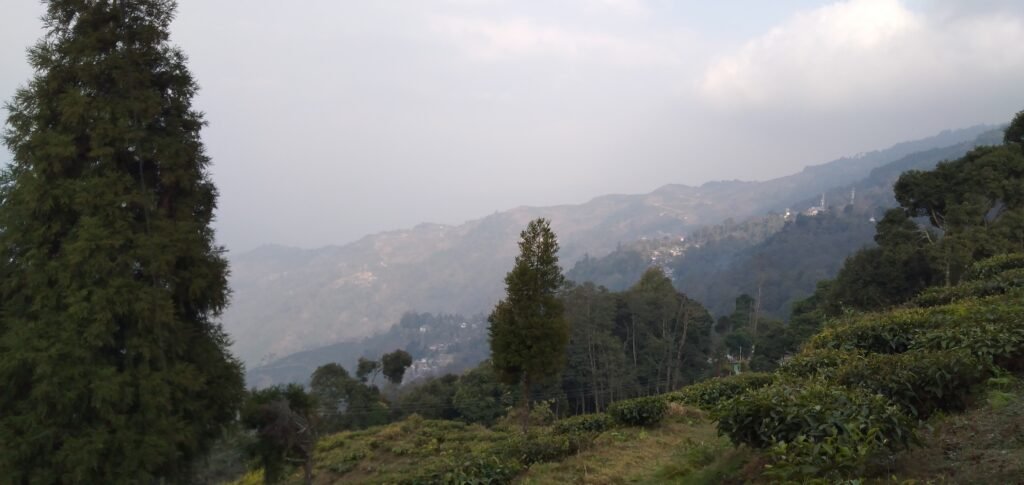 By now the sunlight had started to fade. I decided to take a break for a few minutes before commencing my final push. Eventually we reached the main road and reaching Lamahatta now remained a formality. I heaved a sigh of relief once we saw our hotel.
As I finished my dinner that night, I reminisced about the difficulties we endured. In the end, it was all worth it.