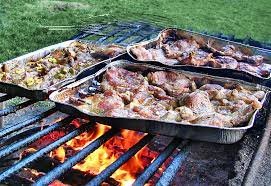 New Year is around the corner and if you like to party with family and friends then you must read out this article. This article is loaded with lip-smacking bbq recipes that will make your party a hit event. These mouthwatering recipes you can try out on any bonfire night with a gang of friends or just a serene candlelight dinner party with your beloved!
The recipes presented here will rock any summer party without much hassle. These bbq recipes are very easy to prepare and taste like a delight for the soul. If you are having a small space in your backyard you can install a tandoori oven and try out delicious bbq recipes at home.
Barbeques are not about just chicken or meat, there are varieties available for vegetarians as well like potatoes, sweet potatoes, bell papers, cherry tomatoes, and cottage cheese. But before the BBQ recipes hit the grill you need to keep in mind that marinating the item is very crucial to make your recipe stand out. Don't just count on the BBQ sauce, just use your creativity with different types of marinade, seasonings as well as rubs and marinate your chicken, meat or veggies at least before 12 hours of your party with a mixture of yogurt and Indian spices i.e. ginger, garlic, chilies, cloves, cardamom, saffron and different types of pepper.
BBQ recipe: Indian barbeque chicken
Ingredients needed:
chicken pieces with bone 3 pounds,
meat tenderizer,
lime juice 2 tablespoon,
yogurt 2 cups,
cumin paste 2 tablespoons,
coriander paste 2 tablespoons,
chopped fresh cilantro ½ cup,
paprika 2 tablespoons,
turmeric ½ tbsp,
salt 2tbsp,
black pepper 1tbsp,
minced garlic 6 cloves.
Method: make thin diagonally slits on chicken pieces to absorb more flavor of masala. Rub lemon juice and meat tenderizer into every chicken piece and keep aside. Now take a bowl and mix the yogurt and masalas into a smooth batter. Check whether there are no husky masala bits in the mixture. Then put the chicken pieces into the batter and keep it in the refrigerator for at least 8 hours. Then keep it out from the fridge and preheat the grill on medium heat. Put light oil on grill sticks; grill the chicken for at least 30-45 minutes for cooking perfectly.
To prevent burning you need to turn the sticks often. This delicious recipe goes juicy inside that makes it taste awesome.
BBQ recipe: Tandoori drumstick
Ingredients needed:
chicken drumsticks 6 nos.,
minced garlic 2 cloves,
grated ginger 1 tbsp,
plain yogurt 1 cup,
coriander1tbsp,
cumin 1tbsp,
cayenne pepper 1 piece,
garam masala1/2 tbsp,
curry powder 1 tbsp,
turmeric 1 tbsp,
lemon juice ½ cup,
salt taste-wise,
2-3 branches of coriander leaf,
charcoal barbeque oven.
Method: At first you need to prepare drumsticks by using a sharp kitchen knife to cut around the base of the chicken bone. Scuff the soft tissue from the bone and keep it aside. Now it's time to prepare the marinade. Take a bowl and then put minced garlic, grated ginger, and other masalas along with yogurt and lemon juice. Season it well with salt and blend them into a smooth batter. Now put chicken drumsticks into the batter and cover all the chicken properly.
It is best to marinate the chicken overnight for luscious taste. Now it's time to set up the barbeque. If you are having charcoal barbeque then light it up before you cook until the charcoal gets white and there is no flame at all. Keep your chicken drumsticks in the barbeque oven for at least 10 -15 minutes for cooking it well. Turn the pieces frequently using tongs to prevent burning. Then garnish the drumsticks with few sprigs of fresh coriander leaves and serve it to your guests.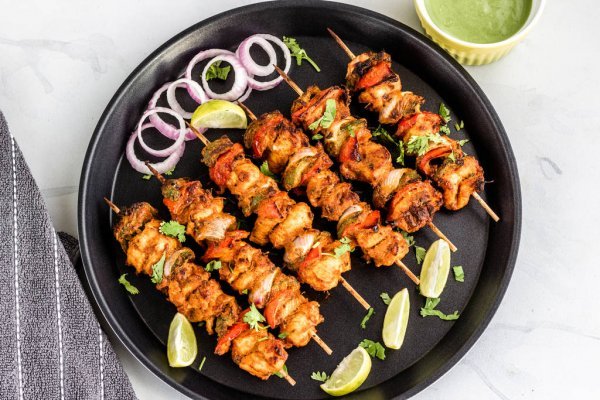 BBQ recipe: Chicken Tikka
Ingredients needed:
chicken 1kg,
plain yogurt 1 ½ cup,
paprika 1 tbsp,
pressed garlic 4 cloves,
chili peppers 1/8 tbsp,
salt 1 tbsp,
cinnamon ¼ tbsp,
cumin ½ tbsp,
cloves 1/8 tbsp.
Method: firstly clean the chicken and cut it up. Cut off and remove the fat under the skin as much as possible as the fat left catches the fire when the chicken is in a barbeque oven and burn it. Let the chicken pieces dry. For making marinade mix all the ingredients well keeping it in a mixing bowl, now put the chicken pieces into the marinade and put it in the refrigerator. Now prepare our charcoal barbeque. Turn the chicken frequently and when it gets to fire, extinguish the fire by spraying water. This recipe takes around 30 minutes to prepare. Now remove from barbeques, garnish it likewise and serve hot.
Except for these above-mentioned recipes you can try Paneer Tikka, Aloo Tikka, Corn Sikh Kebab, Barbequed Pineapple Slices for those who are vegetarians. These bbq recipes are also very popular and taste lip-smacking.