A good pair of earphones is required for an amusing music experience. Finding budget-friendly wired earphones, on the other hand, is not an easy task and requires a lot of time. Nowadays due to Covid Pandemic, many people are bound to take up a Work-from-home facility and for that wired earphones are essential. With so many new options available online, you can find yourself questioning what you need. You are looking for the ideal option for yourself, and no one wants to sacrifice durability.
But the good news is that you no longer have to squander your time? Simply choose the best earphones under 1000 rupees from our list.
Sennheiser CX 213 & CX 180: best wired earphones
Because of its excellent and balanced sound quality, the Sennheiser CX213 or CX180 is the most popular wired headphone under 1000 Rs. Though they are wired still Sennheiser is my favorite pair of earbuds for balanced audio.
These headphones are ideal for those who desire a good bass tone while simultaneously wanting crisp vocal and treble sound. However, if you want powerful bass and a microphone, you should look at our second alternative.
What is the distinction between CX213 and CX180? The only difference between these two is sound quality, with the CX130 providing somewhat better audio clarity than the CX 180. However, the differences aren't significant, so you can choose any of these based on your budget. The CX180 is, in my opinion, a great value for money option, but the choice is yours.
Pros
Balanced audio
2 years warranty
Decent bass, not very high
Vocal clarity and treble is excellent
Cons
Squeaky cable
No microphone
Buying link: https://www.amazon.in/Sennheiser-CX-180-Street-II/dp/B00D75AB6I/ref=sr_1_1?dchild=1&keywords=Sennheiser+CX+180+Street+II+In-Ear+Headphone+%28Black%29%2C+without+Mic&qid=1623905976&s=electronics&sr=1-1
Mi Dual Driver Earphones: best earphones
With a price tag of Rs.799, these Mi dual-driver headphones are newcomers to the Indian market. It has a dual-driver system (10mm + 8mm), as the name suggests, which provides exceptionally loud and clear audio quality with deep and powerful bass.
Mi Dual Drivers are high-definition earphones with passive noise suppression and hard-hitting bass and sharp notes. It's one of the best-wired earphones under 1000 because of the smooth braided cable and magnetic earbuds with superior design.

Pros
The body is made of solid metal and has a stylish appearance.
The bass sound is incredible.
Although it has two drivers, it is still a compact device.
Magnetic Ear tips
Controls for volume
good quality microphone
Cons
The vocal and treble sounds are a bit too loud.
Buying link: https://www.amazon.in/Mi-Driver-Earphones-Tangle-Free-Assistant/dp/B084J4MKZG/ref=sr_1_1_sspa?crid=3UQ2CRIT4E69R&dchild=1&keywords=mi+dual+driver+in-ear+earphones&qid=1623906066&s=electronics&sprefix=mi+dual%2Celectronics%2C310&sr=1-1-spons&psc=1&spLa=ZW5jcnlwdGVkUXVhbGlmaWVyPUEzMzdZRUQ3SkRCUVVBJmVuY3J5cHRlZElkPUEwMjAxMzEwMU5YNks5WExSWVJEMCZlbmNyeXB0ZWRBZElkPUEwMzIxMzcwMVBKNFNJTVVCMEE4NCZ3aWRnZXROYW1lPXNwX2F0ZiZhY3Rpb249Y2xpY2tSZWRpcmVjdCZkb05vdExvZ0NsaWNrPXRydWU=
Realme Buds 2: best fashionable earphones
On this list of top earphones under 1000 Rs, the Realme Buds 2 is my next pick. The Realme Buds 2 have a highly fashionable and appealing design, as well as sturdy build quality.
Not only is it of high quality, but it also has a nice bass response and decent audio output, making it an excellent choice for everyday usage. It's perfect for bass heads, gym-goers, and mobile gamers.
Thermoplastic Polyurethane is used to make the split wires above the joint, which appears to be long-lasting. The sound is enhanced by adequate bass, and the volume output is exceptionally high for an earphone for around 1000.
Pro
Looks appealing, with an athletic vibe.
Magnetic ear tips, solid and high build TPU braided cable, sturdy and practically tangle-free, a great choice for GYM
The dedicated volume button on remote
The audio production is adequate, especially when compared to the price.
Excellent value for money.
Cons
The warranty on the Realme Buds 2 is only six months.
Buying link: https://www.amazon.in/Realme-Buds-Android-Smartphones-Orange/dp/B081RK5ZSP/ref=sr_1_2?dchild=1&keywords=Realme+Buds+2&qid=1623906429&s=electronics&sr=1-2
boAt BassHeads 225: best earphones for bass lovers
With powerful bass and exceptionally strong volume output, the boAt 225 is a bass lover's dream. The metal casing that surrounds each bud gives it a refined appearance. It also includes a remote and an inline microphone. When you add in the flat wires and L-shaped jack, you get a complete set for a modest price.
This pair of earphones has an elegant design with metal driver chambers and flat cables, making it one of the best-wired earphones under 1000.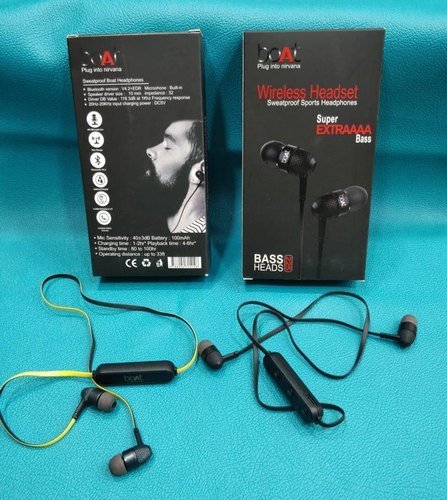 Pros
Constructed entirely of metal
Elegant and high-end design
The sound quality is fantastic, with a heavy bass sound.
The cable that is tangle-free and braided
Cons
For some listeners, the strong bass that subjugates the voices may be too much.
Buying guide: https://www.amazon.in/BassHeads-225-Super-Extra-Headphones/dp/B01M9C51T9/ref=sr_1_1_sspa?crid=2P5AF7ULSTNQY&dchild=1&keywords=boat+bassheads+225&qid=1623908015&s=electronics&smid=A14CZOWI0VEHLG&sprefix=boat+bass%2Celectronics%2C468&sr=1-1-spons&psc=1&spLa=ZW5jcnlwdGVkUXVhbGlmaWVyPUEyMVJZOFJWRFc4MDNBJmVuY3J5cHRlZElkPUEwMjAyNDE3MVRDMFI4QVM1TExDRiZlbmNyeXB0ZWRBZElkPUEwMzc0NzkzMjgwMDJWOUlMQVJQOCZ3aWRnZXROYW1lPXNwX2F0ZiZhY3Rpb249Y2xpY2tSZWRpcmVjdCZkb05vdExvZ0NsaWNrPXRydWU=
JBL T205: best-sophisticated earphones
JBL T205 is a suitable option for its pounding bass and superb sound quality. It was launched as a competitor to Apple Earpods on a lesser budget. The earphones have a modern design thanks to the tangle-free flat wires.
The JBL T205 is a sophisticated pair of earbuds with a premium metal shell and a curved design similar to Apple's AirPods but without the need for additional ear tips. The flat wires are quite long-lasting, and the sound quality is among the best in this price range. Overall, the JBL T205 is one of the best earphones available in India for less than 1000 rupees.
Pros
The design is attractive.
Looks like it's tiny and light.
It's so comfortable that you can simply wear it all day.
1-year warranty
Ideal balanced audio
Cons
JBL T205 lacks noise isolation due to the lack of silicone earphones.
Buying link: https://www.amazon.in/Renewed-JBL-Metal-Earbud-Headphones/dp/B07L5NF551/ref=sr_1_2?dchild=1&keywords=JBL+T205&qid=1623912046&s=electronics&sr=1-2
If you listen to music at maximum volume, you may have a problem in the future, therefore try to listen to 60 percent of the maximum volume. If you are listening for more than an hour, it is recommended that you listen to 50 to 60% of the volume level.
for more gadget related posts visit