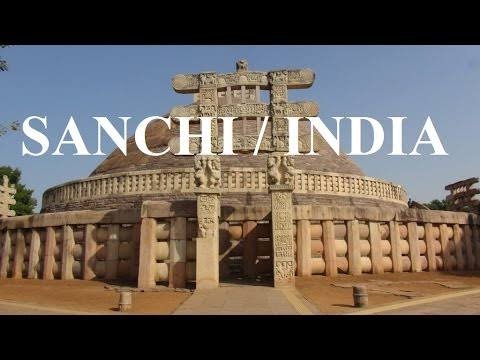 Buddhism is the 4th largest religion in the World. People who have faith in enlightened path of Buddha are known to be followers of Buddhist culture. Lord Buddha was the founder of Buddhism.

Buddhism
UNESCO's World Heritage Site – The Great Stupa at Sanchi is Important architecture of Indian cultural Heritage. It is a specimen of Buddhist art and architecture. The establishment of Sanchi Stupa is linked with Maurya Dynasty. So, shall we travel Sanchi, along with article? The article will lead you to know everything about Sanchi Stupa. Keep Reading…….!!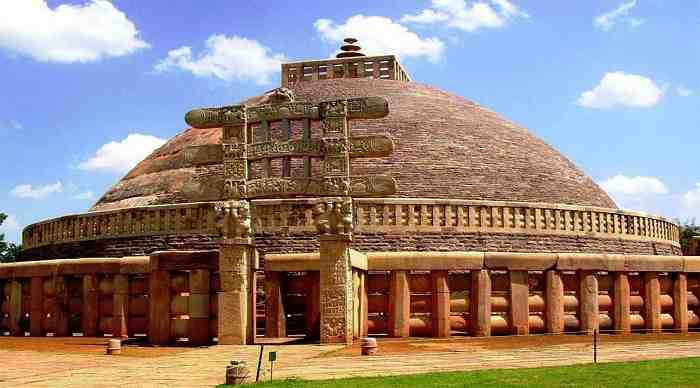 Where is 'The Sanchi Stupa' located ?
Sanchi Stupa is located northeast to the Capital city – Bhopal of Madhya Pradesh (India). It is about 46 km away in distance from Bhopal. The Great Stupa is situated at Town- Sanchi under Raisen District. It takes around 60 – 90 minutes to reach Sanchi from Bhopal. It is the oldest Stone structure that was built during Mauryan Empire.
This excellent art and sculpture of Buddhist seek attention of thousands of visitors, tourists, archeologists, Historians and foreigners throughout the year. But due to lockdown and COVID-19 pandemic guidelines, some restrictions and other rules have been implemented at the Indian Heritage site. People can book Sanchi Stupa tickets online as well.
When was Sanchi Stupa built ?
According to Indian History, Emperor Ashoka of Mauryan empire commissioned the Sanchi Stupa. It was built during Mauryan period in 3rd century BCE. The Emperor looked over the construction of this Stupa. It was originally built with briks, Later on expanded with stones. Sanchi stupa has Brahmi inscriptions that are of great historical significance.
Meaning of Stupa
Stupa general mean 'heap or pile'. It is a sacred monument which marks the relics of saintly persons and the Budhha. It is artifacts of the Buddhist culture and Buddha's preaching. Stupa is known to be sacred burial site.
Stupa at Sanchi is known by the place it is situated, Hence called The Sanchi Stupa.
Architecture of Sanchi Stupa
The architecture of Sanchi stupa is portraying brilliance of Buddhist Art. Railing, gates, all four gateways are richly sculptured. The basic feature of stupa are:-
~ Hemispherical Mound (Anda) :- Dome shaped structure covering relics of Budhha. It recalls a mound of dirt that was used to cover the Buddha's remains.
~ Harmika :- A square railing or fence, surrounded the mound and make it as a sacred burial site.
~ Triple umbrella piller :- It is known as Chhatra. It is crown over the Domb. It has 3 small umbrella like shape one over the other from increasing to decreasing order towards the top. These three discs of chhatra represent the Triantha (Jewel) of Buddhism. They are:- Budhha, Dharma and Sangha.
~ Torana :- It is a decorated gateway with three horizontal stone bars at the top. It is placed at cardinal direction. In the picture below, yellow marks the torana and blue lining is the wall surrounding the whole stupa.
~ Medhi :- It is depicted as the terrace. It is 3 bar structure as railing around the hemispherical mound and raise it off the ground.
How to reach Sanchi ?
As Sanchi Stupa is near Bhopal, visitors usually prefer to visit the heritage site with cab from Bhopal. Roadways is the most convenient way to reach the monument. Ola and Uber cabs can be booked from Bhopal. District Vidisha is also nearest place from where anyone can reach Sanchi.
| | |
| --- | --- |
| Nearest Bus Stand | Bhopal Bus Stand, Halaalpura and ISBT |
| Nearest Railway Station | Habibganj Station, Bhopal Junction |
| Nearest Airport | Raja Bhoj Airport. |
Transport facility
Best Time to Visit Sanchi Stupa
Sanchi Stupa is opened from Sunrise to Sunset, that is about 6 AM to 6 PM. It is remains open on all the days of week. It is often consider best to visit between November to March, as India has its peak season of winter in these months.
Ticket Information
Sanchi stupa entry tickets can be booked online and also can be taken at ticket counter after reaching Sanchi stupa. Entry fees criteria are different for Indians and Foreigners. Check the table below:-
| | |
| --- | --- |
| Entry criteria | Entry Fee in Rupees ₹ |
| Indian | 40₹ |
| SAARC & BIMSTEC | 40₹ |
| Foreigner | 600₹ |
| Children (Below age 15) | Free entry |
Entry fee structure
SAARC – South Asian Association of Regional Cooperation , 8 countries are it's member. They are:- Afghanistan, Bangladesh, Bhutan, India, Nepal, Maldives, Pakistan and Sri Lanka.
BIMSTEC – Bay of Bengal Initiative for Multi-Sectoral Technical and Economic Cooperation comprising Bangladesh, Bhutan, India, Myanmar, Nepal, Sri Lanka and Thailand.
At a glance….!!
Sanchi is a beautiful place to visit. Along with main Sanchi stupa, it has other stupas near the spot known as, Stupa 2 and Stupa 3. A Buddhist temple, Ashoka pillar and Sanchi archeological museum are present near this site.
So, hopefully this article will bring certain kind of interest to visit this World Famous Indian Heritage Site. Do visit Sanchi and also visit my articles!!!