Pachmarhi is a beautiful tourist destination in central India, located in the Bhujangabad district of Madhya Pradesh. The natural environment and beauty of the place attract tourists. This is why she is also called the queen of Satpura. But not only for its beauty, but Pachmarhi is also famous for its religious outlook. Pachmarhi is said to be the second house of Mahadev after Mount Kailash. According to mythology, Mahadev instructed Bhasmasura that whatever he laid his hands on would become Bhasma. When Bhasmasura wanted to apply it to Mahadev to survive, Mahadev took refuge in Pachmarhi. Maybe this is the reason why many temples of Lord Shiva are in Pachmarhi. This place is ideal for those who cannot travel to Himachal and Uttarakhand for long distances. Also, Pachmarhi Hill Station is perfect for a weekend trip. Here is a complete description of how to go to Pachmarhi, where to stay, what to see.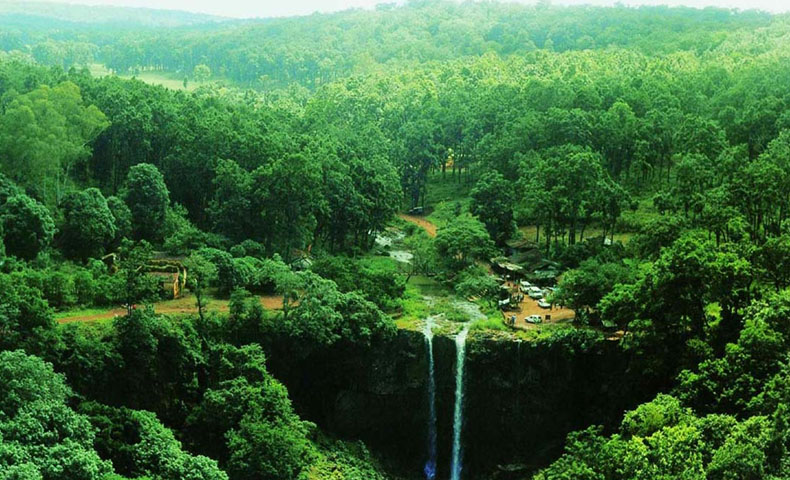 How to reach Pachmarhi:
If you want to go by train, you have to get off at Pipariya railway station near Panchmari. Which is located 52 km away from Panchmari. From now on you can get a bus or taxi to Panchmari. There are also stations near Bhopal and Jabbalpur Panchmari. The distance from Bhopal to Panchmari is 200 km and from Jabbalpur is 250 km. From there you can get connected train, bus or taxi.
If you want to go by air, you have to land at Bhopal, the nearest airport to Panchmari. If you want to book a cab from Bhopal, you can go. One way fare can be 3000-3500 rupees.
Where To Stay:
If you are talking about staying here, you will find a lot of hotel options here. Here you can get a good resort for a minimum of 800 to 5000 rupees. You can come by booking or you can come here and make a booking. There are also Madhya Pradesh Hotel Tourism and Camp Available. The rent is 2500-3500. It is in the core area, surrounded by jungle.
You have to hire a gypsy to do the Panchmari site scene. The price of which is around 2600-4000 rupees. It includes guide and visitor charges. And if you go here in your own car, one thing you must remember is that the sponsor must first go to Bison Lodge. Where you have to cut a receipt of the car because if you go to any of the waterfalls here, this receipt will let you in.
They may force you to book a gypsy from the hotel, or they may say that the gypsy will not let you in unless you charge a tourist, which is completely wrong. You can also take your own car. But yes you may have to walk a bit because as far as the gypsy is allowed the personal car is not allowed.
What are the spectacular tourist spots of Pachmari:
01) BeeFalls: It is one of the most interesting tourist destinations in Panchmari. The water of this waterfall is from a height of 35 meters. Don't forget to take a bath in this fountain. This fountain is known as the stream of drinking water of the local people.
02) Bade Mahadev: Located 10 km from Panchmari, this temple is dedicated to Lord Shiva. In reality it is an 80 meter long cave. It is believed that Lord Vishnu took the form of Mohini and killed Bhasmasura here. Bade Mahadev Temple is the oldest temple in Panchmari. And a place of pilgrimage.
03) Jatashankar Caves: Jata Shankar is a sacred cave one and a half km away from Panchmari. Shiva's natural Shiva linga is made here. It is the place where Shiva was hiding from the ashes.
04) Pandav Caved: Ita is located on a small hill. There are five ancient caves here. This place is called Panchmari because of these five caves. It is said that the Pandavas were here during their exile.
05) Apsara Vihar: Apsara Bihar is captured along with the Pandava Cave which can be reached on foot. There is a pond here which is made with the help of a 30 feet (ca. 9 m) high fountain. This pond is ideal for bathing and swimming as there is no extra depth.
06) Silver Falls: Silver Falls is located half a km east of Apsara Bihar. The height of these falls is 350 feet (0.11 km). The water of the fountain looks like liquid silver, hence the name Silver Falls.
07) Handi Khoh: It is the deepest valley in Panchmari. Whose height are 300 feet (91.44 m)? The sound of a rushing river can be heard clearly below this ditch. It is said that Lord Shiva buried an asura snake here.
08) Chauragarh Shiv Mandir: Chauragarh can be reached by crossing a 4 km steep climb. There is a temple on the top of the hill where Lord Shiva is placed. Devotees come here with great enthusiasm to pay homage to Lord Shiva.
09) Priyadarshini Point: This is the highest point of Satpur hill in Pachmarhi. It is great to see the sunrise and sunset from here. Three hills of Satpur called Chauradev, Mahadev, Dhupgarh can be seen from now on.
10) Dhoopgarh: Dhupgarh is a famous tourist spot in Pachmarhi. From here it is like watching the beautiful view of sunrise and sunset. This point is ideal for photography.
# I wish this article will attract you to visit Pachmarhi, once in a lifetime. Do visit and share your views.