After the movie Shershah, Major movie is the another masterpiece launched in the film industry in June 03, 2022. It has been launched in the film industry This movie Major is basically based upon Major Sandeep Unnikrishnan, who has sacrificed his life to save the country. At present this movie has got a blockbuster reaction from the common people.
If you haven't watch this movie yet then you can get a glimpse of view from this movie review. Try to read till the end to know how this movie is and what exactly we are going to see or achieve from it.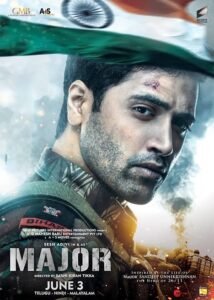 At first let us introduced you with the cast Adivi Sesh, Saiee Manjrekar, Sobhita Dhulipala, Saiee Manjrekar, Revathi, Murali Sharma, Anish Kuruvilla and Abhinav Singh Raghav. Direction has been done by Sashi Kiran Tikka, Anurag Reddy and Sharath Chandra. Cinematography has been done bt Vamsi Patchipulusu. Editing part has been done by Vinay Kumar Sirigineedi, Kodati Pavan Kalyan. Music has been conducted by Sricharan Pakala, currently you can watch this movie best upon this two languages Telugu and Hindi.
According to the information, the movie Major is Adivi Sesh's dream project he has worked in this movie since last 2 years. Though finally it has been released in the market let us seen whether it is going to give us a strong vibe or not.
Story Of The Movie Major :
The story of the specific movie is quite simple and similar to any other Army officer related movie. In the beginning of the movie we have seen that it depicts the life of Major Sandeep Unnikrishnan from his childhood. South Indian actor Adivi Sesh has played the role of Major Sandeep Unnikrishnan. And South Indian actress Saiee Manjreka has played the role of his wife.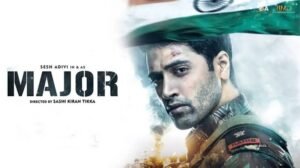 This particular film generally portrays how Sandeep Unnikrishnan has a craze for the uniform of Army. After a lot of hurdleship he got a chance to join the Indian Army. After working for the Indian Army he got a call to save civilians during the 26/11 Mumbai attacks. In order to safe the entire country he has sacrificed his life and by doing this he has not only make his family proud but the entire country was proud of him.
Positive view of the movie :
In the past time many movies were made upon the topic Mumbai 26/11 attacks but this specific movie Major had score brownie points because of emotions. The story and the screenplay was done by the actor Adivi Sesh, he has caught the right kind of emotion behind the life of a soldier and also act perfectly in the movie.
When we are coming to talk about the his performance, This movie is Sesh's career's best movie, as he has got a new life by playing the role of Sandeep Unnikrishnan. From a very young guy who used to go to school to the young soldier then finally to the brave warrior, Sesh has shown beautiful transition in his character. According to the information this is for the first time, Sesh has acted in such a massive action blocks and he is also treated to watch on screen with his handsome looks.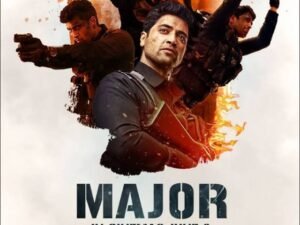 While talking about the film actress Saiee Manjrekar, before acting into this movie she also acted in Ghani, where she didn't get any scope to showcase her talent. But in this particular movie she has get scope to showcase or talent as well as she has performed very well. In the first half of the movie she got ample role, but her Chemistry with Sesh was superb. Prakash Raj and Revati acted in the movie as the parents of Sesh, they have also tried their best to bring emotional dipped in the movie.
The entire portion of the second half of the movie consist of racy action and also there are same which is going to give you a high look. In this movie the action has been mixed up with patriotism which is quite appreciable. Shobita Dhulipala as also acted in a good manner, and the character played by her is linked up to with a climax which is very much appreciable.
Negative side of the movie :
The Major film has started in a very slow note. The early days or the school life Sandeep Unnikrishnan and the aim of his life to become a soldier should have been portrayed in much better manner.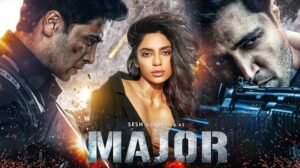 In this film the first 15 minutes were quite slow, also there are few scenes which are quite most predictable. Similarly in this film more drama between husband wife issue should have been made in order to make this film more dramatic. Moreover Mumbai Police has also played a crucial role in the 26/11 attacks and many courageous soldier have lost their life which has been totally ignored in the movie.
Technical outlook of the movie :
As we all know Adivi Sesh's films are mostly famous for their solid technical outlook, same thing happened in the movie Major too. Specially the production sets and design in order to show case Taj Hotel was excellent. The cameraman has tried to enhance the visuals and also had showcases the thrills in an appreciable manner. Dialogues and the lyrics of this movie were too good. Music composition is done by Sricharan Pakala is excellent but his background music was more than anything.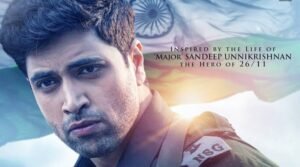 While talking about the direction of the movie Sasi Kiran Tikka has done an excellent job. He hasn't drift any emotion from the movie and also has portrayed what exactly has happened in the 26/11 attacks in a perfect and detailed manner. Specially the way he ended the movie in an emotional manner is regarded as the best narration of the movie.
Conclusion Of The Movie :
After seeing the enter movie it has been identified that it is a patriotic action based movie which has live upto the fanfare. Appreciating performances, adorable drama and perfect thrills are regarded as the basic assets of the movie. If you are going to ignore the slow start, you are going to see Adivi Sesh leading from the front and is going to take you on am emotional ride. You can definitely watch this movie on weekend as more or less it is a good movie.
Read More : Birsa Munda Death Anniversary : Who Was Birsa Munda And Why His Punya Tithi Is Celebrated Throughout India? Read On To Know..