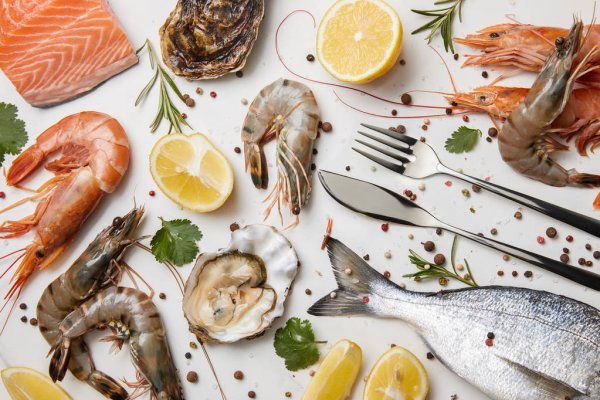 Tidal waves, scorching sun, Heated Sand dunes and Coconut Trees― these are the primal things that pop in your mind when you think about sea. But, Guess what else comes with sea ? Yes, It's the seafoods. Here, we are talking about best seafood locations across India.
Why Seafoods are important for our health ?
Seafoods are a great source of Proteins. It can even prevent the chances of cardiac arrest and can improve the status of mental health. It reduce the risk of ashtma too. Although every fishes and seafood contains cholesterols.
1. Kochi, Kerala :
Kerala, is probably the largest producer of Seafood in India. In Kerala, seafood is the most important cuisine. The people of kerala are joyful. They like seafood very much with every meal they have. In Kerala, there are some great locations to taste the best seafood. Kochi is a place blessed with sea beaches and various kinds of seafoods. Here you can try, Shrimps, Prawns, Oysters, and Tunas. There are so much local variant of seafood is available, that you'll be amazed!
2. Kovalam Beach, Kerala :
In the extreme south point of Thiruvananthapuram, there is Kovalam Beach, a small coastal town that is enriched with its seafood delicacies. Besides tidal waves and shallow waters, Kovalam is also famous for its variety of seafoods. You can try local crabs, Prawns, Silver Bellies, in the restaurants located near Kovalam enjoying the beauty of beach. They have a variety of Oil Surdines (Locally Called 'Mathi Chala'). Mussels, cooked in shells, are favourite amongst Keralites. Seafoods are available almost everywhere in Kerala.
3. Goa :
Goa, the southern province of India, a coastal paradise for travelers, have some exceptionally good seafood cuisines. You can taste Oysters, Lobsters, Big Fishes, Gigantic Tiger Prawns, Pomfets and Mackarels. If you have a craving for seafoods, Goa is a must-see.
Candolim, a great destination of beach lovers in North-Goa is not only enriched with Golden Sands and Waves but also mouth-watering Seafoods. You can enjoy bright sun and great seafood together in Candolin. In the local Goanese Restaurants, you can try out traditional Goan Seafood cuisines, or anything on your choice. You'll be astonished to see how much variety of seafoods they have.
Panjim or Panaji, the capital city of Goa, is the heart of North Goa's seafood cuisines. Panjim Fish Market is a great place to find your favorite oysters, Prawns, And Pamfets here. There are some particular restaurants in Panjim, who serve a whole thali based on seafoods. They have Prawn Thali, or standard fish thalis in their menu. Local residents of Panjim love these restaurants to put out their cravings.
4. Juhu, Maharashtra :
One of the best sea beaches in India, Juhu Beach in Mumbai,Maharashtra, is not only famous for the residence of plenty of Bollywood Stars, But also for their streetfoods and Local Delicacies. If you like buttery Prawns, or fresh Crabs, you must have to come to Juhu. The local residents loves the local restaurants, the local delicacies with variety range of seafoods. They serve fresh seafoods with great taste and affordable cost.
Except Juhu, the whole coastal area of Mumbai has a great range of seafoods. You can check them out as well.
5. Bangalore, Karnataka:
Bangalore, the capital city of Southern Karnataka, is a great homecity for Seafood delicacies. Restaurants across Bangalore offers great quality of seafoods including Prawn, Crabs, Lobsters, and Oysters. They serve cooked seafoods with their traditional recipes in affordable price. You can check them out too.
6. Odisha :
How we can forget Puri, one of the best sea beach in India ? Infact, Puri, Gopalpur and Chandipur's coastal areas are the best centre of Seafood in Odisha. Excluding seaside vendors, there are some good restaurants too, who serve fresh seafoods and fishes.
So, Readers, these are top seafood locations across India. What are you waiting for ? Get ready to have the best taste of seafoods.
Craving For Adventure ? Here are 5 Adventurous Places to Boost Up Your Adrenaline Rush