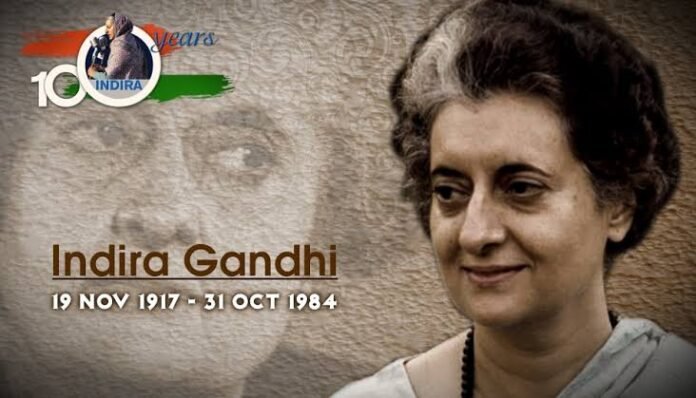 Indira Gandhi, was the national figure in Indian politics, which is the true spirit for each and every idealized people of India.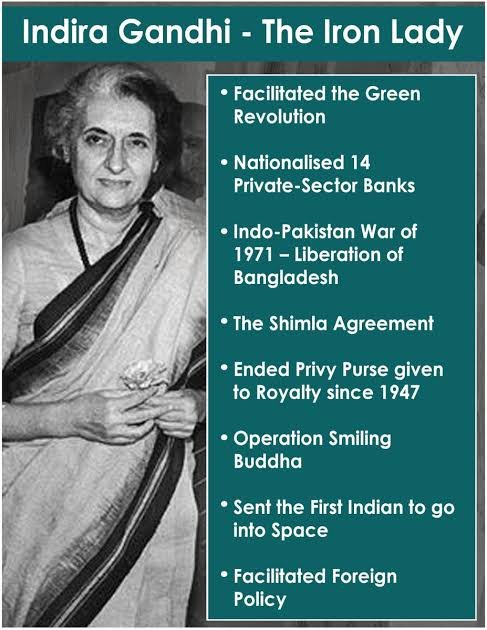 Indira Gandhi the first female Prime minister of India, serving for tree consecutive terms. She was born in Anand Bhavan, Allahabad, Uttar Pradesh from her childhood days she was aware of upturn and progression of Indian polity as well as with the freedom of struggle,as being the daughter of Jawaharlal Nehru, the first prime minister of India. During Nehru's time as prime minister from 1947-64, she was considered to accomplished on his numerous foreign trips.
She was very intelligent girl from her childhood days, as she was educated from Somerville College, England, La Chataigneruie, Switzerland, St Mary's convent inter College, Allahabad, Uttar Pradesh, Badminton School, England, Patha Bhavan, Bolpur, West Bengal (Under Visva-Bharati University), Modern School Barakhamba Road, New Delhi, University of Oxford, England, International School of Geneva, Switzerland, Visva-Bharati University, Bolpur, West Bengal, in west Bengal she studies under the guidance of Tagore in Santiniketan.
She was elected as president of Indian National Congress in 1959. After her father died she was appointed as a member of Rajya sabha and served as a minister in the ministry of Information and Broadcasting in the cabinet of Lal Bahadur Shastri ji. After Shastri's dead she became the rival of Moraji Desai. After being molest in Congress from Moraji Desai and formed a new party Congress (I) and got registered from election commission with 'Hand' symbol. That was very traffic situation faced by Mrs, Gandhi including many senior leaders of Indian National Congress.
As a prime minister, Gandhi was known for her political intersigency and unprecedented centralisation of power. She ordered our millitary forces' to fought against Pakistan for the independence of our neighbouring country Bangladesh in 1971. That war between India and Pakistan is Known as "Mukti Yudh"(মুক্তি যুদ্ধ, मुक्ति युद्ध).
Indo-Pak war, Indian and Pakistani militaries simultaneously clashed on the eastern and Western fronts; the war ended after eastern command of the Pakistan military signed the instrument of surrender. That day India got a great victory against Pakistan to declared Bangladesh as independent country. During the 1971 Bangladesh war of Independence, number of Pakistani military and supporting Islamist military called the Razakars.
In 1971 she was awarded as a Bharat Ratna award highest civilian award of India.On 2011 government of Bangladesh presents Gandhi as a highest honour of Bangladesh, Bangladesh Freedom Honour.
Indira Gandhi instructed a state of emergency from 1975 to 1977, the basic liabilities were being suspended and the press was endorsed. Widespread atrocities were being carried during the period of emergency bestowed upon the prime minister authority to rule by decree, allowing election to be suspended and civil liabilities being curbed, for the causes of emergency, Mrs, Gandhi political opponents were imprisoned that emergency became a black side of Congress party on that time,From that issue of emergency Jayprakash Narayan took benefit and Indira government fell down, but again in 1980, she returned to power after free and fare election.
As she served as a prime minister from 1966-77 and 1977-80 as a strong leader of whole India and an ideal figure in Indian politics that Congress party president D.K. Boroah said,"India is Indira and Indira is India".
In 1971, She raised a slogan "Garibi Hatao"(गरीबी हटाओ) and launched anti- poverty program in Indian Parliament to deminising poverty from India. On that time she thaught about to abolished the poverty from India for the benifit of Indian economy. She was said to be hailed as Goddess Durga by opposition leader Atal Bihari Vajpayee.
In 1980, the Congress party again came into power on leadership of Indira Gandhi in a huge margin in Indian Parliament against Janta party leader Jayprakash Narayan. Followed the 1977 elections, coalition lead by the Sikh- majority and Gandhi ordered military action in the Golden Temple in operation Blue Star, that became a black day for all Indians, she became martyred on the hand of her own bodyguard and sikh nationalist on 31 October 1984.
To safe our rich heritage Golden Temple from the hand of anti-nationalist, she became martyrs, she has the pride for the nation to work for for the nation, as she came to know before hand only that she is no more in the soil of India. In 1999, she was named "Woman of the Millennium" in an online poll organized by BBC. In 2020 she became most powerful woman in whole world as among 100 by Time magazine.
Indira Gandhi, is an ideolozed figure for the people of Kashmir to Kanyakumari on the buttom of the heart. Her set of mind and thought can touch the universe.
"Boat library" Book stories on the heart of River Hoogly!! Let us enjoy reading books along with the beautiful location!!