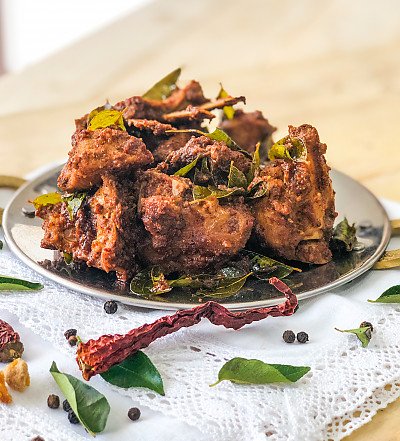 Who don't love to eat mutton? Mutton is an unique food which mostly liked and preferred by everyone.
Though we all know nowadays price of this meat is too high but still if you can manage to purchase it then it's awesome.
Today this article will be dedicated specially to all this food lovers.
I'm going to share a recipe which you can try on weekends.
Today the name of the recipe I'm going to share with you is mutton ghee roast.
This recipe is a finger licking awesome roast recipe, which is made up with rich ghee in a Mangalorean way.
You can try this recipe with either dosa or roti or paratha or as an appetizer.
Whether it's party or casual weekend you can try them on both the occasions.
So without doing further more delay let's start.
• Mutton Ghee Roast Recipe :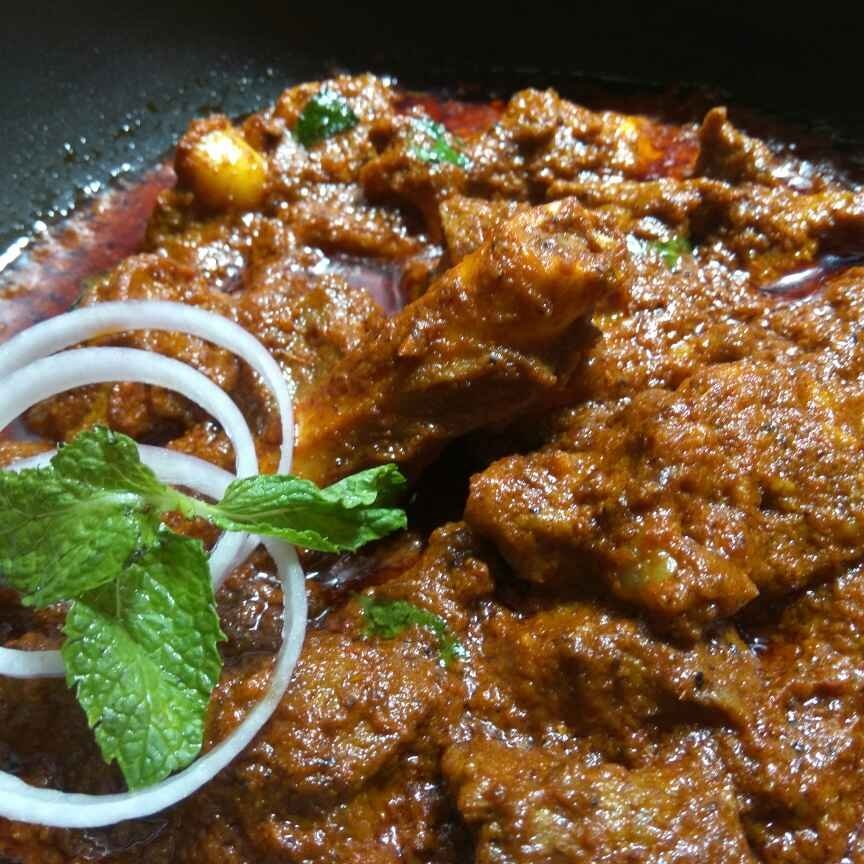 Preparation time : 30 minutes
Cooks in : 21 minutes
Total : 51 minutes
Servings : 4
Ingredients :
500 grams Mutton
For the marinade :
1/2 cup Curd
1/2 teaspoon Turmeric powder
1 tablespoon Lemon juice
Salt , to taste
For the ghee roast masala :
6 Dry Red Chillies
2 Cloves
1 teaspoon Whole Black Peppercorns
1 teaspoon Methi Seeds
2 teaspoon Coriander Seeds
1 teaspoon Cumin seeds
6 cloves Garlic
Other ingredients :
1 tablespoon Tamarind Paste
2 tablespoons Ghee
2 sprig Curry leaves
2 teaspoons Jaggery
Salt , to taste
Procedure :
1. For making this unique recipe at first you need to marinate the mutton.
2. Take a mixing bowl and add mutton along with the yogurt, turmeric powder, salt and lemon juice.
3. Mix it well and massage the marinade onto the mutton pieces keep it aside for about 30 minutes.
4. Take a frying pan put it on gas oven and keep the flame medium.
5. Now to this add dry red chillies, peppercorns, cloves, methi seeds, coriander seeds and cumin seeds.
6. Dry roast it for about 4-5 minutes until you can smell the aroma of dry masala.
7. Now turn off the flame and allow the spices to cool down.
8. Take a mixer jar and pour roasted spices, garlic cloves, and tamarind paste, grind into a smooth paste, using some water.
9. Transfer this masala into a plate or a bowl and keep this aside.
10. Now take a pressure cooker and add the marinated meat with 1/4 cup of water and close the lid.
11. Now let the mutton cook for about 3-4 whistles, or till it is about 80% done.
12. Time of the flame and allow the pressure cooker to release naturally.
13. Once this is done transfer this mutton to a bowl and keep it aside.
14. Now heat a Kadai on a medium flame, then add ghee in it. Once you notice the ghee is hot add curry leaves in it.
15. When the curry leaves splutter, add in the the freshly ground ghee roast masala and cook it for about 4-6 minute until the ghee comes up to the surface.
16. To this add pre cooked mutton along with 1/4 cup of the stock from the pressure cooker.
17. If you want to keep this this kind of a gravy type then you can add this stock as much as you want. But better is to keep it little bit thick consistency.
18. Now add the jaggery and salt to taste. Let it cook for about 8-10 minutes. Turn off the flame once done. Check the salt and spices and adjust it according to your taste.
19. Transfer this into a bowl and serve it hot.
20. You can serve this dish with ghee roast dosa or cucumber neer dosa.
So today we have to learn how to make mutton ghee roast recipe.
Hope you have enjoyed this dish and I request you to try this once at your home.
I'm definitely sure you are going to like this recipe and everyone from your family is going to like it too.
So what are you waiting for? Go and cook it and enjoy it with your family.
Read More : Beat The Boredom with these 7 Top English web series that you should not miss watching!! Read To Find Out More!!