Sushi is a most famous and favourite traditional dish of Japan. If you ever have visited the Japan, then you must have taste or eaten this dish. Japanese people loves to eat this dish. Though nowadays not only in Japan, you can easily get sushi all over the world. Throughout the world, this dish has gained quite a huge number of popularity. As of now people loves to eat this. Basically this dish is prepared vinegar'd rice usually with some sugar and salt, and accompanied by different ingredients such as often raw, vegetables and sea foods. It is is also known as Shari or Sumeshi.
If you are belonging to those categories of people who loves to eat Sushi, then you are at the right place. As because today in this article we are going to share a few recipes with you can actually make on your weekend and enjoy it with your family members. In order to gather information regarding those recipes, read till the end. So try to read on till the end to get the information regarding the recipes so that you can easily prepare them at your home.
1. Philadelphia Roll :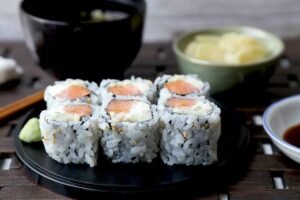 Preparation Time : 15 Minutes
Cooking Time : 10 Minutes
Total Time : 25 Minutes
Servings : 2
Ingredients :
For The Sushi Rice-
1/2 cup Japanese Sticky Rice
1/2 cup Vinegar
1/5 cup Sugar
1 tsp Salt
For The Sushi Rolling-
1/2 cup Smoked Salmon
1/2 cup Gari
1 tsp Wasabi
1 nos Sushi Nori
2 tsp Soya Sauce
1 tsp Cream Cheese
1 tsp Spring Onion
1 tsp Sesame Seeds
1 tsp Sesame Seeds
1 nos English Cucumber
Procedure :
For Making The Sushi Rice-
1. At the beginning, you need to wash rice properly in water and rinse it in the running water in order to extract the excess amount of starch present in the rice grains. These steps need to be repeated 5 times.
2. Now boil sushi rice with water in a ratio of 1:1 ¼. In the meantime, prepare the sushi vinegar. Prepare it by mixing vinegar, sugar and salt.
3. Once you are going to find rice is cooked properly, mix the rice and the sushi vinegar together and cover it with a moist cloth and keep it aside.
For The Rolling Sushi-
1. At first place a nori sheet on the mat and spread a handful of rice on the sheet. Now, sprinkle some white and black sesame seeds on the rice.
2. After that, try to flip the nori sheet in such a way that the rice will face directly the mat.
3. Now, spread the cream cheese in a proper line on the nori sheet, and then place the cut asparagus and gari tempura.
4. In this step, you need to roll the sushi into a square shape by applying minimum pressure, and then cut it down into 8 equal pieces with the help of a sharp knife.
5. Your Philadelphia Sushi Roll is ready to eat, serve it with some gari, wasabi and soy.
2. Prawns Tempura Roll :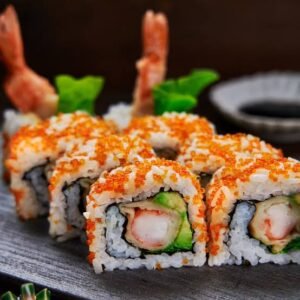 Preparation Time : 15 Minutes
Cooking Time : 15 Minutes
Total Time : 30 Minutes
Servings : 4
Ingredients :
100 gm sushi rice
100 ml water
100 gms tempura batter mix
4 pcs shrimp
10 gms mayonnaise
30 gms avocado
20 gm English cucumber
1 Toasted nori seaweed sheets
10 gm black and white sesame seeds
Corn oil
Procedure :
1. At the beginning, cut the shrimp, try of making shallow slits into the inner portion of each shrimp. 5 slits for each shrimp is going to be perfect in preventing your shrimp from curling during the frying process.
2. Now take a large bowl and add dry tempura batter mixture and cold water and mix them well. After that, pat all the shrimp dry and dip them into the prepared batter.
3. In this step over a medium-high flame, you need to fry the battered shrimp in a pot of oil until they are golden brown.
4. Now place a bamboo sushi mat and spread the Noori sheet over it. After that, dispersed the sushi rice and then add fried prawns with avocado, cucumber and sauce and roll it properly.
5. Serve it with some gari, wasabi and soy.
Hope this was helpful for you. Let us know your opinion in the comment section.
Read More : Keema Recipe: Make This 2 Unique Keema Recipe For A Perfect Friday Night Indulgence