Shahi Tukda is one of the most famous kind of dessert you can actually find anywhere in the sweet shop. Basically, it is considered as a festive and rich food made up with ingredients like ghee, sugar, milk, nuts and bread. It is a kind of dish which can actually be prepared at time of any occasion or festival. If you are planning to cook this dessert at home, then you can make it within 1 hour and serve it to your guests. This Shahi Tukda recipe is love and appreciated by any age of people. Actually, it is a Hyderabadi delicacy which can be easily made at home and you can serve it after your complete meal.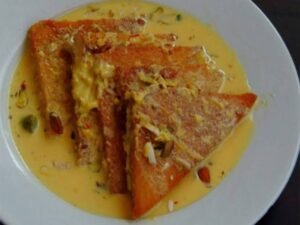 This article is mainly for those people who loves to eat sweets and has another level of craze for sweets. So if you are belonging to those categories of people, then you are at the right destination. As in this article, we are going to share the entire recipe of Shahi tukda, by learning it you can easily make it at home. So without doing anymore delay we are going to start up the article. Get ready with your spatula and grab all the ingredients required to make it.
Preparation Time : 1 Hour
Cooking Time : 30 Minutes
Total Cooking Time : 1 Hour 30 Minutes
Servings : 6
Cuisine : Indian, Mughlai
Course : Desserts
Diet : Vegetarian
Ingredients Required For Making Shahi Tukda :
5 bread slices
1/2 cup ghee
1/2 mililitre water
1/2 cup sugar
2 crushed black cardamom
6 strand saffron
3 cup milk
2 pinches powdered green cardamom
1 handful of cashews
1 handful almonds
1 handful pistachios
Procedure :
1. At first take a saucepan and pour some water in it, then into it add sugar, allow water to boil for a while until sugar is dissolved into water completely. Once you find that sugar is completely dissolved, then add the saffron strands. Allow it to boil for another few minutes until you find syrup achieves two string consistency. When sugar syrup turns sticky, turn off the gas and keep the mixture aside.
2. Now take another pan and add milk into it and allow it in a medium flame until the milk is reduced to 1/4th. In this entire process, stir it continuously. Once the milk is reduce add cardamom powder, 1/4th part of sugar syrup and mix them well. Stir it for the next 5 minutes, and once it is ready, keep it aside.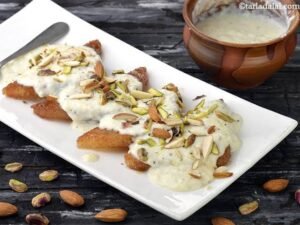 3. Now take all the breads and cut their side portion and slice it as two triangles. After that, take a pan and heat some ghee in it, then deep fry all the bread pieces until they are golden brown and crispy. Once all the bread pieces are fried, dip them into the sugar syrup and allow it to show the sugar syrup for about a minute.
4. Now take a plate and arrange all the pieces of bread slices properly. Now pour the prepared rabri over the bread slices and garnish it with some chopped nuts. Here you are ready to go now you can serve your Shahi Tukda.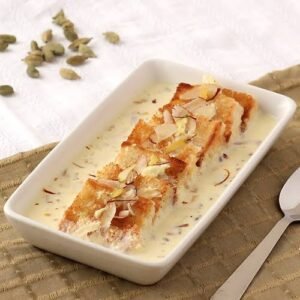 Hope this was enough helpful as we have provided a brief information regarding the recipe Shahi Tukda. Hope you are going to be benefited from this article and definitely you are going to try this recipe at your home. Let us know your opinion regarding the specific article. We will be glad if you share your experience regarding Shahi Tukda Recipe.
Read More : Birsa Munda Death Anniversary : Who Was Birsa Munda And Why His Punya Tithi Is Celebrated Throughout India? Read On To Know..