Rabindranath Tagore is a national as well as an international figure forepart leading the whole world.
Rabindranath Tagore was the adolescent son of Devendranath Tagore. A leader of the Brahmo Samaj, was new religious denomination in 19th century Bengal Renaissance, which attempted a revival of the eventual nonistic basic of Hinduism as laid down in the Upanishads. He was educated at home; and although at seventeen he was sent to England for formal schooling, but he did not finish his studies there. Later 1870 he come back to India. He published several books of poetry in 1880.
The collection of poems such as 'Balaka', 'Gitanjali', 'Kheya', 'Manashi', 'song of offering', 'Sonar Tori', a collection marks the maturing of his genius. It contains some of his best known poem including many in verse forms new to Bengali as well as some social and political satire that was critical of the fellow Bengalis.
Apart from the poet, he was an eminent author, essayist, novelist, playwright, dramatist, painter, social reformer,song writer, composer. In one of we can say a man is an ultra-compact. In 1877 he graduated to his first short story and drama, published under his real name. His remarkable works such as 'Kabuliwala', 'The Postmaster', 'The Broken Nest,'Hungry stones','Subha','Master Mashai', 'The Child Return' and many others a clear scenario of the society were being found in his short stories.
Tagore overhaul Bengali novel by supuring rigid classical forms and resisting literature stricturs. The novels which touched the readers heart. As a novelist he had got a big achievement. His noteworthy works like 'Choker Bali', 'The Home and the Word','Bou Thakuranir Haat'(The young Queen's market), 'Rajarshi', 'Noukadubi'. The social satiric can change the thinkers mind. As a dramatist Tagore took a huge place in Bengali and English literature. 'Rudra Chandra', 'Nalini', 'Bisarjan', 'Chitrangada', 'Goray Golad'.
Tagore as a politician we know very well, as he opposed imperialism and prop up Indian nationalist and these views were first revealed in mamost, which was mostly composed in his twenties, yet he support the Swadeshi movement and wrote 'Jana Gana Mana' and 'Amar Sonar Bangla', the both became national anthem of two neighbouring countries India and Bangladesh.
Tagore wrote songs lionising the Indian independence movement. He wrote to composites 'Chiito Jetha Bhayshunno'(Where the mind is without fare) and 'Ekla Cholo Re'( If They Answer Not to Thy call, Walk Alone). He obtain mass appeal with the obtain mass appeal, with the latter flavoured by Gandhi. Though somewhat critical of Gandhian activism, Tagore was key in resolving Gandhi- Ambedkar dispute involving separate electorates for untouchables, thereby mooting at least one of Gandhi's fests unto death. He desertion his knighthood is response to Jallianwala Bagh massacre in 1917. In the reputation letter to the viceroy, Lord Chelmsford, he wrote: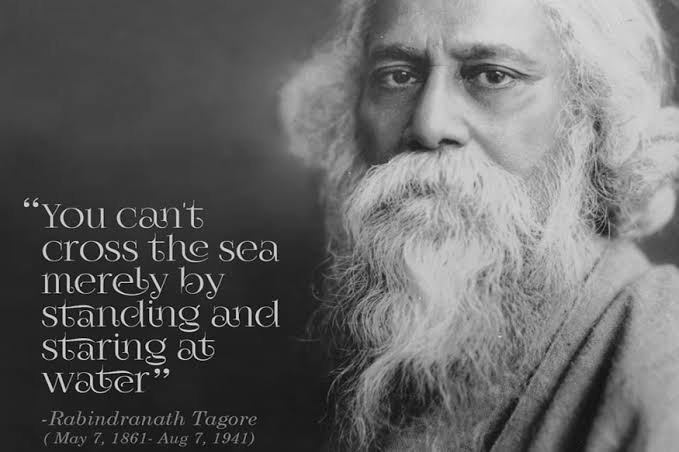 Tagore despised rote classroom schooling: in "The parrot's Traning", a bird is caged and face-fed textbook pages- to death. In Santiketan where he established the school Visva- Bharati being Formed. A new type of University which creates connection thread between India and the World, which concave beyond the limits of nation and geographical boundaries.
He introduced brahmacharya system: gurus give students personal guidance- emotional, intellectual and spiritual. He started teaching under the tree, he staffed the school, contributed his Noble Prize monies.
He won Nobel prize for literature in 1913 for the collection 'Gitanjali' published in London 1912, the prize perhaps became more important for Tagore's life and it became a sentiment for whole country as well as Bengali culture, just for the prize given to an Indian for the first time. On 25 March,2004 the Nobel prize was purloin from the safety vault of University along with several other of his be the possession of Swedish Academy decide to present two replicas of Tagore's Noble Prize made of gold and bronze to Visva-Bharati University.
Jorasanko Thakur Bari, Kolkata where he spent most of his infancy days and, he died on 7th August, 1941.
Tagore, the emotion and ideolozed figure for Bengali culture as well as for whole world, which is a superior an energetical sentiment for Indian as an ideology.
Communication became a pillar in 21st century's world!! Why communication is important? Let's check the points below!!