Today the entire world is celebrating World Child Labour Day. Well, we all used to celebrate this day but we don't know what is the exact reason behind celebrating this day. Yeah! you know it is being celebrated to make a sure that no child is going to work as a labour in their childhood. Throughout the world every year on 12th June world child labour day is observed.
The actual reason behind celebrating this day or observing this day is to make us rest that none of the children is going to work as a child labour in their teenage. It has been identified that in India, the maximum number of children because of survival used to work as a child labour. The owner of different organisations and companies also make them work as labour despite giving them a few stipends. Which is not a wonderful thing for our country nor for the world. Child should not work as a labour as because it is the age to learn and aqua knowledge, which will eventually help them to give the country a better future.
This specific world child labour day is observing only to make sure that none of the children is going to work as a labour in their studying age. As because it is going to create a tremendous impact on their physical, social and mental health. Article we are going to talk about why world child labour day is observed and how child labour can be reduced up to a certain level.
History Of World Child Labour Day :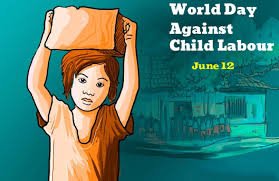 In the year 2002, The International Labour Organization (ILO) observed world child labour day, with an aim to make highlight the plight of children who are the actually victims of child labour. This specific day was observed in order to take a serious step against this horrible thing. According to the information, the ILO Convention No. 182, which actually dealing with the worst forms of child labour and ILO Convention and ILO Convention No. 138, which days with the minimum age for employment, are regarded as the two main global conventions on the issue.
What Is The Theme Of This Year?
Every year, in order to make awareness regarding this issue, a specific theme used to be selected and observed according to it. For this year, the theme "Universal Social Protection to End Child Labour" has been selected. This theme is going to focus on the increment of investment in social protection schemes and systems in order to develop a solid social protection mechanisms for protection of child labour.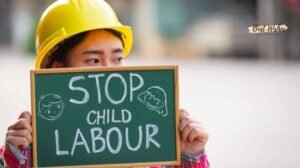 In order to reduce the amount of child labour issue from different country the specific day has been started to observed. According to the research in the period between 2016-2020, this issue has been partly sorted out. But till date over 160 million of child used to work as child labour among with they are only of 5 years old.
How can this issue be sorted out?
In order to sort out this issue, the government must declare provide a specific step against this child labour. And also must punish those owner who are going to make children to work as a child labour. The government must arrange a specific help for the child who are going to work there only to survive. The children must not work as a child labour in their earlier it is the time to study so the government must make sure that they are studying in their studying age.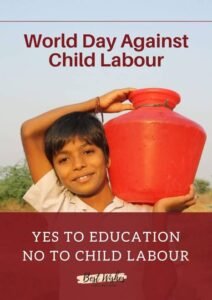 Till date, many seminars and campaign has been arranged by the different organisation in order to make understand our society that child labour is not a good thing. So on this day, the entire world is trying to create an awareness against this.
So, being a human living on this planet, it is our duty to do something specific for child labour. In this world, child labour day try to do something which is going to be beneficial for children and which is also going to child labour from our society as well the entire world.
Read More : K.G.F 3: Who Is Going To Enter Rocky's Kingdom This Time? Read On To Know..