The summers in the plains of India are without doubt, too much to take. Every year, people lose lives to the loo fever, and heat-strokes. To relieve people from the heat, India has synthesized many eating and drinking habits to match the weather and provide relief from it. Here are 10 examples of such drinks:
Lassi: the most famous summer cooler
Lassi is a traditional curd-based drink, mixed with salt and sugar, and essentially served chilled, with ice, and is a perfect summer cooler with amazing taste!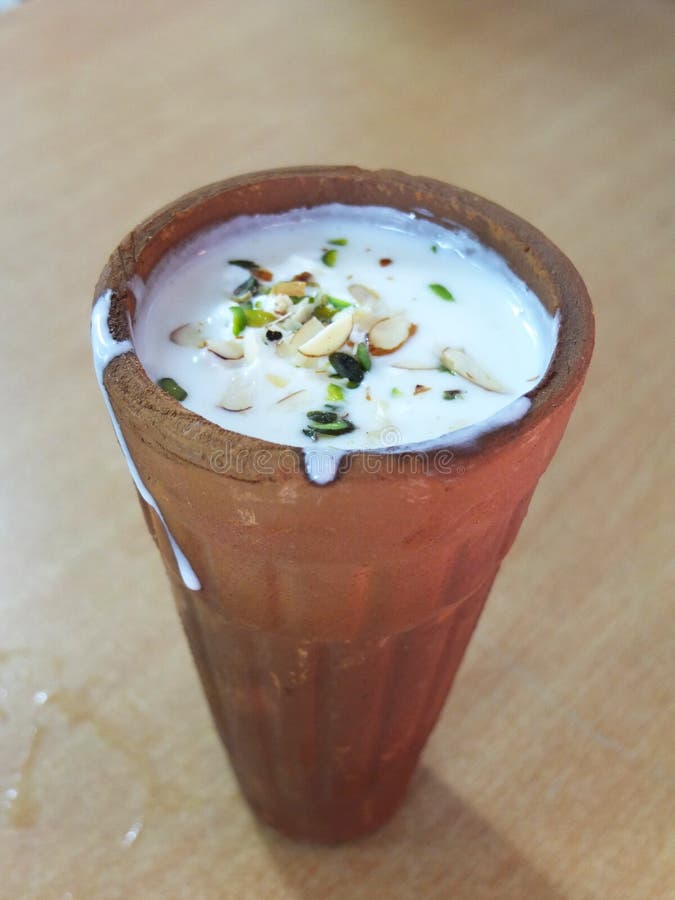 Mango Lassi
Mango lassi is a flavoured lassi. Curd is mixed with ripe mangoes to make this amazing drink. There can be many other fruity tastes to experiment on this yogurt-based drink, for example the Rose Lassi is a famous drink in Indian roadside shops.
Nimboo-pani
This is a simple yet extremely effective traditional drink. It is water-based, and a variety of spices are added to make it sweet, salty, tangy and spicy, like roasted cumin, black salt and chilli powder, caramel, and most definitely cool water or ice.
Nimboo-pani or lemon-water, forms a major part of the tradition of offering a drink to guests in Indian households, of course, especially during summers.
Aam-panna
A 'panna' is special form of drink in the Indian culture. This drink is made from a number of tropical fruits, where the fruit is first softened and then blended and strained to get the juice. The ripe mango, in the case of aam panna is first cooked in a pressure cooker or bolied, and then added with spices to get a perfect, tangy drink to match the beating summers.
'Aam pora'r shorbot'
This is a Bengali term that means the sharbat of a burn mango. It is made from a blend of unripe, green mangoes, which are roasted on an open flame. The blend is added to with cumin, black salt, mint, and other spices, to form a unique drink, that can treat your taste-buds like no other drink.
Bael panna
A bael is a fruit known as 'aegle marmellos' in English. The panna is made by soaking the bael overnight in water, so it is soft for bleding with sweetened water. It has a distinct, sweet taste, and is both healthy and tasty for a summer day.
Coconut water
Coconut water is drunk directly by breaking open the coconut. It is said to have the most natural essentials, and is a wonderful drink for those who do not prefer artificial sugar. Coconut water can also be a good drink base for diabetes patients, who cannot have added sugar!
Jal Jeera
Jal jeera is basically water mixed with roasted cumin powder, mind, and other spices like black pepper and black salt, dry mango, dry ginger, and many others.
This drink is an amazing appetizer, helps with digestion and is a beautiful cooler, when served chilled or with ice.
Sattu Sharbat
Sattu sharbat is said to be a desi, Bihari summer cooler, which we also see being sold on roadside stalls. It is one of the the most affective summer drink, and is made from 'sattu', which is powdered black chanas. It is an extremely filling and healthy food, even when eaten with milk or water.
The Sharbat is a sweet drink, with sugar, corriander powder, cumin powder, lemon juice, and black pepper.
Shikanji
This is the most marketed drink in present urban centres of India- with its special element of lemon and soda mixed with spices, it has become an extremely tasty drink, and could instantly cool you down, on a hot summer day.
read more:
"POOLI PITHA": Bengali Sweet Dumplings. » Unveil
The Pithe Saga- The Take Of An Endangered Culinary Art Of Bengal (unveil.press)