Lord Shiva is one of the main deities of Hinduism. He is Energy and the Peace. He is one among TriDev. He is known by various different names as The Destroyer, Mahadev, Natraj, Mahakaal, Adiyogi, Shankar Shambhu, Bholenaath, Umapati, and Mrityu Lok ke Swami.
On Earth, Shiva exists in the form of Linga. There are 12 jyotirlinga in India. The Mahakaleshwar jyotirlinga is located in the Heart State of India. It is the only Dakshinamukhi jyotirlinga, which means linga facing southward direction. The Mahakaleshwar Temple is a prominent Hindu pilgrimage. I think you may be equally excited and cheerful to know More about this jyotirlinga and the holy place Ujjain. Let's take a dive into this spiritual site by saying "Jai Mahakaal. "
Jai Shree Mahakaal
Where is Mahakaleshwar jyotirlinga located?
Mahakaleshwar jyotirlinga is a temple dedicated to Lord Shiva located in District Ujjain of Madhya Pradesh. It is one of the most attractive and sacred place to visit by the devotees of Lord Shiva. Ujjain is known as Temple City because of numerous temples of different eras are present in the city. City is situated on the side of holy river Kshipra. Ujjain is considered as most positive and holy place.
According to a mythological legend, No human King can stay overnight at Ujjain because Mahakaal is the only King of Ujjain. Even today no Chief Minister or Prime Minister stays overnight at Ujjain.
Mahakaleshwar jyotirlinga is considered to be Swayambhu, which means self-existing, originated naturally by itself and not carved by humans. People believe that Lord Shiva resides here with his family. He is worshipped in the form of Linga, called Shivlinga. There is no idol or murti of Shiva.
Shree Mahakaleshwar Mandir
People living in Ujjain consider Mahakaal as King and celebrate His presence there.
Jyotirlinga is a Sanskrit compound word – Jyoti means beam of light or radiance and Linga is a form or structure to worship Shiva. It is a devotional representation of Hindu God Shiva. Mahakaleshwar jyotirlinga express the form of Shiva as Mahakaal. The word Kaal in Hinduism depicts time and Maha describes the greatness of Shiva, as He is the controller of time and caretaker of his devotees.
Mahakaal dominates the life of people living in Ujjain. In temple, Mahakaal is present in sanctum facing south and touching the floor. The idol of Ganesh, Parvati and Kartikeya are towards west, north and east respectively. Nandi, Shiva's vahan is in front of Linga. This completes Shiva family.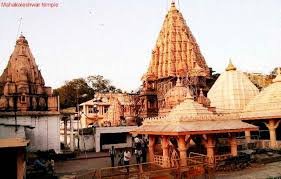 The temple is spread in long area (verandah). There are various other small temples near by main deity. Sakshi Gopal temple is main to visit after having Darshan of Mahakaal. People believe that, visiting here marks the presence of devote. It is just like attendance. Omkareshwar mahadev temple is consecrated above the sanctum. Bal Ganesh mandir is attractive and devotional site. A long ground have Nav Grah temple, Swapneshwar Mahadev, Veer Bala ji, Lakshmi Narayan Mandir and many others.
It is believe that Mahakaal cures the sorrow and diseases from the life of people who faithfully took darshan and devoted Him. He fulfills the positive desires of people reaching to his temple. He grants wishes, those who worship him with full devotion and hope. Mahakaal is God of Death and his worshipping reduces the fear of unconditional death.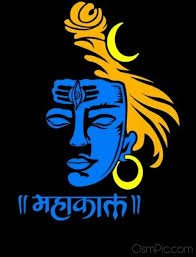 People of Ujjain are huge devotees to Mahakaal. Every person offer greetings to each other as – "Jai Mahakaal". It is like, Mahakaal lives in each ones soul.
Story behind Jyotirlinga
According to Shiva Purana, once Lord Vishnu and Lord Brahma argued on Who is more Superior in creation? Brahma is known as creator and Vishnu to be the preserver. In between there fight, an illuminating beam of light raised with its power. Lord Shiva then announced to find the start and end point of this pillar of light which will prove either Vishnu or Brahma as Superior.
Vishnu decided to go downwards following the pillar whereas Brahma started to climb upwards. Brahma told a lie that he find the start point whereas Vishnu returned without finding the end of pillar and utter truth. Lord Shiva cursed Brahma that he would not be worshipped because He told a lie just to prove himself as Superior. Vishnu offered a boon that he will be worshipped to eternity.
This pillar of light was called as Jyotirlinga and a sign to worship Shiva endlessly. It is indication of light that remove all the darkness from world.
History of the Mahakaleshwar temple
The Mahakaleshwar Temple is situated on the banks of Rudra Sagar Sarovar. The jyotirlinga is self manifested. Ujjain was known as Avanti in the ancient era. This was most beautiful and attractive city of that time. People living here were great devotees of Shiva. Brahmins used to make shivling (parthiv lunga) and offer fire sacrifices for Shiva and proceed their daily life chanting shiva's mantra. Avanti was main study centre, people were busy in teaching and study about holy sculptures. Lord Shiva bless the devotees living here and also love the city.
According to Puranas, A demon named- Dushana attacked Avanti and destroyed all the yajnas of Brahmin society. He used to torture people living in Avanti. Due to his bad deeds Lord Shiva appeared collapsing the ground. Shiva came as Mahakaal to defeat the demon. After defeating Dushana, Shiva blessed Avanti and it's people. Brahmins requested Shiva to live in Avanti forever. For fulfilling His devotees desire, Shiva resides there in Avanti as Mahakaleshwar jyotirlinga.
King Chandrasen was great devotee of Lord Shiva and constructed the temple. Later on King Bharthrahari maintained and renovated the temple.
Present Scenario
The mahakaleshwar jyotirlinga faced atrocities due to Muslim invaders. Temple by destroyed by Sultan Shams Uddin Iltutmish during 1200 AD.
Maratha ruler Ranoji Scindia undertook the responsibility to reconstruct the temple in 1736. After his action all others rulers Scindia dynasty started to develop and manage the historic temple. After independence, Dev Sthan trust of Ujjain overtook the responsibility to conserve and maintain the structure of holy place. Now, the temple is under Ujjain Collectorate Office.
Architecture of Mahakaleshwar Temple
Present day Temple is 3 storey structure. Each storey is occupied by lingam. At base, Mahakaleshwara, secondly the Omkareshwara and Thirdly the Nagchandreshwara. It is planned structure of Bhumija, Maratha and Chalukya type of style. There is a Kund besides the path to reach Mahakaleshwar sanctum . A small Silver coated door leads to main entry towards sanctum. Shikhar is having a flag and sun rayed like gold plated structure on top.
New innovations are made and a long que line is constructed in a zig-zag manner to manage the crowd of devotees. Exit to Mahakaleshwar lead to a wide open verandah where many small temples enhance the beauty and positivity around the devotional site. This have Omkareshwara temple with pillared open area. This open area have all the arrangements of drinking water, shadow, lighting, sofa chairs all around to sit and some sweets shop for offering it to Deity.
Nagchandreshwara temple is last storey and it is closed throughout the year except Nag Panchami. Devotees only take Darshan of Nagchandreshwara on Nag Panchami.
Aarti schedule of Mahakaleshwar Temple
The Temple opens at 4:00 AM and closed at 11:00 PM daily. Priests offer devotional aarti to Mahakaal every day. Before every aarti temple is cleaned and Lord Shiva have a great Shringaar in various forms. Mahakaal Shringaar is main attraction for the devotees. Total 4 aarti are offered to Mahakaleshwar at different time. The time of aarti fluctuate according to season and sunset.
| | |
| --- | --- |
| Aarti | Time |
| Bhasma Aarti | 4:00 – 6:00 AM |
| Naivedhya Aarti | 7:30 – 8:15 AM (In summer, 7:00 – 7:45 AM) |
| Sandhya Aarti | 6:30 – 7:30 PM (In summer, 7:00 – 7:30 PM) |
| Shayan Aarti | 10:30 PM |
Aarti time schedule
Festivals related with Mahakaleshwar temple
MahaShivratri, Nagpanchami, and Sawan month is of great festival time to people living in Ujjain. A fair is organised on occasion on Mahashivratri, in the month of February or March. Mahashivratri is the day when Lord Shiva and Goddess Paarvati got married. Nagpanchami is the oy day when doors of Nagchandreshwara get opened for public. People rush to have darshan. Sawan is considered to be the Month dedicated to Lord Shiva. Sawari are arranged for the King of Ujjain, Mahakaal. The month of sawan attract maximum devotees to reach the mahakaleshwar temple.
How to reach Ujjain, Mahakaleshwar Temple?
Ujjain city is located in Madhya Pradesh, India. To reach Ujjain easiest way is Train and Bus Route. Indore city is nearby which have airport facility and approximately 55 km away from Ujjain city, takes around 1 hour by car. But people mostly prefer to travel via booked car or other vehicle.
Ujjain has great connection of train and buses. Auto rickshaw and Cab is primary source to travel Mahakaleshwar Temple. E-rikshaw are also available. It takes around 20-30 minutes to reach main premise from railway station and bus stand.
Way towards the temple
Parking area is wide and secured. Shops of flowers, sweets, and other devotional material are present out side the main entry. There are separate lockers to put sleepers and footwears. Electronic devices like Mobile, Bluetooth, cameras are not allowed inside the temple. Guards are present everywhere to checking and security purpose. Bags and other items are not allowed to carry. Only offering things like Garland, flowers, Prashad are allowed. But due to Pandemic COVID-19 guidelines, all these things are also not allowed now. People have to maintain distance in que and wear mask on their face.
Where to stay in Ujjain?
Ujjain have many guest houses, public inns and hotels to stay. They offer pocket friendly charges per day and night. Some best hotels are :-
Hotel Royal Palace, near Mahakaleshwar temple- 800₹
Hotel Maheshwari Avenue, near Mahakaleshwar Temple- 1100₹
Hotel Amar Palace, near Mahakaleshwar temple- 1300₹
Maa Tulsi Guest House, near mahakaleshwar temple- 1200₹
Yanti Guest House, near mahakaleshwar temple- 900₹
Hotel T. A. Paradise, jaisinghpura- 700₹
Shree Mahakaleshwar Jyotirling Ujjain App
The app of Mahakaleshwar Jyotirling Ujjain is official m-governance app that includes all information about the temple and it's timings. People can register themselves online for darshan and entry.
Mahakaleshwar jyotirling temple has its own official website that delivers the required information about temple. The website is -http://dic.mp.nic.in/ujjain/mahakal/default.aspx
Conclusion
The trip to Ujjain, Mahakaleshwar jyotirlinga is full of positivity and faith. It is wonderful place holding peace. Once in a lifetime, everyone should visit the temple.

#Read more
a-walk-to-remember-12-months-story-a-fast-flash-back-review-on-2020