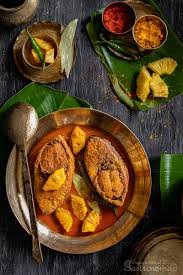 Among Us who don't love to eat Hilsa? You will really found someone like them in the earth!
Because hilsa is something which is marvelous and tasty fish you'll ever find.
Hilsa is famous in Bengal, mostly Bengali people like this fish very much.
Specially in the season of rainy Bengali people used to eat this Hilsa a lot.
And for information let me tell you that this season specifically rainy season is best for Hilsa.
This fish is something which you can cook with anything and it going to rock for sure.
So today I am going to share a few recipe on this famous fish. Which definitely going to rock.
What are you waiting for then? Let's start!
• Bhapa Ilish (Hilsa)
Ingredients :
1 KG Hilsa (cut into pieces)
Salt to taste
Turmeric powder (1 teaspoon)
Mustard seeds (1 teaspoon)
2-3 Green chillies
Grated ginger
3 tablespoon mustard oil
Procedure :
At the beginning wash the fish well, and try to clean it properly.
Take a plate and transfer the fish into that plate, then add some turmeric and salt and mix it well.
Now take a mixer jar and add mustard seeds, ginger and chillies and make a thick paste.
Now add this mixture in that plate and mix it well with the fish.
Not take a pressure cooker and and three cups of water in it and place a ring in it.
Now take a tiffin box then in that pour the fish mixture and add a bit of mustard oil. Then place it on on the ring.
Cover the pressure cooker and let the fish steam for 8 to 10 minutes.
Take it out and serve it hot with hot rice.
• Doi Ilish (Hilsa) :
Ingredients :
1 KG hilsa (cut into pieces)
1 cup mustard oil
1 onion sliced
1 tablespoon Coriander powder
1/2 tablespoon red chilli powder
1 tablespoon mustard paste
5-6 green chillies
1 cup yogurt
Procedure :
At the beginning wash the fish well, and try to clean it properly.
Into the fish add some salt and mix it well and keep it aside.
Take a frying pan put it into the gas oven and let the frying pan get hot.
After that add some mustard oil into the frying pan and let it get hot.
Now Add the onions and fry it well. Then add salt, red chilli, and coriander powder. Stir until you find the oil is floating.
Now add the fish and the mustard paste and let it cook for about few minutes.
Then add chillies and yogurt and cook for 8-10 minutes.
Take it out and serve it hot with hot rice.
• Ilish Paturi :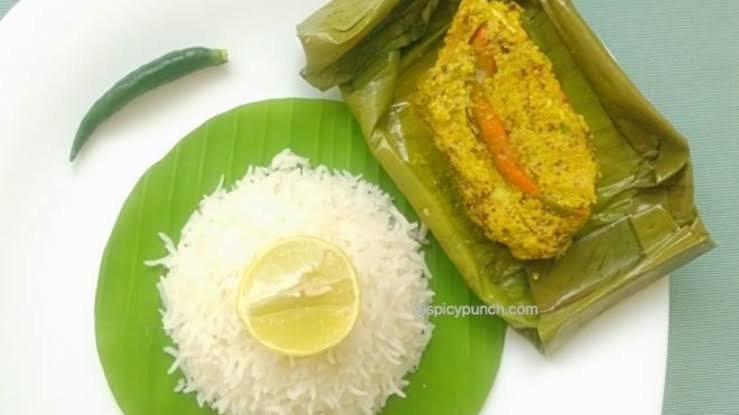 Ingredients :
1 Kg Hilsa fish
5-6 banana leaves
2 tablespoon mustard paste
1 tablespoon Turmeric powder
1 tablespoon red chilli powder
3-4 cup mustard oil
6-7 Green chillies
Salt to taste
Procedure :
At first cut the banana leaf into half and wash it well.
Then add all the ingredients and apply it evenly on the fish pieces.
Now place the fish pieces on a banana leaf, add the masala on it and fold the banana leaves on the fish pieces and tie with a string.
Now put them in a tawa and cook it on a high flame.
Cook it for about 20-25 minutes. When you'll find the colour of the leaves changed from green to yellow your fish is ready to eat now.
Serve it hot with hot rice.
Here we came to the end of our article. Hope you have enjoyed the article.
And I'm sure you all are going to try this recipe once at your home.
If you want to eat this dish to eat without taking anything then you definitely can. But best is to have with rice.
Read More : Importance and Health Benifits of Intermittent Fasting