Hey guys what's up! Hope you all good. So here I am again with another recipe article and this time it is none other than one of my favorite food "Topse Fry"!..
So guys we all know now these days people are looking for unique food all time. They, no actually we become very bore about our daily life foods, our lifestyle, our daily habits our stress and all we want after a stressful day that's nothing but a good suffer.
All day if we eat rice, dal and curry so we all become obviously bore from it. That's why I am here to tell you something special that can make your lunch better.
We, bengali people or non bengali people who loves to eat fish in daily life or loves to try different kind of foot or snacks which is made by fish, this article will helpful for them.
Topse fish is basically a sea fish and very popular in bengali culture and if it comes to the topic of Topsy fry, then bengalis become more foodie.
Today I will discuss with you about the recipe of "Topse Fry", one of the most delicious snacks to have in the lunch menu.
You can eat this as your lunch and also a snacks as well.
So guy's let's start with the materials, equipments of "Topse Fry" and all the steps are described briefly please read carefully..
MATERIALS
The Topse fish = 10 piece
Rice bran oil = quantitatively
Egg = 4 piece
Gram flour = 200 gm (approximately)
Onion = quantitatively
Chilli = quantitatively
Salt =Quantitatively
Pepper gum =quantitatively
Fennel flower = Quantitatively
Yellow powder = quantitatively
Tomato sauce = quantitatively
Chilli sauce = quantitatively
Water = quantitatively
EQUIPMENT
The gas oven
The pan
The pickaxe
A big bowl
A plate
A spoon
A knife
All the materials and equipment are ready now let's come to the main steps to make "Topse Fry".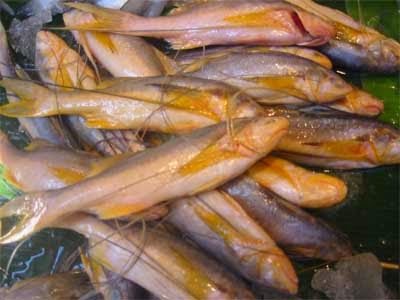 STEPS OF MAKING TOPSE FRY
Topse fry recipe is very easy. Just read it carefully and don't miss any step.
Step.1
At first take the fishes and wash them with fresh water and then pour into a big bowl.
Step.2
Take the yellow powder and salt. Then pour into the fresh fishes and mix it properly.
Step.3
After that take the onions and chilli and cut with teh knife into small pieces.
Step. 4
Take the gram flour and pour into the bowl of fishes. Also take the eggs and break and pour into it. And start to mix it very carefully and properly.
Step.5
After that add the onion and chilli pieces into it. And then mix it again.
Step. 6
The add the fennel flower, pepper gum, salt in it and mix it. Add the tomato sauce and chilli sauce also for little bit and mix them with spoon or hand.
Add some water if it get too much dry and also remember it should not be too much wet as well.
You should keep it proper bater for frying.
Step.7
Next take turn on gas oven and put the pan on it.
Add some oil in it and let it be warm.
Step. 8
After that take the mixing fish very carefully and put on the pan.
Fry it very carefully and properly.
You can take help from elders to fry it up.
After that fry all the fishes one by one.
And now your snacks is ready. You can serve it on a plate and enjoy with your preferable sauces and also can eat with warm rice as your lunch as I said before.
You can also try this recipe with others fishes like Vetki, etc. That time the steps and equipment and materials will same.
So guys hope you like Topse fry recipe and don't forget to try it at home. Thank you…
https://www.unveil.press/do-you-know-how-to-make-egg-toast/
https://kitchenofdebjani.com/2015/12/topse-maacher-fry/#:~:text=Topse%20fry%20is%2C%20in%20fact,(Gram%20Flour)%20and%20spices.