When it comes in terms of food, the foody people loves to eat any kind of food. Well, it is almost near about weekend and also we are at the end of this week. And for this perfect Friday night, you can definitely cook Keema recipe at your home. If you are belonging to those categories of people who love to eat Keema, then you are at the right place. As because in this specific articles we are going to provide you top 2 keema recipe with are going to rock your Friday dinner indulgence.
If you have planned nothing for today's night, then you can make anyone among these 2 keema recipe. So read on till the end together information regarding which recipe we are going to share and this article. As well as try to learn from it and make your dinner night special by cooking them.
Basically, when we think about keema, the first thing that used to come in our mind is Mutton Keema. And if you have already decided that for this Friday you are going to cook mutton at your home, then you can definitely convert mutton into mutton keema and make these recipes at your home. So doing no more delay, we are going to share the 2 keema recipe so that you can decide them now and cook them easily.
1. Mutton Ka Hara Keema :
Preparation Time : 15 Minutes
Cooking Time : 10 Minutes
Total Cooking Time : 45 Minutes
Servings : 2
Ingredients required for making this keema recipe :
1 Kg Minced Mutton
1 cup Finely chopped onions
2 tbsp Ginger garlic paste
1 cup Chopped coriander leaves
A handful of chopped mint leaves
4-5 Green Chillies
2 Bay leaves
4-5 Green Cardamom
1 big sized cinnamon stick
10-12 Black peppercorns
1 tsp Red chilli powder
Salt to taste
Procedure :
1. At first take a pan and in that pan add some oil and ghee and allow it to heat lightly for a few minutes. Now add the whole spices along with ginger garlic paste and cook it for a few minutes until the raw smell is completely gone.
2. Now, in that same pan, add chopped onion and allow it to cook for a while. After that, add minced mutton and cook it until the entire water is being dried out.
3. After that, add garam masala, red chilli powder and salt according to your taste or requirements. Mix them well and then again cover mutton and allow it to cook for another 5 minutes.
4. While the mutton is cooking, take a blender and add coriander and chillies and make a fine paste. Now at this paste to the mutton and mix them properly. Allow it to cook for a while and then your mutton is going to be ready.
5. Once everything is properly cooked, you can garnish Mutton with some coriander leaves and mint leaves and serve it hot. You can enjoy this at home.
Keema Pizza :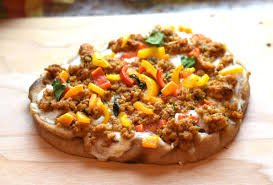 Preparation Time : 30 Minutes
Cooking Time : 2 Hours
Total Cooking Time : 2 Hours 30 Minutes
Servings : 6
Ingredients required for making this keema recipe :
1 pizza base
100 grams minced mutton
2 onions, chopped
2 tomatoes, chopped
1 teaspoon ginger-garlic paste
Half teaspoon garam masala
A pinch of cumin powder
Half tablespoon of coriander powder
Oregano
Red chilli flakes
Red chilli powder
Salt to taste
Procedure :
1. At first take a pan and in that pan add onions and ginger garlic paste and saute properly. Now add tomatoes, some salt and saute them properly until it is cooked. Allow the mixture to cool down and then grind it to a thick paste.
2. Again, take a pan and add the onion-tomato paste, minced mutton, cumin powder, coriander powder, salt, red chilli powder, garam masala, some water and allowed to cook for a while until excess water is evaporated.
3. Now take the pizza base and add pizza sauce on it, spread the cooked mutton keema on top of it and them grate cheese over it.You want you can add some more items for garnishing such as onion, coriander, olives, tomatoes, etc.
4. Now preheat the oven at 180 degrees C and bake the pizza for around 15 minutes. If you don't have any microwave, then you can use this alternative method. Spread some butter on a non-stick pan and then place the pizza on it, cover it and allow it to cook for a while.
5. Take out your pizza and place it on a plate and garnish it with some oregano and chilli flakes. Serve it with some tomato sauce.
Hope this recipes where enough helpful as we have provided to keema recipe so that you can easily cook them and enjoy it. Let us know your opinion regarding this article and don't forget to inform us about that whether you have tried this keema recipe or not. And if you want to share any other keema recipe you can definitely share with us which will be enough helpful for us to.
Read More : Birsa Munda Death Anniversary : Who Was Birsa Munda And Why His Punya Tithi Is Celebrated Throughout India? Read On To Know..